topic 13496
Chrome Plating on Fiberglass
I need to try to "chrome" plate some fiberglass bumpers for a custom sports car I'm building.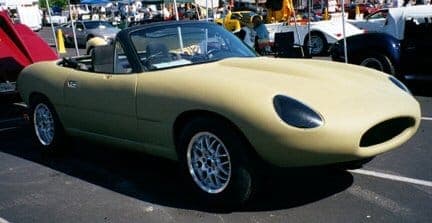 I've read in the FAQ and archives about the difficulties of plating large pieces of plastic, but I'm hoping to find some workable method.
Unless I get better advice here, I am planning to start with my highly polished, waxed fiberglass molds, dust the molds with conductive copper powder, then mix more copper powder into a polyester 2-part primer/gelcoat, catalyze and spray that into the molds, and embed copper wire leads before it sets up. Then lay up polyester resin & fiberglass as usual to the appropriate thickness. Then remove the bumpers, trim the edges, touch them up with conductive copper paint, and deliver to the plater for acid copper plating, followed by nickel and maybe chrome.
The bumpers will be about 48" long and 5" wide. Can such a long item be made conductive enough to plate? I am hoping that by embedding the conductive copper powder into surface of the fiberglass, the amount of current necessary to plate the chrome won't damage the surfaces. How do I calculate how much powder to use? Will one copper wire at each end be sufficient or do I need copper wires at intervals? What size wire? What thickness of copper plate needs to be built up to make the bumper sufficiently conductive? Would tinning help?
Any advice or alternatives would be much appreciated.
Tom Haugen
- Los Angeles, California
---
Dear sir,
Plating of fiberglass is not difficult like you said. Here in Egypt we made a collection of king[TUOT ANK AMUNE] FROM REINFORCED [POLYESTER AND FIBERGLASS]. WE PLATED IT GOLD OVER NICKEL AND COPPER.
RAAFAT ALBENDARY
- CAIRO, EGYPT


This public forum has 60,000 threads. If you have a question in mind which seems off topic to this thread, you might prefer to Search the Site