World's #1 finishing resource since 1989
No login needed: Chime right in
topic 1377
Electroplating brass onto carb needles
1998
Hi Everyone,
I want to thicken the thin, brass fuel metering needles on my Stromberg carburetors by electroplating some brass (or copper) onto them. I need to increase the diameter by about .1 mm. The needles are about 2 mm thick at the moment. Does anyone know if this is possible (or any other way to make them a bit thicker?
Appreciate any help.
Warren Harding
Auckland, New Zealand
---
1997
Hi,
I owned and operated a 1965 Sunbeam Alpine, and a 1964 Triumph TR4, so I used to be an enthusiast who was constantly under these cars. But they were fun when they would run, I was seventeen, you know the drill. I think one had SU's and the other had Strombergs. What I really wanted was a Sunbeam Tiger, under whose bonnet some genius had stuffed a Ford 289.
Here is a way to add copper that might work.
Most platers should have a few of these homemade devices around, but in case they don't, here is a (very) rough sketch: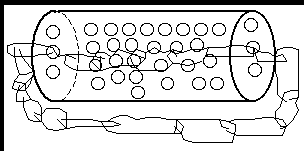 The squiggly thing is my rendition of a chain. The contraption is a plastic tube with holes drilled into it, capped on both ends with the chain running through the inside and outside. There are many variations of this cell, you can line the inside with fine screen for tiny parts, different ways to make the caps, electrical contact could be bolts through the body, etc.
Stick the pins inside, close it up, and take it to a barrel plater, Platers have these around to test plate a small amount of parts in their big barrels. They put the sample parts into it, and toss it into a barrel filled with the usual run, (see Mr. Frank R. Zemo's excellent Introduction to Barrel Plating, of Polaris Plating Co. for photos of a barrel plating operation).
Make sure that the diameter of the plating cell is not so big that the pins can get tangled. You may also need to put some media inside to help plate smoothly. I would suggest some samples before you try your metering pins.
I would say that a few dozen donuts should cover the plater's cost, but you would have to find out what they get in your area. Maybe a tuneup or a brake job?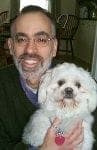 Tom Pullizzi
Falls Township, Pennsylvania
---
1998
Don't try to plate the needles they are tapered to cope with your fuel mixture curb incorrect coating could cause damage costly damage contact Wilson Carburetors Queensberry st Carlton Vic Australia give them your vehicle details with c/o, h/c emission reading and they will be able to supply you with the metering needles you require.
David walker
carburetors - Australia
---
1999
Hi, I am studying at chem dept ITB and want to know about the brass electroplating. Is it possible to get colour brass plate ? Please give me more information about that . Thank you very much.
Yeni Astuti