Live! From beautiful Pine Beach New Jersey: Welcome to the world's most popular metal finishing website
topic 12857
Coloring sterling silver or other metals
adv.
A discussion started in 2002 but continuing through 2018
2002
Q. Sir,
I shall be thankful if you could tell me how to color silver, other than enamel. Coloring like giving it bluish or greenish color or maybe some other.
Ankur Gupta
- New Delhi, Delhi, India
---
Q. I'm looking for a metal to use in a specific jewelry product which can be colored. For certain reasons I cannot use Aluminum, Niobium, or Titanium. I am considering Sterling Silver.
1. Does electrophoretic coating work well on sterling?
2. Is there another (possibly cheaper) metal I should consider?
Thanks,
Ann Smith
- Sacramento, California, USA
---
A. 1. I'm not personally familiar with electrophoretic coatings on silver, but they work fine on steel, zinc, copper and brass... and no alarm bells are going off about silver being special. Good luck.
Regards,
Ted Mooney, P.E.
finishing.com
Pine Beach, New Jersey
---
A. 2. Different thicknesses of oxide layer on steels (even low grade stainless steels) give different colours. Experiment with heating samples to red heat for different times and then quenching in water. You'll be pleasantly surprised. IMPORTANT: For consistency, ensure that the parts are consistently polished. Let me know how it goes.
John Tuohy
- Ireland
---
-- this entry appended to this thread by editor in lieu of spawning a duplicative thread
Q. Dear sir,
I want to know the process involved in the coloring of silver and it's full details. Can we give gold, green, red, blue color to the silver articles like cups by means of chemical dipping? please specify in detail as fast as you can.
Thanking you.
Mohan
[last name deleted for privacy by Editor]
- Bangalore, Karnataka, INDIA
---
2004
-- this entry appended to this thread by editor in lieu of spawning a duplicative thread
Q. I'm looking for a process to color coat sterling silver substrates for decorative applications, and wondering if you would have a process? Is it possible to use such methods as anodizing or powder coating to coat the sterling substrates?
RFQ: If so, where can I locate a supplier.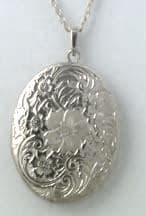 Thank you,
Debra Costa
jewelry - Lincoln, Rhode Island, USA
Ed. note: We appended your inquiry to a similar thread, and think you're looking for electrophoretic lacquering services, Debra. Good luck.
---
January 19, 2013
Q. Hello,
I am looking for someone who has tried anodizing sterling silver and 14k gold. I have asked about 10 local anodizing services in my region, e-mailed multiple ones in the US and even spoke to a well-know plating/anodizing company and no one seems to be able to tell me it this can be done or they don't even bother answering my requests ... nevermind wanting to test it (even though I am paying for the services).

Before I invest in equipment and do it myself, I was hoping to find someone who either has tried it before, or is willing to try it on my behalf?

Please help!
Julie Richard
- Montreal, Quebec, Canada
---
January 22, 2013
A. Hi Julie. I think you might make faster progress if you explain what you are trying to accomplish, or what properties you are trying to impart to the surface. A problem with your inquiry is that "anodizing" doesn't mean much in this context -- it merely means making the part anodic in a processing bath.
While anodizing of aluminum can add a super abrasion resistant hardcoat to the surface with a honeycomb topography that can be reliably dyed, or anodizing of titanium may imply adding a transparent and very thin layer of titanium oxide to impart diffraction colors ... what does anodizing of sterling and gold even mean to you other than merely exposing it to an anodic current. You cannot anodize & dye silver and gold as if they were aluminum. Thanks.
Regards,
Ted Mooney, P.E.
finishing.com
Pine Beach, New Jersey
---
February 24, 2013
Q. Dear Mr. Mooney,
Thank you for helping me redefine what I am trying to accomplish. It has helped me in getting better answers from local shops.

I am looking for a process to make sterling silver and gold a different color while maintaining the metal's sheen and feel. Some people have suggested powder coating in candy colors to achieve the bright hues I am looking for, but I am not sure it would retain the metal "feel" to the items since it creates a coat over the metal. I have also looked into a process similar to powder coating, but works partly like plating, named Kliar and it is made by Legor Industries. The reviews I have heard so far is that this coating is not durable.

I am looking to make rings in bright hues, so the process selected has to withstand daily wear.

Anodizing was considered, since many of the colors I am looking for are available. The pieces would therefore be anodized so they may be dyed, rather than enhance any mechanical properties of the metal. I was told that since silver and gold are both inert metals, small part of aluminum would have to be included in the piece so the anodizing and dying work.

From experience, because the item will be worn, would you recommend anodizing as a durable finish once it is dyed and sealed? If this process is not the best, would you have other suggestions besides powder coating?

Thank you in advance for sharing your experience and knowledge with us!
Julie Richard
- Montreal, Quebec, Canada
---
February 24 , 2013
A. Hi Julie. I'm not personally aware of any useful process for anodizing gold or silver. The anodize-plus-dye process in question applies only to aluminum and actually only to quite pure aluminum.
The Kliar process is a brand name for cathodic electrodeposition (also called e-coating, electropainting, electrophoretic lacquering). This process is similar to electroplating except that it deposits organic coatings rather than metal ones. The coatings are much thinner than powder coating, about 2 to 4 ten-thousandths of an inch thick. It is possible to do a subsequent UV-cured hard clear coat on top of the colored cathodic electrodeposition coating for additional durability if you wish.
My own opinion as an occasional wearer and buyer of rings, not a designer, is that designers need to recognize that rings get exceptional wear, and no thin coating can possibly last on the exposed metal. Surely the trick must be to design with painted groves and recesses, rather than painted prominences. Good luck.
Regards,
Ted Mooney, P.E.
finishing.com
Pine Beach, New Jersey
---
---
July 11, 2013
Q. I need a non-fading black finish for sterling silver rings.
Liver of Sulphur [linked by editor to product info at Amazon] wears off even when lacquered after a few months.
Any ideas?
Thanks,
Rick
Rick Elkin
- Las Cruces, New Mexico, USA
---
October 2018
A. Hi Rick. Rings are very high wear items and any coating on them will wear through rather quickly. Hard coatings applied by PVD will last longer but I don't know if that info can help you because you haven't introduced your situation yet (it might help if you are a manufacturer of tens of thousands, but not if you are a home-based supplier with a handful of commissions).
If you are designing and casting the rings, you may take advantage of the knowledge that the blackening will wear off of the high spots but not the relieved spots. You'll never see a high school ring where the coloration is the opposite of this =>
with the high spots black and the relieved areas shiny :-)
Regards,
Ted Mooney, P.E. RET
finishing.com
Pine Beach, New Jersey
Striving to live "Aloha"
---
---
October 1, 2018
Q. So I'm fairly new to all things metal. I'm looking to make a rose out of metal. I want to have a rainbow finish on the finished product. It is all going to be done by hand with no welding. I originally was going to use aluminium but from what I've gathered it cant be easily done. Will sterling silver give the same effect as pure silver or will it be more muted or not work at all? Honestly if someone can link me to somewhere where I can purchase a sheet of metal with that finish that is relatively easy to move with pliers that would be the easiest option.

Thank you for your time.
Timothy James Fitzpatrick
- LIMERICK Pennsylvania United States of America
---
October 2018
A. Hi Timothy. I'm at a disadvantage here because I've never seen or heard of this coloration process for silver that you and others keep alluding to. But I would suggest making such a rose out of titanium rather than silver because it is fairly easily anodized in rainbow colors (although you naturally should acquire some experience anodizing scraps before trying it on your prized rose).
Regards,
Ted Mooney, P.E. RET
finishing.com
Pine Beach, New Jersey
Striving to live "Aloha"


If you have a question in mind which seems off topic, please Search the Site