Live! From Pine Beach NJ: The world's most popular metal finishing website, and the internet's friendliest corner
topic 12857
Coloring sterling silver or other metals
adv.
A discussion started in 2002 but continuing through 2018
2002
Q. Sir,
I shall be thankful if you could tell me how to color silver, other than enamel. Coloring like giving it bluish or greenish color or maybe some other.
Ankur Gupta
- New Delhi, Delhi, India
---
Q. I'm looking for a metal to use in a specific jewelry product which can be colored. For certain reasons I cannot use Aluminum, Niobium, or Titanium. I am considering Sterling Silver.
1. Does electrophoretic coating work well on sterling?
2. Is there another (possibly cheaper) metal I should consider?
Thanks,
Ann Smith
- Sacramento, California, USA
---
-- this entry appended to this thread by editor in lieu of spawning a duplicative thread
Q. Dear sir,
I want to know the process involved in the coloring of silver and it's full details. Can we give gold, green, red, blue color to the silver articles like cups by means of chemical dipping? please specify in detail as fast as you can.
Thanking you.
Mohan
[last name deleted for privacy by Editor]
- Bangalore, Karnataka, INDIA
---
2004
-- this entry appended to this thread by editor in lieu of spawning a duplicative thread
Q. I'm looking for a process to color coat sterling silver substrates for decorative applications, and wondering if you would have a process? Is it possible to use such methods as anodizing or powder coating to coat the sterling substrates?
RFQ: If so, where can I locate a supplier.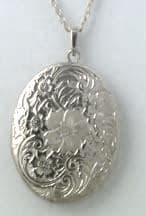 Thank you,
Debra Costa
jewelry - Lincoln, Rhode Island, USA
Ed. note: We appended your inquiry to a similar thread, and think you're looking for electrophoretic lacquering services, Debra. Good luck.
---
January 19, 2013
Q. Hello,
I am looking for someone who has tried anodizing sterling silver and 14k gold. I have asked about 10 local anodizing services in my region, e-mailed multiple ones in the US and even spoke to a well-know plating/anodizing company and no one seems to be able to tell me it this can be done or they don't even bother answering my requests ... nevermind wanting to test it (even though I am paying for the services).

Before I invest in equipment and do it myself, I was hoping to find someone who either has tried it before, or is willing to try it on my behalf?

Please help!
Julie Richard
- Montreal, Quebec, Canada
---
---
July 11, 2013
Q. I need a non-fading black finish for sterling silver rings.
Liver of Sulphur [linked by editor to product info at Amazon] wears off even when lacquered after a few months.
Any ideas?
Thanks,
Rick
Rick Elkin
- Las Cruces, New Mexico, USA
---
---
October 1, 2018
Q. So I'm fairly new to all things metal. I'm looking to make a rose out of metal. I want to have a rainbow finish on the finished product. It is all going to be done by hand with no welding. I originally was going to use aluminium but from what I've gathered it cant be easily done. Will sterling silver give the same effect as pure silver or will it be more muted or not work at all? Honestly if someone can link me to somewhere where I can purchase a sheet of metal with that finish that is relatively easy to move with pliers that would be the easiest option.

Thank you for your time.
Timothy James Fitzpatrick
- LIMERICK Pennsylvania United States of America


If you have a question in mind which seems off topic, please Search the Site