60,000 Q&A topics -- Education, Aloha, & Fun
topic 12362p2
Coating tables and bar tops with thick clear pourable plastic
---
---
A discussion started in 2002 but continuing through 2019
August 31, 2010
Q. I have searched everywhere for a solution to my outdoor-specific problem. Can I use the methods and products mentioned above to encapsulate vinyl letters on a small porous rubber substrate to create outdoor-durable signs? Any help or links would help as I've really hit a wall in the process.

Thanks!
David Davis
- Raleigh, North Carolina USA
---
January 12, 2011
Q. Hi
I have been trying enviroTex light, a 2 part epoxy on some marquetry (thin wood veneers cut into designs) with not very good results. I am trying to do this as a business so production time is very important. Has anybody ever tried to thin this product down?
It seems there is no easy way to work with this besides trial and error.
Yesterday I used a one part water based finish and it destroyed the entire project...oh well..
thank you all for you interesting inputs.
Here is a question I almost didn't ask because it seems stupid...but then I remembered something about there are no stupid questions except the ones you never ask...
So my work is sitting flat on a table and every time I lift the torch up and point the flame down it "flames out" than goes out. A friend said that is because the propane in the tank is partially liquid and it will do that every time. So how do you point the propane torch down without it flaring and going out?

thanks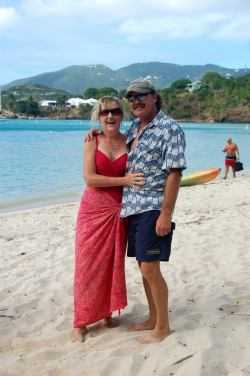 Bill Carli
- St. Thomas, Virgin Islands USA
---
January 29, 2011
A. Hi all,
I figured the torch out (use mapp gas)...but I cannot deal with Envirotex any more. There are always imperfections, something and I cannot run a business like this anymore. I wonder if there are some other coatings out there that might do somewhat the same thing that Envirotex does. I don't need heat resistance, nor such a thick coating. I am covering wood veneers and they are about 1/32 of an inch high.
any thoughts
bill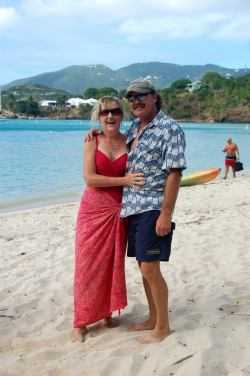 Bill Carli
- St. Thomas, Virgin Islands USA
---
September 3, 2011
Q. This question is for Bill Carli (St. Thomas) from Jan. 2011-- Did you ever find a solution/product better than Envirotex lite? Sounds like my art pieces are very similar to what you are doing. Thanks for any input.
Meredith Keith
- Birmingham, Alabama, USA
---
January 18, 2011
Q. Hi there
I have used the 2 part epoxy resin on canvas paintings, it works wonderfully. I now have a sculpture that I want to coat. It is a plastic upright mannequin covered in coins and paua shells. what product would be thick enough to pour this on? As you can imagine it is an upright non-flat surface.

I would love some help with this

Kind regards from Auckland New Zealand
Lisa
Lisa Watkins
artist, buyer - Auckland, New Zealand
---
February 10, 2011
A. Have used Envirotex Light for years for covering paintings on panels huge and small.
Wear a respirator with organic filters, not a mask. The stuff is carcinogenic even though it doesn't smell too bad at all.
Do it in a totally dust free area with plenty of heavy plastic on floor as you will make a mess the first few times and, if you do, it's there to stay unless it's on a wood or non porous floor.
Warm temps like 70 to 80° speed up drying of epoxies like this.
Mix equal parts, stir very well until it gets clear and makes bunch of bubbles.
Pour onto surface center and with latex gloves spread to edges. if it goes over it will continue to drip for hours (thus the plastic on the floor)
You have about a half hour or more depending on room temp to spread it. It is very easy and just fills out nice, nothing to it.
I then come back in 1/2 hour and crank up the butane torch and lightly go over the surface as a very shallow angle to pop any bubbles. Do this a few times, then let it cure, which takes about 8 to 12 hours to surface dry and 12 to 24 before it's hard.
If you do a thick pour it will crack as it heats up with the epoxy reaction; and also will show a yellow cast with coats over 1/8 inch thick.
Clean up is with rubbing alcohol. Don't use a hair dryer instead of torch to pop surface bubbles - you will just get tons of lint in it!
Never gets super hard; can get soft in heat. I would not use this product at all for bar tops. that is a different product altogether that is more durable to scuffing and won't crack when the internal temps get to 150° F if pouring out a half inch of e-tex.
-rudy
rudy montoya
- portland, Oregon usa
---
September 5, 2011

I just completed a penny bar using US Composites Kleer Coat. All the advice on the page was correct. I mixed a total of 1 gal at a time and stirred for just over 10 min. The working time was longer than expected. I made a raised edge around the bar using molding and used liquid nails and finish nails to mount it. Any corner I thought was sealed well enough, wasn't. Almost every corner dripped, but not badly. (I'm not a carpenter, so my angles weren't perfectly cut.) This IS NOT AS HARD as you think. I used cabinet grade plywood for top, stained it and then put 3 coats of regular poly on it and used molding to as described above to trim it out. I used fruitwood stain, would go darker if I did it again. The tip on popping bubbles with torch is awesome. It is especially useful on second coat where most bubbles are tiny (I thought they were dust particles) from the mixing process and the torch pops them very easily. First coat bubbles were bigger and used nail to pop. Top is CRYSTAL CLEAR ! Not that difficult. 2 man project though. Would definitely do it again. LOVE IT!
John Norwillo
- Duryea, Pennsylvania, USA
---
October 26, 2011
A. Most Artists are using EX-74 epoxy coating to coat paintings. It has a UV inhibitor, which retards the ambering of the finish. EX-74 is also used to coat bars, and tables, and for making plaques with pictures, etc.
Other products which are similar but do not have the UV inhibitor are EX-88, Envirotex Lite, Crystal Sheen, GlazeCoat, and KleerKote. All of these products are similar, and work the same. They are easy to install, but you have to read the instructions.

I have been coating bars and tables for over 20 years, and I have also coated several paintings. Most people that have problems with the coatings do not mix them properly, and that is a critical point. If you want it to look swell, you gotta mix it like H......
KEN FALLAW
CREATIVE WHOLESALE - Stockbridge, Georgia, USA
---
November 29, 2011
Q. How thick is the EX-74 when it is poured onto your surface? Is it thin like water or thicker? I have a 48" section cut from an oak tree and was thinking about using the EX-74 to cover it, but would also like to cover the bark. On the surface I would like to get it to a 1/4". Anybody have any tips on coating the bark or the whole project?
Tyler Smith
- Jefferson City, Missouri
---
December 5, 2011
Q. I am thinking about making a copper penny bar top outside by my screened pool area. It is 24 sq ft and will get a lot of sun exposure. Is the EX-74 the best coating to protect it since it has the UV inhibitor? Is it too hard for a beginner to use? Would some type of surfboard gloss resin be better? I want it to be a thin covering, and I don't want to worry about it yellowing... Any help or recommendations are appreciated!
Pamela Noto
- Lithia, Florida, USA
---
February 11, 2012
A. I have used clear resin to cover decals and also mixed paint into the clear resin to add additional color. As far as the bubbles... find a spray bottle that when sprayed gives you a real fine mist. If you spray alcohol across the top of the resin, it will cause the bubbles to come to the top and pop all by themselves.
If you mist the surface of the 3 to 6 times for the first hour that should do it, you can use more if needed. But, do not spray so much causing it to pool. I have used US Composites Kleer Coat for the last 3 to 4 years.

Like everyone else has said... make sure you mix it correctly, makes sure the resin is mixed well, mix it slowly so you don't cause bubbles, take your time. I
normally pour the thinner hardener into the thicker portion
of the resin. If you have a large area get some help, one person to mix and one person to pour. Hope this helps.
Jim Greenslade
- Clyde, Ohio
---
March 4, 2012
Q. All of the projects described just talk about the top surface. What have folks done at the edges? You either finish up with that sharp epoxy that has to be sanded or if the dam leaks the drips have to be cleaned up. Can you do the high gloss on the top and regular varnish on the edges? My daughter wants to do a bathroom vanity and I don't see any way of doing the front edge and the back splash in the clear coat. One surface only and the others will have to be varnished.
David Wills
- Kingston, Ontario, Canada
---
February 18, 2016
A. Leggari products sells the epoxy you are looking for it was specifically formulated for resurfacing countertops.
Tylor Svangren
Leggari - Kennewick Washington USA
---
April 11, 2012
Q. I am gluing pennies on my kitchen floor. Need a a hard CLEAR coat to put on top to finish the floor. Will polyurethane made for wood floor stick to the pennies? If not, any suggestions?
Cindy Whitehawk
- Honaunau, Hawaii, USA
---
April 13, 2012
A. Hi, Cindy. I'd use the polyurethane made for floors as this bartop stuff is rather soft and probably not good for foot traffic (deep scuffing). A think the poly will stick to the pennies, but do a sample: put four pennies on a scrap of wood and try it before committing it to your kitchen floor. Cleaning the pennies with acetone will probably help, but remember that it is flammable. Good luck.
Regards,
Ted Mooney, P.E.
finishing.com - Pine Beach, New Jersey
Striving to live Aloha
---
April 28, 2012
Q. I want to do a table top encapsulated with larger items (i.e. board game pieces, dice, etc.) what product would be best for something that thick? Is it possible?
Todd Wahlquist
- South Jordan, Utah
---
May 2, 2012
Q. Any thoughts about using pourable epoxies for edges? I am using it to coat plywood bamboo and love the cut edge the bamboo which also should be sealed, but I don't want a drippy edge or an epoxy edge the abruptly "ends". Any thoughts on how to make it a consistent finish? Should I stand it on its side to coat the edge? I have also thought about routing a a rounded corner to let the epoxy coat, but I don't want it to flow off either. Anyone have any experience with this?
Ben Lowry
- Denver, Colorado, USA
---
May 3, 2012
Q. I have a "Tiki" bar at my pool.It has a mahogany bar top, I would like to encase sea glass and shells in the bar top with an epoxy finish. Can I stain and urethane the mahogany wood before I use the epoxy?
Frank Silva
- Truro, Massachusetts, USA
---
May 21, 2012
Q. I just poured a clear coat on my concrete table top using this product. There was a 20% chance of rain and guess what ... it rained about 1:30hrs after I poured the clear coat on. now that the product is hard. I have bubbles and pock marks in the clear coat. How do I fix this problem. It's suppose to be in the mid 90's this week and I'm hoping that will soften up the product and work the bubbles out.

Any ideas?
Dane Simpson
- Peoria Illinois
---
June 18, 2012
Q. Does either Envirotex product hold up to outdoor conditions, aka and outdoor bar top?
PJ Maloney
- Albany, New York, USA
---
July 18, 2012
Q. I am building a tiki bar for my yard and wanted to achieve the same type finish that I have seen in many bars and restaurants. My question is will one of these pourable products work for my needs???
Mike Messina
- Toms River New Jersey
---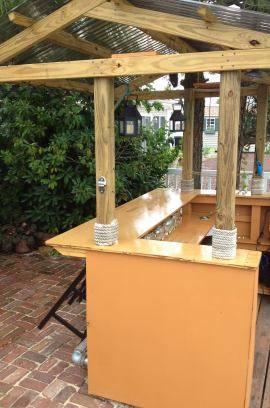 July 18, 2012
A. Hi neighbor. Rather than the thick pourable stuff, I used several coats of polyurethane spar varnish on cabinet grade plywood for my outdoor bar countertops as we've always had great success with it outdoors =>
Of course, it's very thin by pourable standards. If you want the thick pourable stuff, I'd probably follow Tyler's advice about using EX-74 because I think yellowing would be a serious problem if the coating doesn't have UV inhibitors. You can be talking serious money for those thick coatings if it's a large bar. A gallon is 231 cu inches, so divide that by the thickness you want and by 144, to determine the coverage in square feet -- and you'll see that you'll probably need several gallons.
Good luck.
Regards,
Ted Mooney, P.E.
finishing.com - Pine Beach, New Jersey
Striving to live Aloha
---
July 27, 2012
Q. Well guys, this was my first attempt at using epoxy and resin
I followed the instructions, but it's been about 2 weeks and it is still sticky. Is it possible to peel the whole mess off and try again in the same table. After reading all your comments, I know I didn't stir long enough (arms get tired)!
Or, is there any way to get my mix to harden?
Barbara Kendall
- Orcutt, California US
---
August 2, 2012
Q. Would the two part epoxy resin work on the inside of a chicken coop? It is the season for red mite and they live in the dark creases and crevices of the coop and come out at night and feed on the chickens blood. They are a perpetual problem - one only solved by housing chickens in the plastic coops, however they are an extortionate price to purchase. I am looking for a plastic type coating I can apply to the insides of the coops to prevent having to use the blow torch and insecticides on a weekly basis to treat these critters. Any advice welcome. Many thanks.
Annette Aldridge-Allen
- Essex, United Kingdom
---
October 22, 2012
Q. I'm attempting to use 1/4" pourable poly to finish a custom built bar top. Apparently, my friend the carpenter, built the top for use to finish, but had never used, nor researched the poly. The bar top has a swing door that closes down on the top. It's installed as part of the bar top with hinges that stick out above where the poly would go, but he didn't put moldings on some parts of the bar to hold the poly in. I understand, now that I read this article, that I can build a frame and cover with plastic wrap or wax paper, but how the heck am I supposed to work this around the hinges?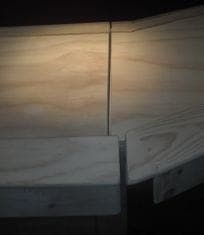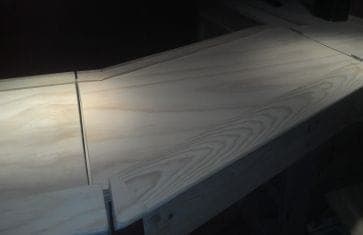 Heather T.
[last name deleted for privacy by Editor]
- Peekskill New York USA
---
October 22, 2012
A. Hi Heather. It's a beautiful cabinet-grade bar. Maybe just use spar varnish instead of 1/4" thick pourable coating?
Otherwise, you can probably take a length of 3/4" diameter flexible clear plastic tubing, slit it in half lengthwise, and cover the hinge line with a dome of half tubing. Your pourable coating should run up to it and hide it pretty inconspicuously.

Regards,
Ted Mooney, P.E.
finishing.com - Pine Beach, New Jersey
Striving to live Aloha
---
---
finishing.com is possible thanks to our supporting advertisers, including this shop: