topic 12028p3
What is "Pickling" of Steel? p3
---
---
A discussion started in 2001 but continuing through 2017
February 24, 2017
Q. Hi,

I am working in foundry with supplying casting which go through pickling process.
We are facing some problem where after pickling process, there is lots of black dot appear on the casting surface.

May you advice what is the possible cause that cause such defect?

I also been through in internet saying some casting require to go through a cleaning process before proceed with pickling process. Is it really necessary?

Thank you.

Best regards,
James Chua
- Seremban, Malaysia
---
February 2017
Hi James. Yes it is really necessary. Myself and Daniel already offered our answers to that question on this page. Please refer to them and expound on your question if your think our answers didn't quite cover your situation. Thanks.
Regards,
Ted Mooney, P.E. RET
finishing.com
Pine Beach, New Jersey
Striving to live "Aloha"
---
February 25, 2017
Q. Hi Ted,

Thank you for your guide.

Just to clarify, we are producing casting instead of Hot Steel Rolling which will have oil/grease, and our casting is going through a steel ball shot blasting before proceeding to the pickling.

After review to the related respond, may I know besides the oil/ grease which can cause the black spot; is there any other possible reason which will also causing similar situation?

Thank you.

Regards,
James Chua
[returning]
- Seremban, Malaysia
---
April 2017
A. Hi again James. Scrub a few with a pumice solution and a tampico brush (or toothbrush depending on size of the parts) and let us know what happens when you pickle them.
In general though, I don't think I'd be surprised to see carbon spots on cast iron after pickling.
Regards,
Ted Mooney, P.E. RET
finishing.com
Pine Beach, New Jersey
Striving to live "Aloha"
---
May 2, 2017
A. Hello James!

I think you can try the following:

- Take one or two already shot blasted parts.
- Degrease them with some solvent (acetone, MEK, or anything like that).
- Pickle them with the process you already are using for every part.
- Inspect them for black spots.

If the spots disappear, you have grease or oil in the pores of the material, I think you need some degreasing agent between shot peening and pickling... IF you NEED to do acid pickling (if you don't, don't pickle!)

If the spots don't disappear, grease is not the problem. Maybe, as Ted said, you have some carbon deposition in the surface (laminar or nodular graphite) and acid is making them appear, but they would be very very small, so I think the most possible cause is grease in the surface.

Sorry for repeating myself, but: If you don't need to do acid pickle, don't do it. Shot blasting does a very good job cleaning the surface, and pickling activates the surface so rust appears very fast.

Regards, and hope you can solve this issue!
Daniel Montanes
TEL - N FERRARIS - Canuelas, Buenos Aires, Argentina
---
May 6, 2017
Q. Hi again Ted.

Appreciate your support so far. However i would need to clarify that the casting that we currently go through the pickling process is a stainless steel casting.

I will discuss with my team to see whether we can do a test using the method as per described.

Hi Daniel,

Appreciated your support, we previously did try to use some solvent (Methanol, Acetone, Sodium Hydroxide) to clean the surface. However the result still same. In such case is it mean that it could be a Heat Treatment/ Melting problem which had cause related issue?

The spot that appear are some in black and some is in brown color (rust/oxide color).

Thank you and I hope above information would sufficient for your further advice.
James Chua
[returning]
- Seremban, Malaysia
---
May 17, 2017
A. Hello again James!

Please tell us which kind of stainless steel (AISI grade, or something like that) is the one with problems. And if you have the same problem with another steel parts.

How is the process made? Pickling, rinsed and dried? Or is another process made after the pickling?

Hope we can solve this!

Regards,
Daniel Montanes
TEL - N FERRARIS - Canuelas, Buenos Aires, Argentina
---
May 25, 2017
Q. Hi Daniel,

Thank you for your kind assist.

The stainless steel that having the black dot or rust mark problem is SUS304. Sorry to said that currently we only have this material that having such problem as only this material required to go through the pickling process.

Currently our process is as below:
1) Steel Ball Shot Blasting
2) Rinsed with water to remove dust before pickling
3) Acid Pickling (black dot /rust mark appear after completed)
4) Rinsed again with water to remove the remaining acid
5) Ready to send machining (if surface free from black dot / rust mark)

Kindly advice accordingly.

Appreciate your support and assist.

Thank you.

Best regards,
James Chua
[returning]
- Seremban, Malaysia
---
May 26, 2017
A. Hi James,

When you say Acid Pickling, which formulation do you use? Acid pickling is, for most cases in carbon steel, just hydrochloric acid in water. But for SUS304, you must use other formulations, more aggressive and oxidizing than hydrochloric.

And, can you take a photograph and show the black spots?

Thank you! Regards,
Daniel Montanes
TEL - N FERRARIS - Canuelas, Buenos Aires, Argentina
---
May 31, 2017
A. James,
Steel shot blasting is bad for stainless. Use stainless shot or non-ferrous media like glass beads.

Daniel Montanes is right about not using hydrochloric, that is very bad for stainless. Stainless pickling is generally a nitric/hydrofluoric mix.

Ray Kremer
Stellar Solutions, Inc.
McHenry, Illinois
---
June 12, 2017
Q. Hi Daniel,

Yes indeed. We currently is using a mixture of 7% hydrofluoric acid and 20% Nitric acid in water.

I will provide the related picture for more clearer picture the defect type.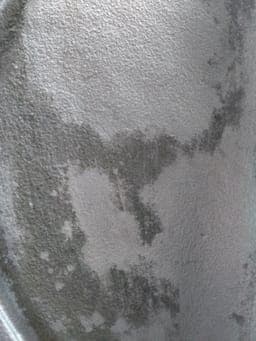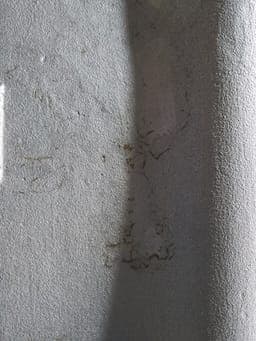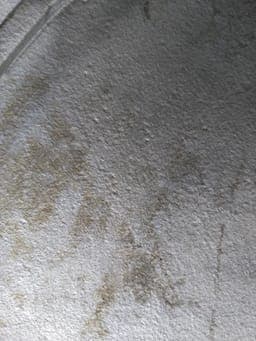 Hi Ray,

Thank you for your advice. We do understand that steel shot blasting is not recommended for stainless however we been running this casting for more than 1 year and this situation only happened recently which we are struggling for the reason that cause it. But we will also moving toward your suggestion to prevent other possible causes.

Thank you.

Best regards,
James Chua
[returning]
- Seremban, Malaysia
---
August 8, 2017
A. Hi James! Long time no see! I was in a trip with almost no time to check finishing.com Q&As as usual :P

I suppose you've read ASTM A380 [link is to the practice at TechStreet] thoroughly, if not, I would.

I can relate some of this issues, and I would look for:

- Depleted acid bath (iron concentration in pickling bath?)
- The first image looks like smut, if it can't be removed by a pickling bath, it can be removed by hot alkaline potassium permanganate, it is risky and adds a step, but works wonderfully with smut.
- See if you have free iron in a part you have already rinsed before and after pickling (ferrocyanide or copper sulfate method).

So, I'm sure you are squeezing your brains to solve this, I just hope I can help you from here!

Regards,
Daniel Montanes
TEL - N FERRARIS - Canuelas, Buenos Aires, Argentina
---
---
Top surface of part stays rusty in pickle tank
August 28, 2017
Q. Hi,

We are having issues with one of our pickling solutions; It consists of HCl at 15% w/v. Iron is at 85 g/L and zinc at approx. 25 g/L.

When we try to pickle steel in this tank, the rust comes off on the sides and bottom of beams, but the top surface of the beams remains rusty (according to our operators)

This is the strongest and cleanest tank in the plant, and yet they say the other tanks work much better. I don't understand how that could happen.. What should I test my solution for? acid strength, iron and zinc concentrations seem to be good, and these are the only parameters we test for at our plant. Our operator has been working here for 30 years and he said this has never happened before.
Anna Terra
galvanising plant - Sydney, NSW, Australia
---
August 28, 2017
A. Hi Anna

Before asking for outside help you should always visit the tank and view the problem for yourself.
Even experienced operators can give a misleading description of a problem and you may spot some other factor that he did not think important.

For example...

Are you sure that the tank is thoroughly stirred before taking your sample for analysis? Witness it done or do it yourself.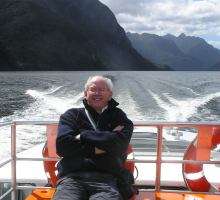 Geoff Smith
Hampshire,
England
---
---
October 3, 2017
Q. I've been selling pickle dry steel to a number of customers for several years without incident. I've advised all the pit falls to customers about using this material, which is mostly susceptibility to rust. Recently though we received a claim for this very thing. I'll talk thru it with them but I was hoping I can some help from you about the actual reasons why this is so susceptible to rust: time, surface, etc... Can you advise any literature or offer some insight?
paul martin
metals - granite city, illinois


This public forum has 60,000 threads. If you have a question in mind which seems off topic to this thread, you might prefer to Search the Site