World's most popular finishing site / Internet's friendliest corner
topic 1198 p4
How to Darken Copper, Brass or Bronze
---
< Prev. page (You're on the last page of this topic)
---
A discussion started in 1997 but continuing through 2018
February 17, 2016
Q. I used the Birchwood Casey Perma Blue to get a dark patina on 385 bronze. It worked great. This was after trying liver of sulfur without much success. My question is should I now apply a clear coat lacquer? Or will it maintain the patina without the coating. The material is being used as a trim between a existing backsplash and new black granite counter.

Thank you
Stephen Von Ohlen
- Carlstadt New Jersey USA
---
---
August 31, 2016
Q. Once I am finished changing my shiny brass patio door levers to an oil rubbed bronze finish, don't I need to apply a permanent protective coating or lacquer to the metal? They are used daily and exposed to the elements. If so, what would I use? Thanks
Jane Lockwood
- Plainwell Michigan United States
---
April 19, 2017
A. Researching historical metal processes, I came across the following 19th century references on Google Books for bronzing formulations. While modern products may be more efficient, those wishing to replicate the old finishes will hopefully find these helpful.

https://books.google.com/books?id=JsNEAQAAMAAJ&pg=PA354

https://books.google.com/books?id=XgshBQAAQBAJ&pg=PA149

https://books.google.com/books?id=tIcPAAAAQAAJ&printsec=frontcover#v=onepage

The last is a French treatise with several formulations for the famous French green bronze coating. You can copy and paste into Google Translate.
Craig Sholley
- Carlisle, Pennsylvania USA
---
April 2017

Thanks for the great references Craig!
The French book displays as pictures of text, rather than as cut&paste-able text; I do see a way of translating it (first download the book as plain text, then copy and paste the plain text into translate.google.com), but if someone knows a simpler way we'd like to post it. Thanks again!
Regards,
Ted Mooney, P.E. RET
finishing.com - Pine Beach, New Jersey
Striving to live Aloha
---
---
January 31, 2017
Q. Hi, We purchased this Weslock handle in the oil rubbed bronze,however did not realize this had more red tones that would not match our door. What is the easiest way to darken this to a more bronze/brown color? Will using Palmolive work? Thank you...
peggy leung
- Torrance, California
---
---
March 26, 2017

Q. Hi,

Hi. would it be possible to darken the copper color on this lamp? It's Brushed and anodised aluminium.

Kind Regards
Clara

Clara Nolan




- dublin, ireland





---

April 2017

A. Hi Clara. As you already recognize, this lamp is made of aluminum. Therefore, the chemical methods which are the subject of this thread won't work because there's no copper, brass, or bronze for the chemicals to react with.

You can either paint it or apply a wax rub or "paint on" a patina (a liquid which has the oxidized copper you seek). My experience with the wax rubs is that they are okay if the surface is not a touchable one, which seems to be the case here. Good luck.

Regards,

Ted Mooney, P.E. RET

finishing.com - Pine Beach, New Jersey

Striving to live Aloha
---
---
June 14, 2017
Q. I recently bought a bronze vase its 19th century but it looks like brass how do I get the dark patina back on it? Many thanks in anticipation.
Mark
Mark manning
- Leeds Yorkshire england
---
---
July 13, 2017
Q. I have blackened brass cabinet hardware that the blackening has worn off, especially the handle on the refrigerator. How can I get the blackened appearance back? I was going to try liver of sulfur and than lacquer them again, but is there any other process I can do?
Cher Eppinga
womens touch paint and design - Evergreen, Colorado
---
---
August 25, 2017
Q. Very interesting thread and happy to keep it running. I vape an e-cig which is full copper for it's conductivity. Being a bit picky I prefer a darker coloured copper than the bright finish I have now. My question is simply can I safely darken the copper whilst keeping it shiny? And is it a process that needs to be regularly repeated. I'm UK based so would have to use something considered 'safe'.

Again, interested in a lot of what I've read here (and found by accident!!).
Andrew Jones
- Manchester, UK
---
---
November 2, 2017
Q. I just bought a vintage dark brown distressed leather sofa that has hundreds of brass nail heads way too shiny for our taste. How do I darken them, without taking them off or damaging the leather. Thanks in advance for any advice.
Letty dupree
- Atlanta, Georgia USA
---
November 2017
A. Hi Letty. That's really not so much a technical question (because you've already read that liver of sulphur, Rockler brass darkening solution, and several other materials will darken brass), as a question of whether you have the time & temperament, and the steadiness of hand to carefully apply it to "hundreds of brass nail heads" with an artists brush, covering each completely, without getting it on the leather. Further, if they're bright, they probably have a lacquer on them which you'd have to remove the same way first. There's an old saying that you'd need the patience of a saint.
Or just tape the open end of a plastic sandwich with a crushed hard boiled egg in it over one of the nail heads overnight and tell us what, if anything, happens. Good luck.
Regards,
Ted Mooney, P.E. RET
finishing.com - Pine Beach, New Jersey
Striving to live Aloha
---
---
How to darken copper but not brass
adv.
Mokume Gane
by Ian Ferguson
from Abe Books
or
info on Amazon






Rokushō
November 6, 2017
Q. Hi ... thanks for a great thread. I just recently made a patterned (Mokume Gane) metal surface with copper and brass. I had been searching for a way to darken the copper but not the brass. The only thing I have found is by using a heat patina. Can the brilliant contributors here suggest a chemical solution? Thanks so much!

~Barbara
Barbara Hopkins
- South Berwick, Maine
---
November 2017
A. Hi Barbara. I don't know what the article in question is, but can you try Rokushno patina on it and see whether it offers suitable/any contrast? Or maybe you can darken the whole thing and burnish/relieve the brass?
Regards,
Ted Mooney, P.E. RET
finishing.com - Pine Beach, New Jersey
Striving to live Aloha
---
---
July 25, 2018
Q. Hi along these lines, I just had some medals cast in bronze and they are much lighter than my other medals which look aged and dark brown. Does Palmolive darken bronze too? Thanks!

Jean Mark
- Sacramento, California USA
---
November 9, 2018
adv.
Hello all ... yes we have such a chemical patina which is sold in kit form to do just this. Please find our Copper Patina Rescue kit at www.barrysrestoreitall.com. We offer two sizes based on area. Quick and easy to use. Using a hairdryer will speed up the process to dark. Good luck.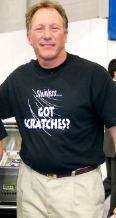 Barry Feinman
BarrysRestoreItAll
Carlsbad, California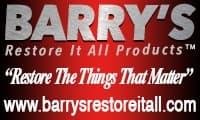 ---
---
Restore graduated blackening on bronze bowl
September 6, 2019
Q. I have a patinated bronze bowl, the natural colour of which is amid yellow brown, graduated brown to deep black -- but the colour appears to be flaking but without thickness and its spoiling its appearance. I would like to revive and restore its beauty but graduation is going to require the right chemicals, preferably cold and carefully sprayed. Any suggestions and tips would be gratefully received. Thanks,
Ron Martin
Retired, Collector - Buckhurst Hill Essex UK.