World's #1 finishing resource since 1989
No login needed: Chime right in
topic 1106
Reworking improperly sealed black anodize
1998
I am working on a far ultraviolet telescope for NASA. We are using black anodized rivets in our baffles(designed to absorb light). Our application is very contamination sensitive so it is imperative that the dye be properly sealed. We need a good seal to prevent outgassing of the dye under vacuum in space. We also need to assure that there will be no particles generated.
Our problem is that the dye is leaching in our water and alcohol cleaning process. Below is the history of our parts:
Originally processed multiple lots 8 to 10 months ago using Clariant Sandoz MLW dye and deionized water sealant process.
Discovered that dye was leaching and that they were not properly sealed. (Dye easily streamed off when immersed in distilled water).
Made test batch of parts and compared results of 2 reworks: 1. Stripping and reanodizing, dyeing and sealing with nickel acetate
2 One step resealing with nickel acetate at 200 degrees F.
Results seemed equivalent (no or minimal leaching) so we opted for the cheaper and easier re-sealing process (no 2).
But subsequent to this found that results varied on a lot to lot basis.
Have tried to research this but have found mixed and conflicting information and advice. So questions are:
1. Anyone have good references on rework of improperly sealed parts. Also on anodize in general?
2. Anyone have experience with reworking improperly sealed parts? What variables are important? Can the 8 month time period between the original dyeing and the attempt to reseal affect the parts? Would surface cleanliness affect the parts? (all reworked parts were cleaned with Genosolve a fluorocarbon based solvent mixture prior to rework).
3. Anyone know finishers with quick turnaround time that can process rivets without handling them one by one? (Work was originally done in a tumbler, but we have subsequently decided not to do any further work with the original vendor).
4. Any other advice? Tips?
Thanks very much!
Therese E
[last name deleted for privacy by Editor]
Swales
Ed. note:
1. The Surface Treatment & Finishing of Aluminum and its Alloys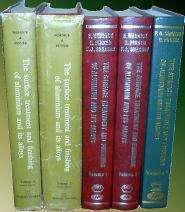 is the bible of aluminum surface treatment.
3. Accurate Anodizing [a finishing.com supporting advertiser] specializes in bulk anodizing. Sorry, companies are welcome to advertise here if they wish, we cannot post suggestions of brands or sources (why?)
---
1997
Follow-up to original post....we elected to try a two step sealing process in-house per Clariant's instructions (160 nickel acetate followed by 210 °F water) and it seems to have solved our problem. Am still interested in info on anodize, sealants, and critical processing variables especially for rework.
Thanks!
Therese E
[last name deleted for privacy by Editor]
---
1997
Most of the hydrothermal seals are hydrating the coating to form Al2O3.3H2O. This takes up more room than the Al2O3 and "swells" the pores closed, (sort of; there are tons of articles about sealing mechanisms). You might want to evaluate a two-step dye which deposits a metal at the base of the pores to deliver the black color.
Lee C. Branch
Albright & Wilson Americas