topic 0645
Need some plating books
A discussion started in 1996 but continuing through 2017
(1996)
Q. Hello. I hope you can help or guide me in solving the following problems:
First, I am looking to purchase two books on Plating:
1- The Electroplater's Handbook
CW Ammen
ISBN 0-8306-0410-3
1986

2- Metal Finishing Guidebook and Directory
(Hopefully independent of a subscription; otherwise, how much for subscribing from Montreal in Can$ ?)
Now for my questions:
I would like to plate lead and zinc parts into a bright brass finish. I would also like to turn tin parts into a bright brass finish.
Can you please guide me? Thanks in advance,
JJ Rousseau
Montreal, Quebec, Canada
---
A. Hello, JJ, "The Electroplater's Handbook" [link is to product info at Amazon]is available from the link at Amazon. Old issues of The Metal Finishing Guidebook are available from a number of used book dealers by following the link.
You are on the right track trying to acquire a reference library because your questions are hard to answer in anything much shorter than a book. You'll find whole books just on how to prepare zinc die-castings for plating, for example :-)
But briefly, you generally have to start the plating sequence for die-castings with cyanide zinc and then bright acid copper. Usually you'll want to plate nickel between the copper and the brass to give you brightness and corrosion resistance, and even to prevent the copper from diffusing into the brass. Activating lead parts requires fluoride based acids, which are particularly dangerous and aggressive to the body, so read up on that.


Practical Electroplating Handbook
N.V. Parthasaradhy
Solid tin parts are quite unusual, so much so that I wonder if you are using "tin" in the colloquial to refer to sheet steel parts rather than actual tin?
The plating book that is best arranged for answers to process sequences, in my opinion, is N.V. Parthasaradhy's Practical Electroplating Handbook =>

Good luck!

Ted Mooney, P.E.
finishing.com
Pine Beach, New Jersey


---
(1996)
JJ,
A. For the basics of electroplating, I would recommend Electroplating by Lowenheim.
An alternative is Practical Electroplating Handbook by N.V. Parthasaradhy. They are less technical than most.
If you are going to plate, Metal Finishing is one of the best buys for the buck.
Plating is expensive to set up and most supply companies will not want to sell to you and quantities are going to be large. Check with your environmental people before you make any decision. It could change your outlook on the whole subject.
Check out your local stained glass supply store or hobby shop. They may have or can order something that could substitute for the plating. Good luck.
James Watts
- Navarre, Florida
---
(1996)
A. Brass tinted transparent lacquers will give a bright brass look if the substrate is highly polished.
Regards,
Les Trinity
- Middlesex, New Jersey
---

Good point, Les. If the need for a 'brass' look is only decorative, tinting a clear metal item with a brass-colored tinted lacquer can sometimes be the most practical approach.
Regards,
Ted Mooney, P.E.
finishing.com
Pine Beach, New Jersey
---
---
January 8, 2017
Q. Dear all, I am working in electroplating I need your help please suggest me some online books so that I can increase my knowledge in electroplating.
veerendra kumar
electroplating - delhi,India
---
Digital version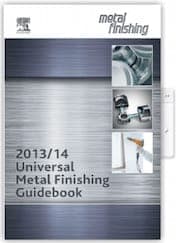 (No longer published, but Elsevier hasn't yet de-commissioned the online version of the Guidebook)
Download it before it disappears.
January 2017
A. Hi veerendra. The Metal Finishing Guidebook is, for now, available on line. I do not know of any other relatively new plating books legitimately available on line. There are a number of others on line against the wishes of the copyright holders, but this site won't participate in helping people find them :-(
Goran Budija has told us of a number of older plating books freely available:
www.galvanicrus.ru/lit/books.php (if you know Russian),
and listed his own free plating booklet.
Regards,
Ted Mooney, P.E. RET
finishing.com
Pine Beach, New Jersey
Striving to live "Aloha"


This public forum has 60,000 threads. If you have a question in mind which seems off topic to this thread, you might prefer to Search the Site