topic 0395
Alkaline Rust Remover Wanted
A discussion started in 1996 and continuing through 2005.
Add your Q. or A. to restore it to the "Current Topics" discussions.
(1996)
I need a formulation for a superior alkaline rust remover to remove rust from carbon steel.
Steve Milan
---
(1996)
We once used to use an alkaline product called Oakite. I'm sorry I don't remember the source.
Sandro Pisani
- Malta
---
(1996)
Actually, Sandro, Oakite is the name of a division of Chemetall. Thanks. But it sounds to me like Mr. Milan is looking for a generic formula.
Ted Mooney, P.E.
finishing.com
Pine Beach, New Jersey
---
(1996)
from The Chemical Formulary, c. 1940,
alkaline-acid pickling of Inconel, (I don't know if it was ever meant for steel) this Kickapoo juice is hotter than a pistol, and just as dangerous. I don't recommend anyone using it, for reference only.
steel tank, 180 degrees F
NaOH - 18 ounces
sodium carbonate - 18 ounces
KMnO4 - 7 - 11 ounces
Water 1 gallon
acid pickling solution
wooden tank (I'm not kidding, this is OLD) 180 degrees F
66 degree baume H2SO4 16 ounces
Sodium Nitrate 8 ounces
copper sulphate or copper nitrate 1.5 ounces water 1 gallon.
It's these kinds of solutions which make me glad that there are now proprietary solutions around.
Tom Pullizzi
Falls Township,
Pennsylvania
---
(1996)
There are two ways you can go. One is to buy a proprietary compound from a specialty chemical supplier. You will pay more but you will get technical support and laboratory backup.
If you want to make your own product, you can mix sodium hydroxide (or potassium for better rinsing or a combination) along with a couple percent of EDTA chelant (or Sodium Gluconate). You want to use the product hot 160+ at anywhere between 8- 16 oz gallon.
Dan Zinman
---
(1997)
Considering the complexity of a really good rust remover, why not go with a commercially prepared product. The main components are going to be lye and sodium glutamate. Numerous other materials tailor it to your need and water.
Generic formulas can be found in the AMS book on cleaning.
James Watts
- Navarre, Florida
---
My advice to you is not to try a generic formula, it is the small additives that suppliers add which makes all the difference. Go to a supplier!
Sara Michaeli
chemical process supplier
Tel-Aviv, Israel
---
You have to really careful with chelants because they prevent your water treatment system from removing some metal ions.
Dave Fairbourn
- Sandy, Utah
---
For a summary of all the former answers you can use an exact formula from the military specification Mil-C-14460 [link by ed. to spec at TechStreet] is the mil you need and you will have all the answers you need . (Use the non cyanide version)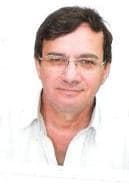 Yehuda Blau
YB Plating Engineering and Quality - Haifa Israel
---
(1998)
Try a solution of about 10% by wt. sodium hydroxide and 2 to 5% triethanolamine. Soak article in heated solution a few minutes for light rust. Rinse with passivating solution to prevent flash rust.
James Chunn
- Theodore, Alabama
---
(1999)
I used a product that turned the iron oxide into a ferrous coating on the surface (the surface turned black). I need a formula or a product.
Ed Gaines
Texas
---
Hi, Ed. I believe you probably used Naval Jelly [linked by editor to product info at Amazon] or another similar Rust Converter [linked by editor to product info at Amazon].
Regards,
Ted Mooney, P.E.
finishing.com
Pine Beach, New Jersey
---
(1999)
We are trying to develop an oil based rust remover and protective coating for metals. kindly help us in doing formulation for the above mentioned product.
Thanking You,
Yours faithfully,
Sreenivasan
-Tamil Nadu, India
---
(2000)
i need a rust/scale remover for sheet metal fuel tanks that can be used cold or hot and bought locally. I found a product called kreem tank liner that has a good rust remover but I can't get it locally and don't know the name of the acid that they use.. any ideas? thanks jim king
jim king
- orange park, Florida
---
(2005)
The most easily used material is called Naval Jelly [linked by editor to product info at Amazon]. BE SURE TO READ THE DIRECTIONS!

The most important thing is to clean the part being worked on as thoroughly as you can. Use a steel (stainless if you have one) brush and clean as well as you can.

Apply the naval jelly and be patient. You may have to reapply it several times because it doesn't remove a thick coating of rust, but it will surely remove the iron oxide (rust).

Be careful,

Doug
Doug Smith
metallurgical engineer - Las Vegas, Nevada


This public forum has 60,000 threads. If you have a question in mind which seems off topic to this thread, you might prefer to Search the Site