World's most popular finishing site / Internet's friendliest corner
topic 0161, p4
Clear coating brass, copper and bronze furniture, sculpture, and jewelry
Some clearcoating solutions (adv.)
---
---
A discussion started in 1995 but continuing through 2018
Clear Coat Failure on Buffed Brass Parts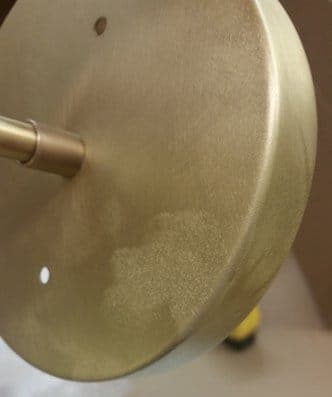 January 29, 2016
Q. We rattle can finish our small brass parts that have been buffed to have a satin brass finish. We clean them with acetone before we paint them with Rustoleum satin clear enamel. Our little shop processes over 10,000 brass parts a month and we're always fighting with clear coat failure. We experience white haze and cracks. Are we missing an important step? or could it be a temperature or metal expansion problem?

Thank you so much for your insight.
Sarah Wolfe
Quality Control - Phoenix
---
January 30, 2016
A. Using rattle can coating is really never advisable on production type jobs. I had the same issue long ago, I and stopped using rattle cans and started to dip them on more industrial type protective coatings.
Marvin Sevilla
- Managua, Nicaragua
---
February 4, 2016
A. I have worked in non ferrous metals for half a decade and have researched many options, I have been following this conversation for a few years. So thought I would chime in. I have come across a good reference at
https://www.copper.org/resources/properties/protection/clear_finishes.html
for comparing finishing options for copper and alloys.

I make brass lighting components. The best coating for my application in my experience, is a 2 part epoxy, some parts I have made are sealed by a factory I work with and is very robust and hard wearing and seals with a slight gloss. 2 part applications be it epoxy, acrylic, or silicone etc will have different properties so research what suits you best.

I don't have a dedicated spray booth, so I use Sculpt Noveau clear guard, and its better than the depo bought cans, but is not as tough as the epoxy. If you hit the item with a few coats, it comes out pretty good. Take your time though, as it can cloud over and will need another coat.

Also, surface rust is possible to seal, if its not flaking too much. After sealing it will have a tendency to leech if used out doors, after a good rain, but will 'purge the excess surface rust and the sealer will kick in after a few downpours. 2 part polyurethane is what I used.

I brazed a mild steel rose flower for my now wife while I was studying and sealed it with hairspray, it turned a lustrous black and stopped any further rust and that was 10 years ago! So big fan of hairspray too!

Hope this is of help to someone.
BEN TRULY
- Sydney, Australia
---

Thanks for the very informative posting and the excellent link, Ben!
Regards,
Ted Mooney, P.E. RET
finishing.com - Pine Beach, New Jersey
Striving to live Aloha
---
---
June 15, 2016
Q. I make jewelry and such with various wires. Most of the wire I work with is precoated, but lately I've come into possession of bare copper (house electrical system grade) wire. Perks of remodeling a house. As such, I've started making stuff out of that wire (waste not want not), but I've noticed it tarnishes/oxidizes quickly (my neck stays green). Is there anything I can coat it with that won't wear off after a few days of constantly wearing it? I've tried acrylic coat, and high gloss lacquer coat. Neither work. Any help would be nice and thoroughly appreciated.
Chryssta Lewis
- Charlotte Court House, Virginia, USA
---
June 2016
A. Hi Chryssta. It may be that you just need multiple coats of whatever you apply. But if wear resistance is the single most important property for you, I suspect that a 2-component automotive clearcoat (see my posting of Oct. 8, 2012) , or a UV-cured clearcoat (nail lacquer) will prove more durable than coatings which air-dry like lacquer (and probably your acrylic coat).
Regards,
Ted Mooney, P.E. RET
finishing.com - Pine Beach, New Jersey
Striving to live Aloha
---
June 16, 2016
Q. I have tried coating it with the acrylic clear coat, then the lacquer coat (and vice versa), but in a couple days, the coats peel off. Would the nail lacquer (nail polish?) or the UV coat peel after a few days? I should mention that it's moving pieces. There's the pieces I bent and hammered into shape, and the chain links that hold them to the necklace, so when I move, they move against each other. Does that change how the coat must be applied? Would that change what must be used to coat them with as well?
Chryssta Lewis
[returning]
- Charlotte Court House, Virginia, USA
---
June 2016
A. Hi Chryssta. Peeling off is a very different thing from wearing off. Peeling off means you do not have proper adhesion, which usually means the article was not truly clean.
You can try very fine sandpaper or brass wool, or scrubbing with a tampico brush and pumice, followed by wiping with acetone. If you can't get to all surfaces you can try dipping into acetone and then allowing to dry, but obviously that doesn't do much real cleaning. In industry, the cleaning of non-scrubbable surfaces could be done via electrocleaning (immersion in very hot and strong caustic soda with electricity applied in order to generate scrubbing bubbles of hydrogen), followed by rinsing with water, followed by a dip in dilute sulphuric acid to remove any tarnish, followed by rinsing again.
Regards,
Ted Mooney, P.E. RET
finishing.com - Pine Beach, New Jersey
Striving to live Aloha
---
July 15, 2016
A. KBS coatings make a specialised clear coat for bare metal … it cures extremely hard but remains flexible.
I am about to use it on brass plated motor bike springs.
Gregory Buttle
- tootgarook australia


---
September 30, 2016
Q. I have read a lot of the posts in this thread (on polishing brass/copper) and am really perplexed why it is that supplies for finishing/lacquering brass (or any metal for that matter) are so hard to find.
I have spent the majority of today (Friday) trying to locate a supplier of loose cotton, 1/2" thick, 6" dia' buffing wheels and some jewelers rouge buffing compound as well as brass lacquer. I have found a supply for the Everbrite lacquer (that I have to travel 100km/62 miles by bus and public transport to get to), but I still have not found the polishing stuff in the same area as the lacquer and am quite frustrated that something that I would consider easy to find has become so damn difficult. I live in St Catharines, Ontario, and to get the Everbrite lacquer I have to travel to Toronto, then take public transport to Woodbridge (NNE of the downtown core). I find this quite extraordinary and really perplexing. I can't find anything local that has what I need.

Does anyone know of a supplies business that is in St Catharines or nearby? Using the internet is no use as I have been unable to source a place close to me. Port Colborne, 40km away by bike, is the closest place that has what I need at the moment, but their prices are excessive.

Which brings me to another point …. 4 oz of Everbrite is $31 plus tax = $37.20!! Why are these products so expensive? I purchased some rusto-leum (?) clear varnish (oil based) from Canadian Tire which I took back, because I felt it wouldn't last too long, which is why I have gone on the search for something better. But that product was 960 ml and cost $15 + tax = around $18.

The brass pieces I am trying to lacquer need a durable finish.

These were all made by me on a milling machine or lathe.

Any help would be appreciated.
Christopher Sagajllo
- St Catharines, ON, Canada
---
January 2017
A. Hi Christopher. Even common things like clothes are getting very hard to stock and sell from brick & mortar stores. Macy's is closing numerous stores, so is Sears, so is The Limited. There is one major mall under construction in all of America, and that one only because the government has promised outrageous tax breaks. It's changing times; everything you want is readily available on line though.
I certainly don't fault you for returning a product you felt inadequate, but time is money and people have to be paid; so the other products we buy have to be priced high enough to absorb the time spent on the original sale, the cost of the wasted product, the time spent on the return, etc. Things can't be sold at cost, and allowance must be made for returns, liability insurance, etc.
If you contact Everbrite [a finishing.com supporting advertiser] directly to buy in volume you'll find it is currently only $1.70 per ounce when bought by the gallon. It probably would cost even less if you needed a 5-gallon container. Best of luck!
Regards,
Ted Mooney, P.E. RET
finishing.com - Pine Beach, New Jersey
Striving to live Aloha
---
---
November 30, 2017
Q. Hello, I'm looking for a clear coating solution for a range of polished copper bathroom accessories, such as a towel rail and wall hook. One of the products is a toothbrush holder will sit on the countertop, so this will likely sit in water sometimes and be exposed to toothpaste as well.

In terms of durability and water/humidity resistance, Ted's advice on this thread seems to point to 2 step automotive coatings. From reading about some of the more professional ones, I understand that they are primarily urethane based, is that right? The information on their websites is not quite clear in this regard.

From what I'm reading from the Copper Development Association's site, it would seem that acrylic or epoxy based products could offer the best performance. I understand that everything depends on application and environmental conditions. (I wish someone would do a double entry chart on this with performance ratings in each evaluation category depending on application and conditions). Is it possible that some 2-step automotive clear coats are actually acrylic or epoxy based?

In terms of application, my coater as well as these automotive coating websites recommend a light sanding or wet sanding prior to application. While the automotive folks are obviously thinking over paint, I imagine the same thing applies to copper, and perhaps even more so to achieve proper adhesion. Does this mean my polished copper finish is out the door? Or what level of sanding are we talking about? Is there an alternative, i.e., chemical etching or something else?

If anyone has long term experience with such automotive clear coats on copper, I'd very interested in getting an idea of durability after a few years, and the necessity and relative difficulty of reapplying.

Sorry for the long post. Look forward to replies, thanks!
Patrick Pearce
- Montreal, QC, Canada
---
December 26, 2017
A. Hi Patrick,
Clear acrylic gloss or high gloss lacquer may be helpful for your application. Sanding helps improve adhesion by increasing the surface area but sanding is not required.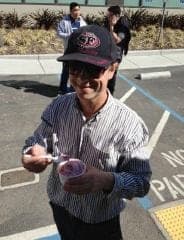 Blake Kneedler
Feather Hollow Eng. - Stockton, California
---
December 30, 2017

Thanks Blake. I've since ordered a urethane acrylic that's designed to work over a range of raw metals from one of the major producers of professional automotive products. Not cheap, but supposed to work fine without sanding. Will keep you posted on results.
Patrick Pearce
[returning]
- Montreal, QC, Canada
---
---
March 28, 2018
Q. Hi all, I make jewellery and metal art from Silver, Copper and Brass (so far never mixed; these are just the three materials I generally use) and while I have tried many things I can't seem to find anything that works.

I've tried the Renaissance wax with a pre-treatment of baking soda and water, and that works super well on silver but not so much on the brass and copper (they still dull and darken over time)

I'm now looking to create a very particular piece - a jewellery box with brass designs inlaid into the surface. These will be fixed so can't be removed for touch ups, etc., as the wood used (tulip if it matters) will be sprayed and I'm afraid of a reaction to the spray if I apply it in place. Additionally, Malta is a very humid and dusty country so this will need to be dusted (and probably wiped with a damp cloth) from time to time and there might be some light wear since it is the cover of the box.

Similarly I am making a set of bookends with brass rod elements and need something to cover these as well.

Basically I'm looking for something permanent that could survive a nuclear attack.

Any help would be appreciated.
Corinne Vella
- Malta, Europe
---
April 5, 2018
A. Try Everbrite [a finishing.com supporting advertiser] coating or, if you are rich man, try nanotechnology based coatings (1000 euros/1 lit!!) …
Hope it helps and good luck!
Goran Budija
- Zagreb,Croatia
---
---
August 28, 2018
Q. I have some pathway lights that have a copper-like coating. I think the base is aluminum. The finish on the first batch started to come off pretty quickly, probably due to chemicals in our water which was splashing the lights from the sprinkler system. I got some new lights eventually and tried spraying them with some clearcoat, but I think the solvents in the clearcoat ate into the copper-look finish. Any suggestions for things I could try? Maybe I should have just shelled out for real copper lights to begin with, but couldn't find any pagoda-style lights.
Rob Hulvey
- Los Angeles, California, USA
---
August 2018
A. Hi Rob. You are probably right about sprinkler water being more corrosive than rain water or city water. Chemicals like lawn fertilizer can be a problem. I think you realize the problem here: you have something which looks like copper but isn't, and you don't know what it is. But the thing is, we readers probably don't either :-(
It might be anodized aluminum with a copper color dye, or it might be a paint or powder coating. My guess would have been anodized aluminum, but I wouldn't expect solvents from a clear coat to react with anodized aluminum.
At this point I'd probably suggest that you look for an outdoor spray paint (like Krylon or Rust-oleum) in a copper or other hammered metal look, and apply it after cleaning the lights the way you would clean dishes.
Regards,
Ted Mooney, P.E. RET
finishing.com - Pine Beach, New Jersey
Striving to live Aloha
---
---
November 10, 2018
Q. I treated a copper weathervane with Incralac and it may last ten years according to one of the posts here on this, however, I had hoped for longer. I am not keen on the wet shiny look it leaves.
It's fine for a weather vane which is far out of sight. I treated a copper watering can and a plant container and neither has tarnished but these are indoors.
I am considering using it now on an external bronze bell which has a nice patina I am hoping to keep; I fear it might lose its patina using the lacquer again and the permanent "wet" look is not that desirable. I read that the natural patina on outdoor copper and bronze items does in fact itself protect what's underneath from further deterioration so best to not treat it with anything at all?
So I am tempted to leave it untreated, but does anyone with experience agree that this is true?
I. Roberts
- United Kingdom
---
February 24, 2019
A. I would like to suggest trying the Satin or Matte Incralac coatings. They are not glossy and it is better than regular Incralac in preserving a natural metal look.
Marvin Sevilla
- Managua, Nicaragua
---
March 5, 2019
A. Try USA made nanotechnology based protective coating (www.nanotechcoatings.com/automotive-coatings/metal-coating/ ). Hope it helps and good luck!
Goran Budija
- Zagreb,Croatia
----
Ed. note: We know that Goran has no vested interest in that product, and we don't want to be unappreciative towards someone who has helped our readers with an incredible 1500 responses across more than 16 years, so we posted his reply -- but we do ask that specific brands and sources not be suggested (why?)
adv.