Live! From beautiful Pine Beach New Jersey: Welcome to the world's most popular metal finishing website
topic 0161, p3
Clear coating brass, copper and bronze furniture, sculpture, and jewelry
Some clearcoating solutions (adv.)
---
---
A discussion started in 1995 but continuing through 2018
November 6, 2012
Q. I have copper countertops in my home kitchen that I would like to keep shiny and untarnished. The counters get light to normal use, no children in the home, cutting boards always used. They polish up fine to a shiny satin finish using a cleanser with oxalic acid in it but I have not found a clear coat that lasts more than a month or so.
After the clear coat has been applied I only clean with a liquid household cleaner with no abrasive in it but the copper still tarnishes after a few months.
What in your opinion will work the best for me on my countertops?

Thanks, Albert
Albert Reinhart
- Minneapolis, Minnesota
---
November 6, 2012
A. Hi Albert.
You can try the automotive clearcoat. Because this is a two-part solution that cures rather than dries, it leads to a quite hard surface.
Regards,
Ted Mooney, P.E.
finishing.com
Pine Beach, New Jersey
---
November 7, 2012
Q. Thank you for the swift response. Is there a particular type or brand you recommend?
Albert Reinhart
- Minneapolis, Minnesota
---
November 12, 2012
A. Hi Albert. Sorry, we don't print particular brand recommendations here (why?), but two-part clearcoats don't "dry", they "cure". That is, there is a reaction that occurs when the two components meet. This requires mixing the two components together and spraying them quickly, which is not possible without spray painting equipment, unless you buy the special rattle cans (like the one shown from Amazon) which mix the components just before spraying. I am not recommending or dis-recommending those special cans, but I don't know any other spraying alternative open to consumers who do not have spray painting systems. I imagine you could brush the two-part coating on though.
Regards,
Ted Mooney, P.E.
finishing.com
Pine Beach, New Jersey
---
June 12, 2013
Q. I am making in Jaipur India a lot of silicon bronze 15 ft high lamp posts bronze patinated and some gold plate they are going to Israel, 100 yards from the sea, a desert with big temperature swings from night to day, subject to big sandstorms, some ash outfall from a power station.
I thought of E-coating but too difficult to repair, I need a coating that can be stripped off and reapplied on site if necessary.
I thought of a sacrificial wax coating to be applied every year or after a storm -- will wax evaporate in the heat?
Any ideas how we can protect this for 25 years ?
Norman Morison
manufacturer - Jaipur, India
---
July 15, 2013
Q. I saw a suggestion to use hairspray instead of lacquer to protect polished brass household items. Will this work? If so, what are the pros and cons, please? Many thanks to all the expert help offered here!
M Hollis Hutchinson
householder - Dallas, Texas
---
July 19, 2013
A. Hi Hollis. Hair spray is formulated to hold hair in place; brass lacquer is formulated to protect brass from corrosion and help retain it's polished look. They are very different and, while hair spray might be 'good enough', there can be no question of which is better.
The issue becomes how much brass do you need to lacquer, how well, and how important is trying to save $10 and the inconvenience of ordering brass lacquer? I am not making fun of the hair spray suggestion, I'm just saying: while it may be appropriate for someone who has one old brass knick-knack and a half-used can of hair spray on hand, please don't go out and buy hair spray instead of brass lacquer … that would be silly. Good luck.
Regards,
Ted Mooney, P.E.
finishing.com
Pine Beach, New Jersey
---
July 19, 2013

Thank you very much for your reply. It sounded a bit "fishy" to me, too.

:> H.
M Hollis Hutchinson
- Dallas, Texas
---
July 24, 2013
Q. Thanks all you for bright minds information!

~~~~~ Man did I take notes!~~~~~

I am asking a similar question again … :)

Is there a *non-toxic-coating* for *COPPER* jewelry worn on the *SKIN*? … besides the Renaissance Wax?

I did hear of a MagicGloss with decent results. It's only cause it's a NEW 2 yr. Old product for crafts
Therese Timm
- Petaluma, California
---
November 27, 2013
Q. I've used Incralac on my sun-dial and found it barely lasted 12 months before needing redoing. I only used it on the inside of the armorial ring, which is of brass - where the sun's shadow highlights the time. The stand, a pedestal of bronze, has, after 8 years in the weather, acquired a patina of bird droppings, which I've attempted to clean off with only moderate success with soap and water as recommended on another site. Is there a product I could use to protect the bronze in all weathers? I've found Incralac fine for indoor use but not outdoors. I'm in New South Wales, Australia where the sun can be fairly fierce.
William Power
- Terranora, NSW, Australia
---
December 2, 2013
A. Try Everbrite coating (USA product). Hope it helps and good luck!
Goran Budija
- Zagreb, Croatia
---
---
December 4, 2013
Q. We have coated some interior polished brass handrails with Incralac and after 6 months they do not look good anymore, and continue to get worse. They are in traffic areas. The maintenance program is to just dust/wipe the handrails down, no solution or waxes. What can the problem be?
Dave Nowlan
- St Francis, Minnesota, USA
---
February 22, 2014
Q. Also, the work area was contaminated by an outside contractor who drilled holes in concrete walls and dust covered all brass, not sure how they cleaned the dust from railings, but could that have caused some deterioration problems?
Dave Nowlan
[returning]
- St Francis, Minnesota, USA
---
---
Non-toxic long-life dip for copper-brass valves
May 27, 2014
-- this entry appended to this thread by editor in lieu of spawning a duplicative thread
Q.
We are making valves (copper pipe brazed into brass body). Our problem is the finishing touch to our products. Looking forward to some non-toxic dipping method which could give good results and good look/finish stays quite long.
Ali Hussain
product designer - Lahore, Pakistan
---
June 2014
A. Hi Ali.
" 'Toxic' is a matter of statute, not opinion" as a former New Jersey governor sagely remarked. If these valves will carry drinking water, the brass as well as the coating must comply with standards depending on who will be using them and where. If not, a benzotriazole dip, followed by a rinse, will last a short while -- but will require brass lacquer for longer tarnish-free life. Good luck.
Regards,
Ted Mooney, P.E. RET
finishing.com
Pine Beach, New Jersey
Striving to live "Aloha"
---
---
July 3, 2014
Q. Hello,

I've just purchased a metal marquee light that should be sealed to prevent the red rust dust from getting everywhere. I've been told to use hairspray or clear spray paint. Can you please tell me if either of those products will work fine or if I should use something else instead.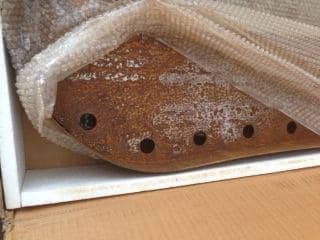 The light will used indoors only. Also, whatever I use to seal the sign needs to withstand the heat from the lights.

Thank you
Traci
Traci King
- Atlanta, Georgia USA
---
July 2014
A. Hi Traci. Clearcoat is not shrinkwrap which you can expect to hold powdery rust in place. If the rust doesn't adhere, although the clearcoat may adhere to the powder, they'll just come off together. So you have to hope that your clearcoat can "wet" the solid metal and adhere to it, holding the intervening rust dust in a suspension. I think your best bet is always something formulated for the purpose (a real clearcoat) rather than something re-purposed (like hair spray).
I don't know what size the marquee lights are, and how much of a heat problem they cause, but maybe you can go retro-modern chic by using LEDs, which won't get nearly as hot :-)
Regards,
Ted Mooney, P.E. RET
finishing.com
Pine Beach, New Jersey
Striving to live "Aloha"
---
November 12, 2014
Q. I have a large Elektra espresso machine about 10 years old. It's made of copper and brass. There is a clear coating that has been damaged by the use of some aggressive cleaning compounds. The machine has surfaces that are heated to greater than 150 °F. I tried spraying lacquer on one of the surfaces that is constantly heated. The surface fogged immediately. Any suggestions for me?
Dan Anderson
- san jose California
---
---
How do I make polyurethane lacquer and acrylic lacquer?
November 14, 2014
Q. Hey, can anyone please tell me how to make polyurethane lacquer and acrylic lacquer? What is the chemical process for it? Please tell me.
ritesh parmar
plating - rajkot gujrat india
---
November 2014
A. Hi Ritesh. I have no experience in formulating such materials, so I may be wrong …
But I have a whole shelf of books on the topic, and I think you need to get a book on the subject, as I tend to doubt that anyone could answer such a question in a paragraph or two. But we'll see.
Luck and Regards,
Ted Mooney, P.E. RET
finishing.com
Pine Beach, New Jersey
Striving to live "Aloha"
---
---
Antique cash register (brass/bronze) tarnishes quickly!
December 14, 2014
Q. Hi … my 100+ year old NCR register is brass or bronze with various surfaces -- smooth, pebbled and decorative motif. It's a beast to clean but even worse, it seems to start tarnishing almost immediately after cleaning. I've never put a finishing coat on it but would like to try something to stem the return of the tarnish. Should I consider a clear spray lacquer? Can this be removed at a later time if desired?

Thanks!
Kevin Cody
hobbyist - Halifax, Nova Scotia Canada
---
February 25, 2015
Q. Hello,
I am looking for a lacquer which can be applied to copper (patinated dark), and which can withstand constant immersion in water.
I am making copper vessels that will have water flowing from one to the other constantly. When it is switched off (overnight) it will also have some water sitting in it.
The reason for a lacquer instead of embracing copper natural water resistance is that there is a very particular colour/patination i am after, which would change if unsealed/unprotected.
I look forward to your ponderings …
Many thanks,
Edward
Edward Robinson
- London, UK
---
---
To lacquer or not lacquer an antique brass door knocker exposed to elements?
June 3, 2015
Q. I have a brass "sphinx" antique door knocker that is being professionally sanded and polished right now; the refinishing includes removing copper plating so that just the brass shows. The door knocker will be on a door that is totally exposed to the elements here in New England, and we live about a quarter mile from a bay. I need to buy a new door handle set that will look good in terms of finish with the door knocker. I'm torn between having the antique door knocker lacquered by the professional and then buying a "lifetime finish" on a new door handle set OR instead keeping the antique door knocker unlacquered and buying an unlacquered door handle set so that they hopefully acquire a similar patina over time.

It would help me make my choice to know how long lacquer, if applied to the antique door knocker, is likely to hold up well when exposed to the elements.

One other question--once the copper plating is removed, if I keep the brass antique door knocker unlaquered, what color is it likely to tarnish to? (The copper plating in the past tarnished to a red; as I am going to have a red painted door, my hope is that the brass would tarnish to a different color).

Thank you for any help you can give.
Colleen Murphy
- Bristol Rhode Island
---
---
August 18, 2015
Q. Hi

After reading a few US postings mentioning Incralac (presumably made in the US?), after enquiring upon a UK product called Incralac (Rylard - claims of military development) and now seeing a German product called Incralac I wonder if anyone can shed light on this "family" of similarly named and purposed products?

The copper org …

https://www.copper.org/publications/pub_list/pdf/a1349.pdf

Suggests to me that perhaps iIncralac is an "open source" solution developed by interested parties and maybe now manufactured at different locations by different companies?

This is not purely academic as readers cannot be sure as to the universality of recommendations unless we know exactly what product we are talking about.

I take on board Ted's comments about discussing technologies rather than brand names but on this particular thread I do feel it is hard to avoid
@ Ted Mooney

"coating or pretreatment should probably incorporate or be preceded by a preservative like benzotriazole."

Ted, as I understand it benzotriazole forms a passive layer on copper. Do you happen to know whether this layer is compatible with e-coating methods, in particular whether it creates an appreciable electrical insulation that would undermine the e-coating process?
Jon Light
- Ireland (was Denmark)
---
September 2015
A. Hi Jon. The INCRALAC name stems from INternational Copper Research Association LACquer, and it refers to certain lacquer formulas which contain benzotriazole … but that doesn't tell us the formula they developed, nor whether you need permission to formulate it yourself, nor how you get a license to use the name. My suspicion is that it is NOT "open source" but I think you would need to contact INCRA's successor, the International Copper Association to find out. I would assume, although I haven't tried it, that one can dip copper into benzotriazole and then apply a conventional brass lacquer, and obtain rather similar results.
I do not actually know what would happen if you tried to electrocoat a copper surface that was passivated with benzotriazole, but I do know that the compound is used to protect copper masters which are electroformed upon, so I know that conductivity is specifically not a problem, and doubt that there is any problem at all.
Regards,
Ted Mooney, P.E. RET
finishing.com
Pine Beach, New Jersey
Striving to live "Aloha"
---
January 18, 2016
Q. We purchased a statue of Sisters from auction over 20 years ago. We lived in Ca at the time and I noticed some pitting on the arms and decorative areas. We inquired and were told it was due to moisture and to use Lemon Pledge spray. We have and it does seem to arrest partially. What can we do to protect this inside piece of art that will one day be willed to family?
Sylvia miller
- Battle Ground, Washington USA
---
January 2016
A. Hi Sylvia. If it's a really important piece you should contact a metal conservator, especially if you don't know exactly what it's made of. But if that's not realistic, and assuming it's metal not wood, I don't think wood polish is the right stuff. I'd either go with museum wax or brass lacquer. Good luck.
Regards,
Ted Mooney, P.E. RET
finishing.com
Pine Beach, New Jersey
Striving to live "Aloha"
---
---


If you have a question in mind which seems off topic, please Search the Site