topic 9298
Screen printing polyethylene
A discussion started in 2001 but continuing through 2017
2001
Q. I'm trying to screen print on a polyethylene sheet stock for a project, but nothing I've tried (Polypro and Plastisol) seem to work. I've heard that polyethylene CAN be screen printed with the appropriate ink after being "flame" or "plasma" treated. Can someone explain what this is? Is it just flame heating the surface to be printed?
Any help would be appreciated.
Todd B
[last name deleted for privacy by Editor]
- Los Angeles, California
---
2001
A. Polyolefin webs, including polyethylene all require some form of surface treatment to render them "printable".
Plasma or flame treatment effectively refresh the surface promoting adhesion for later printing. Other methods would include corona discharge, but the more aggressive flame treatment will be more appropriate for this application.
Webs can be purchased with suitable levels of pretreatment. You are looking for a surface energy level in excess of 40 dynes for acceptable levels of print adhesion. This can be tested with test pens filled with test solutions applicable to a range of energy levels from around 30 dynes up to 50 dynes. These pens are available together with solutions from companies like Sherman Treaters or can be formulated with care in house.
You can also discuss with your ink suppliers a range of adhesion promoters for the silk screen inks which will help increase adhesion levels on the film surface - but the prerequisite is some form of pretreatment.
Discuss with your film supplier the supply of suitably pretreated film - but remember that pretreated film decays and is not likely to have a shelf life of longer than six months. The alternative is to purchase suitable surface treatment equipment that you can treat your own film - there are a number of suitable suppliers and costs vary on the width and type of materials and speed and level of discharge required.
Kind regards,
Dr. William L
[last name deleted for privacy by Editor]
- United Kingdom
---
---
Acid etch for pad printing
2004
RFQ: WE DO ENGRAVING AND PAD PRINTING FOR CORPORATE GIFTS AND HAVE A LOT OF ENQUIRIES FOR STAINLESS STEEL AND CHROME GIFTS AND UNDERSTAND THAT ACID ETCHING WOULD BE THE BEST WAY TO GO FROM SPEED AND EXPENSE ON KNIVES, etc. PLEASE CAN YOU ADVISE ME ON WHAT MACHINE/UNIT OR APPLICATION IS THE BEST FOR THIS PURPOSE AND WHERE I CAN OBTAIN IT.
THANK YOU VERY MUCH
MICK LAMB
ENGRAVING - JOHANNESBURG, GAUTENG, REP. SOUTH AFRICA
---
---
Permanently marking HDPE or LDPE
ACRONYMS:

HDPE = High Density Polyethylene
LDPE = Low Density Polyethylene
(2007)
Q. I am attempting to identify a means of applying a permanent marking to a sheet of black HDPE or LDPE. Apparently it is difficult if not impossible to reliably screen print on H/LDPE.

I would appreciate any direction offered on this matter.

Thanks
Bill Franklin
- Palmerston North New Zealand
---
February 14, 2008
A. Hey Todd - Don't know how long your question has been posted. By chance I ran across this site. Your textile inks are not going to work on the poly and it sounds like you do not have UV equipment. Most poly purchased for screen and flexo printing has already been treated. However the surface treatment is only good for a few months.
Good luck - Ben
Ben Taylor
- Los Angeles California
----
Ed. note: Todd's inquiry is quite old, Ben. But in addition to answering people's "almost live" individual questions, we are building an internet resource, and your response will be very helpful to future readers, even should Todd no longer need the advice.
---
January 27, 2010

Thank you Ben for the advice. I had this same question and got the answer before the question. The editor is correct in pointing out that no matter how old the question and response, there will always be a use for informative blogs. Thank you and thanks to Finishing Dot Com.
Derek Butler
- Cape Town, South Africa
---
---
Guide To Plate Making For Pad Printing
Q. Please guide me on the procedure for plate making for Pad Printing method.
Pomili N
[last name deleted for privacy by Editor]
- Mumbai, Maharashtra, India
---
Hi, Pomili.
A. There are a good number of youtube videos that illustrate the general idea. They generally are either specific instructions for a particular brand of pad printer, or teasers to interest you in buying training videos, rather than being good introductions. But here's one of them --
Although I don't personally know anything of this technology, our many readers will usually be happy to help you. Please introduce yourself and delineate your situation, e.g., is this a student homework question, or are you a hobbyist thinking of investing in a kit, or are you a professional printer who is confronting a problem? Good luck!
Regards,
Ted Mooney, P.E.
finishing.com
Pine Beach, New Jersey
---
---
July 26, 2012
Q. I, too, am looking for an ink solution to either silkscreen or roll out a yellow logo on top of a black HDPE wheelbarrow tub. The yellow part of the logo is raised on the mold so if I can find the right ink of a reasonable viscosity, it technically could be simply rolled onto the raised logo.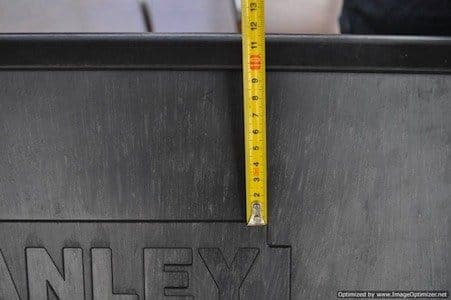 Alternatively, I could silkscreen if I could somehow regulate the positioning of the silkscreen to get a consistent image. Is there a specific preparation and final ink that someone can recommend?
Kurt Feick
tools - New Canaan, Connecticut
---
August 13, 2012
A. Have a similar desire to screen a logo onto a knitted polyethylene fabric & found Nazdar has a product specifically for decorating untreated polyethylene. It is their "PA Series Poly-All Screen Ink".

You may also find success with pad printing.
Bill Lee
- Wheaton, Illinois, USA
---
---
February 11, 2017
Q. I am trying to print on HDPE vegetable crates, I need your help to get ink with batter adhesion on plastic surface.
P. K. Humad
- Udaipur, Rajasthan, India


If you have a question in mind which seems off topic, please Search the Site