Live! From beautiful Pine Beach New Jersey: Welcome to the world's most popular metal finishing website
topic 9194
E-coating paint colors available
An ongoing discussion from 2001 through 2018
2001
Q. I have a customer who is looking to have their parts e-coated. Not a problem, but they want a brown color. So my question, does anyone know if there is a brown e-coat out in the industry, and what the name of the company(s) is.
Thank you,
Bill Sechrist
- Cincinnati, Ohio, U.S.A.
---
2001
A. We currently run a brown e-coat but it was custom made for us by PPG using a neutral white e-coat that we mixed with a "paste" to get the correct color; all supplied by PPG. The customer had to do this custom installation because 99% of the jobbers are using black (due to the automotive industry being the biggest market in chassis components). Good luck with your hunt, but we went through this six months ago with no positive results. Contact PPG, they could give you the names of some captive tanks running different custom colors.
Joe DeAmicis
- Edison, New Jersey
---
2003
A. We have one color of e-coat to offer. It is White.
John Arakelian Jr.
- Johnston, Rhode Island USA
---
June 26, 2018
A. I HAVE SEEN BLACK COLOR; EVEN THOUGHT IT IS BROWN.
KISHAN RAIYANI
SLIDETECH IND. - GUJRAT, INDIA
---
---
Tinting of Electrocoating Processes
2004
Q. E-Coat Processes. We are currently pursuing tinted E-Coat to replace a couple of our current finishes. What are the pros and cons of E-Coat?
How hard is it to maintain a tinted process? How hard is it to maintain a consistent color? How hard is it to maintain any E-Coat process? How many people truly use the tinted product in a large production process?
If contacted by a supplier one of the first questions will be 'If you have a tinted process over brass substrates in operation, we will want to visit these facilities'.
Gloria Schwedler
Engineering Technician - Indianapolis, Indiana, USA
---
2004
A. I can tell you that it is not a new-fangled process, cousin Gloria. The "Handbook of Electropainting Technology" was published in German in 1974 and translated to English in 1978. The plating supply company I was employed by in the early 1980's already had it in production at a lamp factory to turn nickel plated lamps into "brass" lamps. I know that a lot of door hardware was produced this way.
You are certainly on the right track with your questions, and in wanting to see it in production before committing to it. But I am confident that a supplier will be able to show you successful installations. Best of luck.
Ted Mooney, P.E.
finishing.com
Pine Beach, New Jersey
Striving to live "Aloha"
---
2004
A. To: Gloria Schwedler
The "Pros" of E-Coat are numerous, however the applicability of E-Coating most certainly would depend upon the finishes you are considering for replacement.
The "Cons" of E-Coat is that a separate bath is required for each color, however there are exceptions to this as well. Considering most tinted baths are transparent to varying degrees, the color or finish of the substrate material as well as the coating thickness greatly affects the final finish.
Regarding maintenance. A properly designed and equipped E-Coat system requires essentially the same maintenance as a properly maintained plating bath. The solutions and the system must be monitored to assure a quality finish. I think you will agree that this is true for any manufacturing or process system. Consistent color is simply a result of using the same voltage to apply the coating and replenishing the bath with the same formula of dyes and pigments that originally made up the bath.
I hope I have been of some help to you.
Edward Muldoon
- Costa Mesa, California USA
---
---
To minimize your searching efforts and to offer multiple viewpoints, we've combined some threads into the dialog you're viewing. Please forgive any resultant repetition or failures of chronological order.
---
---
Colors of CED Paint
June 12, 2008
Q. Why generally are OEM industries using Black or Grey CED paint? If we are using red or blue CED paint then what kind of problems will in create in regular painting process?
Bhavesh. Joshi
paint technologist - Gujarat, India
---
July 2, 2008
A. Absolutely no problem if you develop the CED paint color of blue or red with your Paint supplier. However there are separate stages for CED: UF1 , UF2 & DM rinse stages are required.

You can do an Epoxy Grey ED followed by UF rinses then Acrylic top coat ED and rinses.

Thanks & Regards,
P.M.Saravanan


paint shop manager
Chennai, Tamilnadu, India
---
A. I like cousin Saravanan's answer and I suspect that if we read between the lines, recognizing that the epoxy coatings used for priming are not UV stable anyway, we see why there was no rush to offer them in attractive colors, whereas colors are available in the coatings designed as topcoats.
Regards,
Ted Mooney, P.E.
finishing.com
Pine Beach, New Jersey
Striving to live "Aloha"
---
July 19, 2008
A. CED coating and its development has been intertwined with the automotive component surface finishing requirement. The requirement here has been a primer coating in black or gray. And only for this reason, in India particularly, only these two colours are available. Outside India, where there is sufficient demand, CED coating is also available in different colors.
There is a second facet to this. The epoxy based CED coatings have a high SST resistance. But they do not have UV resistance. To make it UV resistant, CED coating is used as a primer coating followed by Acrylic or PU topcoat as written by my friend Saravanan. This gives the component the best of both the worlds.
There are single coat Acrylic E-coatings also available in colour. But again not in India. Then there are clear coat E-coats which can be tinted. These are available in India. But for each coating or combination of coating the performance will change. You will have to evaluate what you require and the coating or combination of coatings can deliver.
Gurvin Singh
Coatec India

Mohali, Punjab, India
---
---
Availability of colored acrylic CED paints
October 15, 2010
Q. In which country are these coloured CED paints used and for which components?
PANKAJ NEVE
- Jalgaon, Maharashtra, india
---
April 20, 2013
A. 1. Please note that ACED is already introduced in India in 2004, but since it is tailor made product for the 2-Wheeler Chassis, it is never advertised in 4 wheeler OEMs.

2. Coloured CED will be the over-qualified product for industry. In any case (normally in Auto Industry) primer is used which takes care of its UV resistance improvement, and DFT of the top coat ensures that UV rays will not reach to the ED film. And it creates a best combination. Few OEMs go ahead with MONO coat system over CED, in which they just need to ensure top coat DTF with takes care of UV transmittancy.

3. Below are the issues for coloured CED.

Other issues
a Same colour base will lead to assumption of coverage early and may lead to reduction in the top coat DFT (error prone method)
b Top coat DFT cannot be reduced down, or else there would be threat of Peel off due to UV Delamination
c John Deere is using green CED which is very costly. Maybe because their eco topcoat doesn't have hiding, which is not same case for other tractor manufacturers
d No tinting of CED paint (Shade will be depending upon availability of CED Grade Pigments, hence whatever reddish shade achieved will be the final shade)
e Only inside area can be considered for top coat saving
f No commercial saving
g No back up during break down or any other production constraint (due to unique product)
h There would be shade and gloss variation in Substrate to Substrate, due to the difference in the EMT obtained on it

Cost Higher
a Additional Mill will be required
b Separate resources
c High Price of Red Pigments
d Separate Inventory
e Equipment cleaning cost will rise
f Process time will increase, Total productivity will be hampered
g Rationalization (Volume) benefit (of common CED) will vanish
h R&D Cost
i Currently production is localized, which will have to be made Centralized in case of multiple factories
j Transportation cost will increase due to Centralization

IN SHORT, JUST TO CONCLUDE, IF YOU CANNOT EXPOSE ONLY CED COATED COMPONENTS TO REGULAR ATMOSPHERIC CONDITIONS AND ANYWAYS YOUR TOPCOAT DECIDES COLOUR OF YOUR COMPONENT THEN WHY ONE SHOULD USE COSTLIER PRODUCT. AS SHADE OF THAT PRODUCT WILL HAVE NO ADDED VALUE EXCEPT THE WORKABILITY BENEFITS. BUT FOR THAT ALSO COSTLIER CED IS NOT THE OPTION, PIGMENTS WITH HIGH UV TRANSMITTANCY RESISTANCE ARE AVAILABLE IN MARKET.
Mitesh Salkar
- Mumbai, Maharashtra, India
---
---
Maintaining E-coating colour control
July 22, 2014
Q. I have a problem whereby e-coating supplier is always sending me non-conforming parts, whereby the part could be too yellowish or too bluish. Even though colour limit is established, the incoming parts colour is not consistent, which still comes with mixed yellowish and bluish.

Since I am new to this E-coating industry, I want to ask,
a) Is it possible to keep the colour in only one range? Bluish only, not yellowish, as we install the pieces in a pair. It will be obvious to customer if the colour difference between them is too great.
b) Is the colour yellowish/ bluish caused by any one factor, like oven baking?
Terrance Yu
- Bayan Lepas, Penang & Malaysia
>
---
October 26, 2014
A. Colour is changeable because of resin used.
Which type resin do you use?
Curing temperature?
Curing time?
Regards,
Dr Halim Polat
- istanbul Turkey
---
February 11, 2015
A. Hi, change in the colour of the final CED components depends upon many things and it is possible to keep it same if you are going to take extreme care of the painting process.

Below are the variables for change in the shade:
1. Zeta Potential of the combination of the pigments used
2. Change in the F1:F2 ratio
3. Change in the baking schedule
4. Usage of the additives (minor impact)
5. Availability of water based suitable pigments for certainty of the shade.

Below are additional variables for the Baking Schedule:
1. Load in the oven
2. Thickness of the components used
3. Capacity of the oven Vs actual loading
4. EMT on thickest part Vs actual EMT getting on outer shell
5. Exhaust and opening of the oven
6. Ramp up of the oven.

Keeping all the above said things well in control is almost impossible, hence keeping shade in control is also impossible.

But since anyways one cannot use the CED as final coat, as far as outer shells (where shade is so critical), one should not bother much for exact matching of the shade; and if UV protection is required then go for ACED.

Cheers!!!
Mitesh Salkar
Kansai Nerolac Paints Ltd - Mumbai, Maharashtra, India
---
July 11, 2015
A. I've been looking into KTL painting (e-coating) to match a KTL coated zinc die cast.

In the process of looking, I found "Kliar Coating" that was developed in Italy by the Legor Group.

In the USA, it's made available through Rio Grande Jewelry Supplies in small quantities; it might be a solution for someone trying to get into electrophoretic painting.

Doug
Douglas Gourlay
- Hamilton, Ontario CANADA
---
---
Clear E-coating turns my gold too orange
May 22, 2018
Q. Hello.

I make costume jewellery with 1 micron 18K gold plating on brass. I want to use an e-coating to give my customer at least a year of wear. However the colour of my jewellery changes to an almost 24k colour when my factory uses an e-coating.

They'e told me that this is normal. But I am sure I have used e-coating before from another factory and have not had this colour issue.

Can anyone help explain why the colour is changing so much? I really need to keep the 18K gold colour, but I also need protection. Help! :)
Sharona Harris
Brand owner - Australia
---
June 14, 2018
A. Hey Brand Owner, It is as your supplier stated "normal" to have a slight change in color after applying an E-coat. There is a number of reasons why and a number of potential solutions. The color change depends on the type of e-coat you are using and the curing time/temperature. The most common reasons can be attributed to the fact that you are looking at a metal color through a polyurethane or epoxy. many polyurethane coatings in a concentrated form have a tone of a light honey. Again it depends on the type of coating you are using. Another reason for the color difference is dwell time in the curing process. I'v seen discoloration simply due to parts exceeding cure time or temperature. You could try to anticipate the changes with your gold plating chemistry by increasing the other metals in your 18k alloy to give it more of a 14k alloy color and see if after they are coated you have the color you want? Another solution could be to change the type of e-coating you are using. There are may different coatings on the market from oven to UV curing, epoxy to poly, cathodic work or reversed currents. I would start with the gold alloy if you are comfortable making changes to your gold tank. Good luck.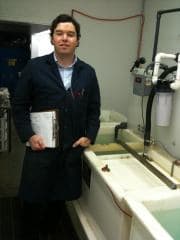 Chance Dunstan
Electroplating/Forming/Coating Manager
Placerville, California USA


If you have a question in mind which seems off topic, please Search the Site