Where the world gathers for
plating, anodizing, & finishing Q&As since 1989
-----
Hard Chrome Plating Failures

Q. Multiple owners of a marine boat lift have seal failures due to pitting of the chrome cylinders I believe. We are trying to determine if this occurs naturally with age or is a defect/ abrasion?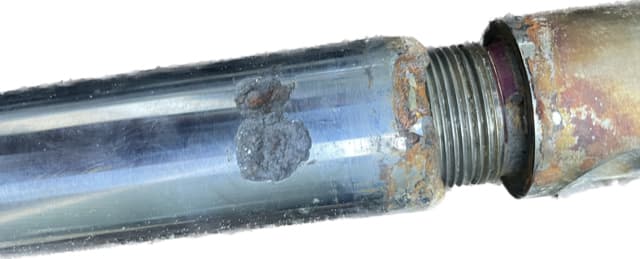 Dr. Ron
- Lake George NY
May 13, 2023
Ed. note: We've been building a legacy of aloha & camaraderie here that is incompatible with anonymity;
everyone is welcome to read anonymously, but is asked to only post with their real name :-)
A. Hi Doc. That corrosion is far deeper than the chrome plating -- it's definitely corrosion at this point. But this far along into the process it's hard to know for sure whether the chrome peeled in that area to start the problem.

Are the boat lifts galvanized steel or aluminum? Do they have magnesium anodes on them? Are the lifts you are speaking of all in one marine or more than one? Is there any known history of an electrical current leak? Thanks.
Luck & Regards,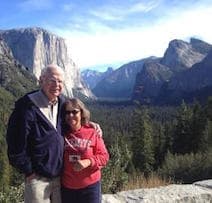 Ted Mooney, P.E. RET
Striving to live Aloha
finishing.com - Pine Beach, New Jersey



---
---
⇩ Closely related postings, oldest first ⇩
---
---
Q. Hello,
I work as a chemical engineer for a military contractor in Southern MO. We produce large transport equipment primarily made out of steel and aluminum. Some stainless and other materials. We apply wet solvent paints most of the time. We purchase some hydraulic cylinders from a vendor. The shafts on the cylinders are chrome plated to FED QQ-C-320 [affil link] (maybe AMSQQC320 [affil link]).
We are seeing a ring form around the shafts that looks orange to begin with. We are also seeing some pitting in the same area. To the naked eye the pitting looks black, but under about 30 magnification it looks a little iridescent. The popular theory is that the chrome is corroding. Is this possible? To me it looks like we have some holidays that are allowing the under lying steel corrode. As the corrosion continues, it is delaminating the chrome from the bottom.
Any opinions on this? Has anyone ever seen chrome corrode? What could cause it? What color would the oxidation be?
Any thoughts or suggestions would be appreciated!
Some additional info. The plating in in accordance with the military standard QQ-C-320, Class II Type I. Question- Does anyone know where I can buy the ferroxyl solution used in this spec to test for porosity. It is made up of:
potassium_ferrocyanide.html (K3Fe(CN)6) 1 gm
Sodium Chloride (NaCl)10 gms
Agar 10 gms
Water (distilled or deionized) to make 1 litre
Thanks again!
Kelly Draper
- West Plains, Missouri, USA
2001
A. Hi Kelly.
Yes, chrome does oxidize, but in fact any chrome you look at is already oxidized. No, chrome does not discolor. You are surely seeing rust from the substrate steel. Engineering chrome (hard chrome) does not provide a lot of rust protection because it is always cracked; depending on the environment the cylinder rods will see, it may be necessary to have an underplate of nickel, electroless nickel, or something else.
It is difficult to say, without looking at the exposure history, whether the chrome plating is defective or is being asked to do a corrosion prevention task it is not capable of. But poor base metal prep, or poor plating may be causing excess porosity.
Still, you'd need a terrible amount of rust before it would account for the chrome peeling, so I would lean towards believing that maybe the chrome was improperly applied, with a current break or bad surface prep, and you have laminar plating and no real adhesion.
Sorry, I don't know where to get supplies like ferroxyl solution if not simply from your local plating supplies distributor or lab supply company.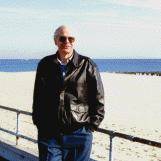 Ted Mooney
, P.E.
Striving to live Aloha
finishing.com - Pine Beach, New Jersey
---
---
Surface finish, pre-plating and post-plating operations for hydraulic cylinder rods
Q. What pre-plating, plating and post-plating techniques are required to get a proper surface finish of a hard chrome plated rod for the best sealing properties. This is a zero pressure application. I need to keep oil inside of a housing with a reciprocating rod extension. I am using hard chrome for corrosion resistance.
John Keesee
- Radford, Virginia
2005
A. For hydraulic cylinders which operate frequently and at high pressure, a typical process might be grind to 16 ra or better, hard chrome several thousandths thick, then grind or polish to 16 ra or better. Some polish to a mirror finish, but I'm not sure this is either necessary or desirable. If your need is for low pressure and low cycle frequency, you may be able to use relatively thin chrome (<.0005") and eliminate the second grind/polish step. Typical seals for cylinders are designed to work pressurized, so talk to a seal mfr and be sure you get seals appropriate for your application.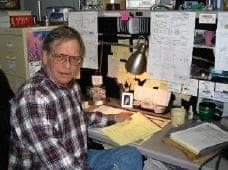 Jeffrey Holmes, CEF
Spartanburg, South Carolina
---
---
Q. Good morning.
We are a testing lab dealing with material characterization and we were delivered a hydraulic cylinder with hard chromium plating, showing a particular defect: longitudinal lines are visible all over its surface, rather regularly spaced (2-3 mm each from the other); touching the surface with a finger, they correspond to a slightly waving profile (resulting in depressions of about 10 microns), which can be appreciated by dimensional measurements or metallographic examination.
The component worked on a boat and was part of the rudder system; the defects cover just the portion which is involved in the back-forward movement of the rod during exercise. Two special gaskets (plastics) are installed in the system in contact with the chromium surface.
The chromium layer is complying with drawing with regard to most of its properties: regular thickness of about 50 microns and very good adhesion. Hardness in lower than specified, about 770 HV instead of 900 minimum.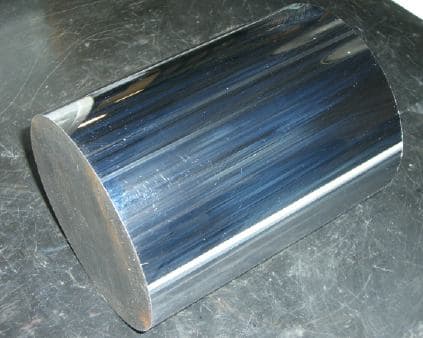 The substrate (Fe510 carbon steel) seems not to have suffered damaging, crushing or deformation.
Did you ever met such a kind of problem? Someone say special plastics gasket, under working loads, may create such longitudinal defects even on hard chromium. Is it possible?
Thank you very much
Regards,
Andrea Vecchi
Testing lab technician - Campogalliano (MO) - Italy
October 6, 2008
A. Certainly repetitive movement under a load will cause the lines if the gaskets are not lubricated in any manner.
770 HV is not bad for hard chrome. 900 is a touch higher than most hard chrome.

James Watts




- Navarre, Florida






A. This happens all the time! A hard abrasive particle from the ambient gets trapped between both moving surfaces and is not spitted out but instead embeds in the seal. Due to the extreme contact forces with every stroke it acts as a cutting tool. Consider the installation of soft, low pressure rubber wipers to control the problem.

Guillermo Marrufo




Monterrey, NL, Mexico





Q. A follow-up question to Mr. Marrufo, please: should not I see scratches or other evidences of abrasion in case of hard particles embedded in the seals and acting as a cutting tool? On the contrary, my coating is continuous, only with a wavy outer profile (just as if chromium had been spread in a unsteady way)
Thanks, bye
Andrea Vecchi
[returning]
- Campogalliano (MO) - Italy
A. Maybe the picture is not clear enough. I thought there were scratches. Your observation and hypothesis is more confusing to me. I cannot see how plastic could produce such wear on hard chrome by itself, more so if there are traces of oil in between. There must be an abrasive present if it's wear. Otherwise, my opinion is that the steel suffered deformation due to insufficient hardness and the chrome just followed this waviness. Since you discarded that point from the beginning there is only one way to confirm, strip the chrome. The bare steel will tell the story. Regards,
Guillermo Marrufo-Mexico

Guillermo Marrufo




Monterrey, NL, Mexico






A. Hi,
Have you also analyzed the plastic gasket to see if any harder material than chromium can be found. Some plastic when it turns to be older will give leak some acid contamination. Is it some pressure oil together in the system? You mention the hard chromium is 770 HV I believe the most off the hard chromium platers chromium deposit is around 770-800 Hv. So I believe you have some problems with some connectors to the plastic gasket. What I can see on your photograph is some grey strike, so is very difficult to get you a good answer. Only some suggestions.

Best Regards




Anders Sundman


4th Generation Surface Engineering
Consultant - Arvika,
Sweden



A. The pic not showing. A longitudinal cracks would show ,because chrome plating creates a tensile stress. A shot peening of the base metal or etching the chrome after plating may help.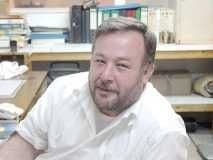 Khair Shishani
aircraft maintenance - Al Ain, UAE
A. I am with Guillermo. The picture that you sent is exactly what he said. So, without seeing the real parts, most of us are at a total loss.
James Watts
- Navarre, Florida
A. Just my two cents but that looks like chatter left from the grinding process, which is caused by the operator not dressing the wheel for the final passes. Polishing can remove it but it looks like they just hid it, the chatter wouldn't be as apparent after polishing and very hard to see unless you spin the rod at low rpm in which case you get light flickering as the chatter goes around.

So if you can't see any physical damage give it a spin and look for a flicker.

The white marks may be caused by the seals work polishing the crests of the chatter. hope that helps
Alaric Rastas
machinist - Brisbane, Queensland, Australia
---
---
Scratches on my chrome plated hydraulic cylinders
Q. Hi...
I'm having problems with my plating results I was wondering if anybody can help.
my application are for Hydraulic cylinders and I use 5000 amp rectifier.
it seems that this past 2 months I keep having this scratches on the plated surfaces. all the process seems correct and the finishing are good, smooth, and reached hardness of 55-60 HRC. however when I assemble the hydraulics it appears there are scratches on the surface of the rods.
We already tried to change the chemical, re-clean the anode, clean the tanks but none of the are working.
After I checked my rectifier with the reps, it turns out that their last inspection indicates that the ripple rate is 10%.(which they are saying is normal)

- I was wondering if this 10% ripple might be the cause of my problem?
- is it correct having 10% ripple normal?because after I read your comments it seems that 5% is the max rate.
- does anybody have any comments regarding this?

Please help.
Shandy Renaldo
plating workshop owner - Balikpapan, Indonesia
January 15, 2010
A. Well, at first, how has been made the ripple-measurement? If it is true that you have an ripple on max. 5000A with 10% then yes, it would be not recommended making chrome plating. But it wonders me the meaning of "scratches"........

Dominik Michalek




- Sydney, Australia






A. Perhaps we have a semantics issue. A picture may help identify what is that you call scratches.
Scratches are totally physical (mechanical). There is nothing I know in electrochemistry that can cause them.

Guillermo Marrufo




Monterrey, NL, Mexico





A. You could install a choke in your rectifiers which will help the ripple at the lower end of the available amperage.
Your chrome could be a bit harder, but it is not all that far out of the desired.
Scratches occur because of something scraping across the rod which is what you need to prevent. If this is hydraulic, look into the plastic devices to sweep the bulk of grit away from the seal area which is where the high pressure is that would drive the grit into the chrome and or scratch it.
James Watts
- Navarre, Florida
---
---
Q. We produce a welded structure for the solar power industry and on this structure we have a 1050 steel shaft that is chrome plated. The spec is 50um AS UNE-EN ISO 6158 [affil link] Fe/Cr 50 hd. The specification calls for 2 layers each 25um with intermediate machine polishing. This finished assembly goes through a hot dip galvanizing process. We protect the chrome shaft with various media so the shaft cleans easily but we are having many failures. It seems the first / top layer of chrome is de-laminating. I have pictures: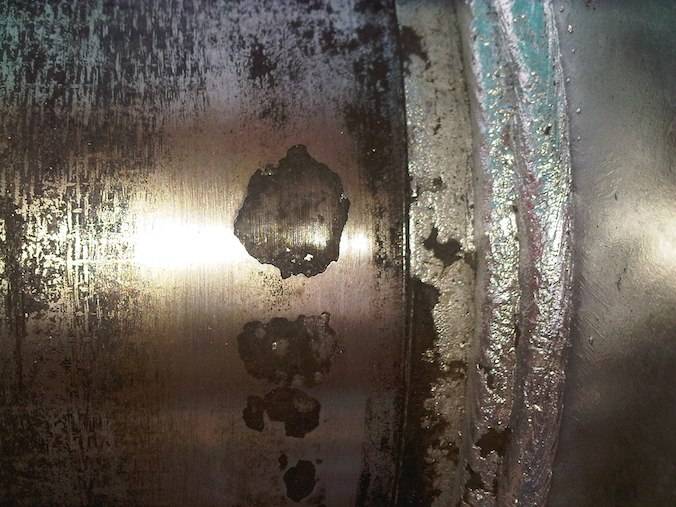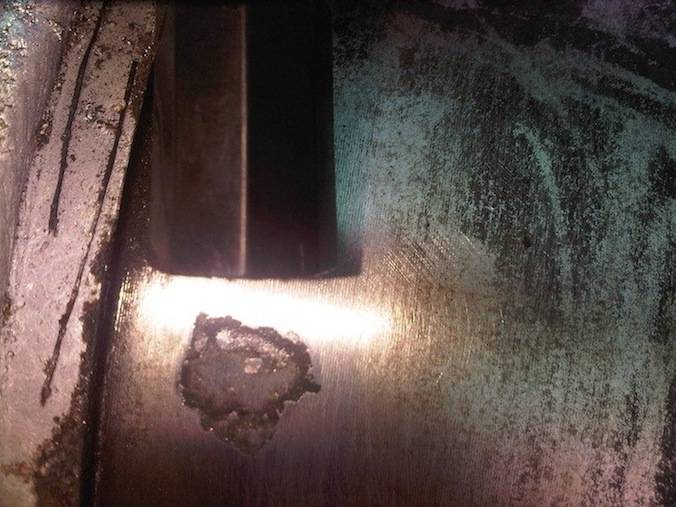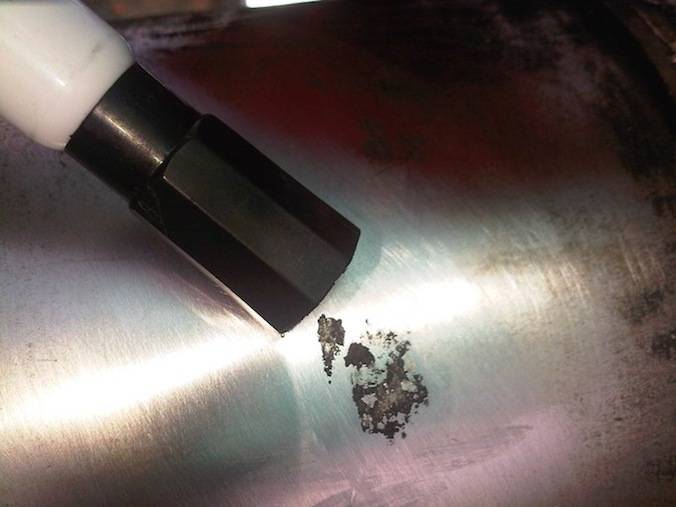 Thank you in advance for any suggestions you could supply.
Regards
Bill
William Comer
power systems - Phoenix Arizona
July 12, 2012
A. Hi,

May I firstly ask in detail what your process steps actually are from start to finish? In an ideal world we would not put 'chrome on chrome' as this is well known to cause issues with lamination and peeling of deposits. You mention the component is polished between layers of chrome, is there a sufficient activation process when the component returns for a second layer of chrome plating?
Emily Gardiner
Chemist - Poole, Dorset, UK
A. Hi,

It looks like fretting or poor adhesion when I look at the picture. And I also think the trivalent chrome in the chrome solution is too high.

Regards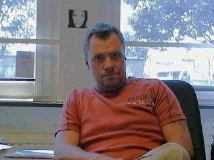 Anders Sundman
4th Generation Surface Engineering
Consultant - Arvika,
Sweden
A. I was not aware of a process that could deposit Fe/Cr with any degree of accuracy.
Chrome can be a bit of a problem to reactivate with no flaws. Polishing certainly is not helping if it has any oil/fat in the polish media. Getting all of that off can be extremely difficult, depending on the product used and the heat generated.
A part this large is rarely made to a tolerance of 25 micron, So how are you chucking this up for "polishing" to get a uniform surface removal?

If it were mine, I would try a test of conforming anodes and plate it in one step.
James Watts
- Navarre, Florida
---
---
Q. We faced an unusual issue on one of our Vendor's Piston Rod for Hydraulic Cylinder (140 x 2900 mm) where -- although the rod is induction hardened, chrome plating thickness is 0.035, Chrome hardness is 55 hrc, surface roughness is 0.11 Ra -- still when it was assembled, it had visual rubbing marks from the Seal. We are not doing this in-house - what could be the reason for this and how can it be corrected. Would appreciate help on this
ADITYA SHARMA
- GHAZIABAD [India]
September 17, 2021
A. Hi ADITYA. We appended your inquiry to a thread which addresses the same or very similar problem. Two possibilities seem to be abrasive imbedded in the seal, or poor grinding for final polish which left chatter lines. Read on ...
But different readers may imagine 'rubbing marks' differently, so I suggest sending pics to mooney@finishing.com for posting here.
Luck & Regards,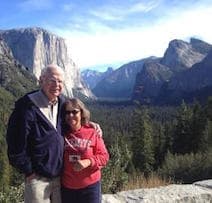 Ted Mooney
, P.E. RET
Striving to live Aloha
finishing.com - Pine Beach, New Jersey
---
---
Q. Dear Andrea Vecchi,

We are experiencing the same problem right now.

There are perpendicular scratches on the surfaces of the rod (not felt with finger).

Did you find the source of this problem you had years ago?

If yes, can you share it with me?

I request anyone who has an opinion on this subject to inform me.
Utku Akadag
Mechanical Engineer - Ankara / Turkey
January 13, 2022
A. Hi Utku. Unfortunately I doubt that Andrea will reply ... that posting was from 14 years ago and s/he didn't respond to the suggestions offered by 5 readers.
When someone has 'the same problem' and it received 5 responses, I don't know that more will be said. Andrea was working for a testing lab inspecting a cylinder that was part of a rapidly reversing rudder system and s/he felt the scratches were from hard plastic gaskets during an exercise program. Did the parts you're speaking of see similar service, with thickness is about the same and the substrate similar, and your plating is soft rather than hard as spec'd?
If not, please try to detail your own problem. Thanks!
Luck & Regards,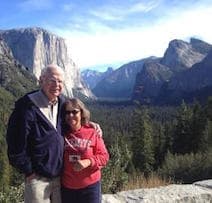 Ted Mooney
, P.E. RET
Striving to live Aloha
finishing.com - Pine Beach, New Jersey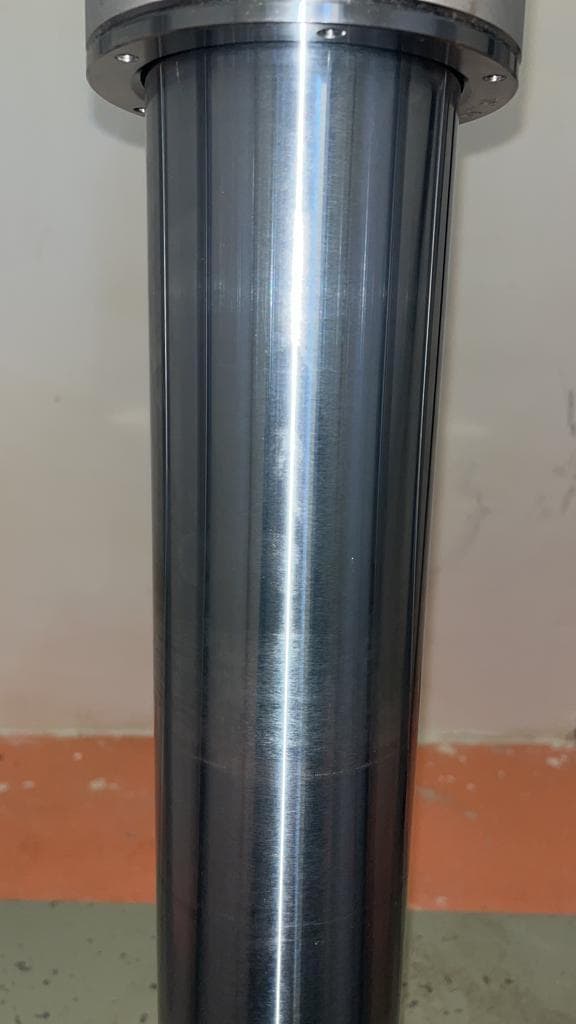 Q. Dear all,

I think you can help me with something.

Long linear scratches occur on the cylinder.

These scratches occur in several studies. But it is not felt with the finger.

We are working with 1m/s speed.

Chrome thickness : 50 micron
Chrome hardness: 57-60 Hrc
Main material hardness: 38-42 Hrc

Here is a photo of the scratch.
Utku Akadag
[returning]
Mechanical Engineer - Ankara / Turkey
January 20, 2022
---
---
Q. Hi. I know this question will appear to be similar to others here, so apologies. I have 12 hydraulic cylinders all showing lateral lines on the chrome rods that appear to be mechanically induced.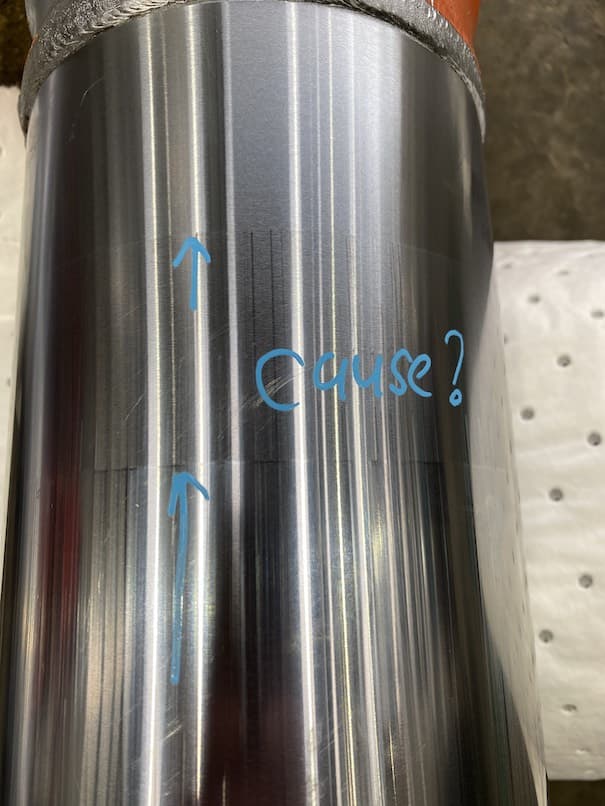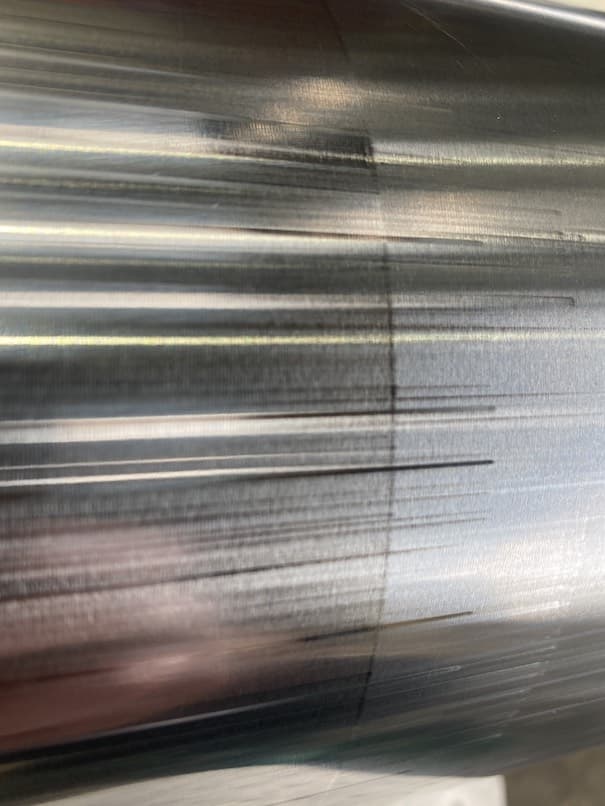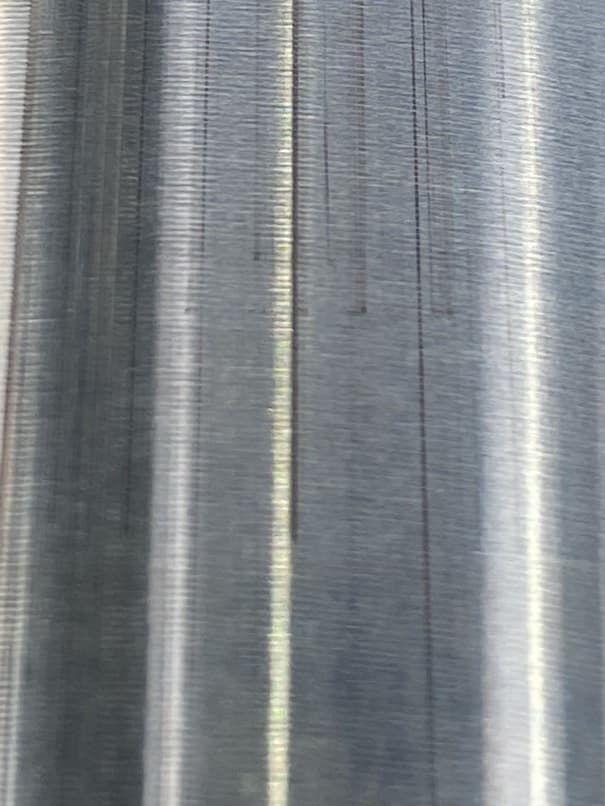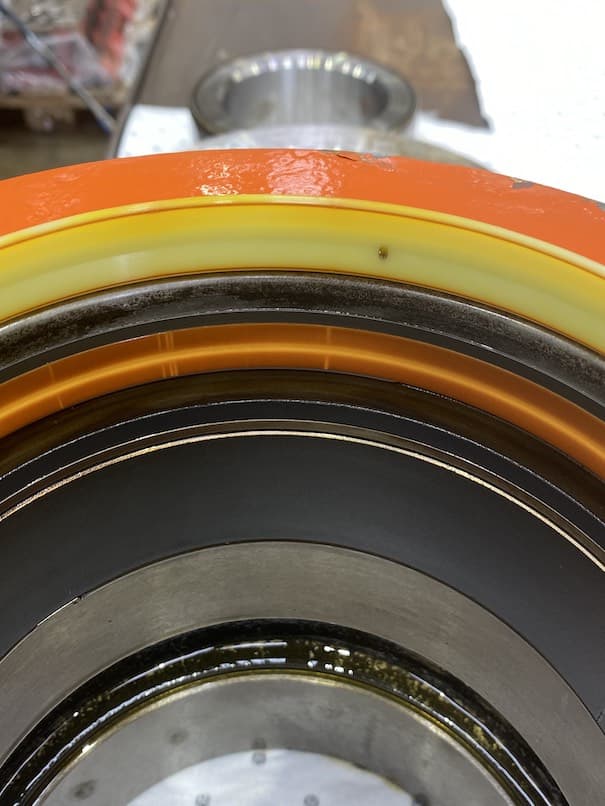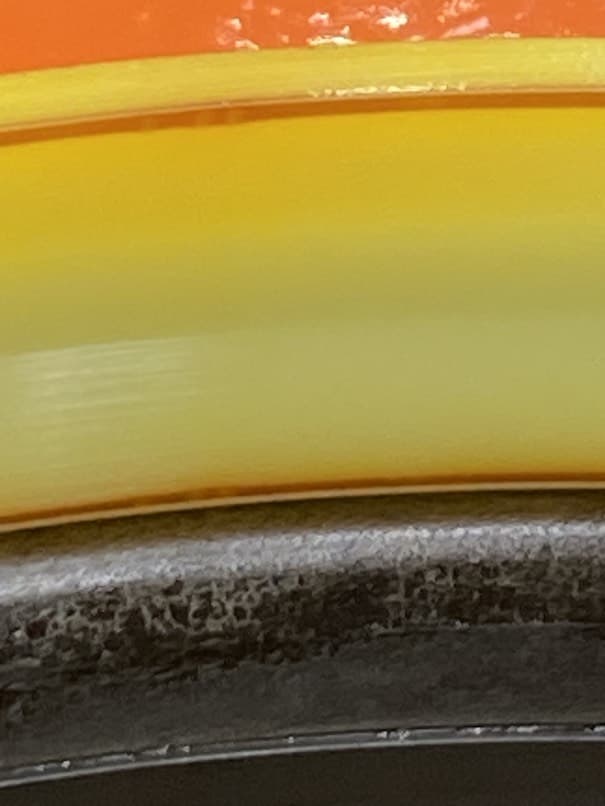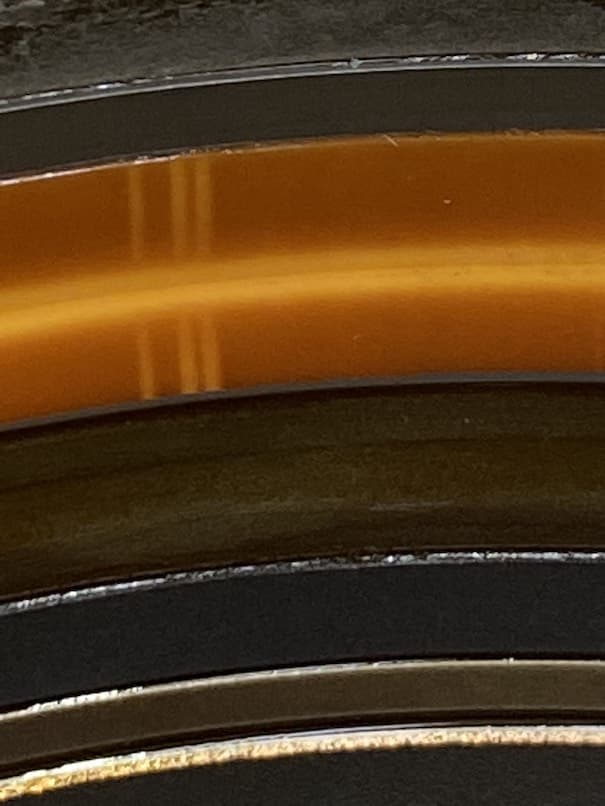 Some background to consider: none of the cylinders showed any issues prior to repairs being started. Repair was undertaken based on hours achieved requiring reseal. 50% of cylinders were polished the balance were re-chromed. New OEM seal fitted all component were cleaned before installation.

Two theories:
1) chrome finish was not smooth enough.
2) seals are too hard wiping lubrication from rod
Nick Bain
Mechanical workshop / repair agent - New Zealand
September 1, 2022
Q. Hello. I also have absolutely same case in our repair shop. A little bit of prehistory:
1) Customer dismounts cylinders during PM 12000 motor hours (not any scratches on the rod)
2) We are changing seal kit (genuine kit) & PTFE bushing, and clean all around
3) And same scratches appear. All the time after one week at work. About five or six cylinders.

We reseal about 100 hydraulic cylinders per year and only on one customer this situation appears ... and appears every time.

Did you find the reason for your case ? We still didn't.

I'll be glad if someone has an idea about this. Thank you.
Artem Gavrilov
- Belovo, Kemerovo district
March 21, 2023
A. Yes we believe the root cause not to be a plating or seal issue. Abrasive site material (quartz) being the cause as the cylinder seals have not had time to bed in allowing microscopic abrasive to enter the seal group. Given time our lateral lines have actually improved, been polished out by the seals.
Nicholas Bain
- New Zealand
October 12, 2023
Ed. note: Nicholas generously provided us with a report on his situation by a metallurgical consultancy/testing lab, and we forwarded that report to Artem. But lacking publication permission from the testing lab, we can't post it here.
---
---
Q. Hello Gentlemen,
I have a rotary combine and the feeder lift cylinder rod start to get bluish/discoloration.
The rods do not have any scratch that I can feel with finger/nails.

The cylinder do not have oil leakage so far, they only have this discoloration on the rod.
Is this discoloration a problem? What could cause this issue.

The chrome layer specs are:
minimum 20 microns thickness
minimum hardness of 850HK(100)
I have sent the cylinder to an external lab to measure the specs and all the features are ok.

I would like to understand what is causing this bluish/discoloration problem.
Thank you
Alan Groblackner
Product Engineering - Sorocaba/Sao Paulo/Brazil
January 20, 2023
---
Please see also --
• Topic 44143 "Chrome plated hydraulic cylinder rods have pits, pinholes, and peeling problems"

• Search the Site for numerous related threads