topic 9144
Hard Chrome Plating Failures
2001
Q. Hello,
I work as a chemical engineer for a military contractor in Southern MO. We produce large transport equipment primarily made out of steel and aluminum. Some stainless and other materials. We apply wet solvent paints most of the time. We purchase some hydraulic cylinders from a vendor. The shafts on the cylinders are chrome plated to FED QQ-C-320 [link by ed. to spec at TechStreet] (maybe SAE-AMS-QQ-C-324).
We are seeing a ring form around the shafts that looks orange to begin with. We are also seeing some pitting in the same area. To the naked eye the pitting looks black, but under about 30 magnification it looks a little iridescent. The popular theory is that the chrome is corroding. Is this possible? To me it looks like we have some holidays that are allowing the under lying steel corrode. As the corrosion continues, it is delaminating the chrome from the bottom.
Any opinions on this? Has anyone ever seen chrome corrode? What could cause it? What color would the oxidation be?
Any thoughts or suggestions would be appreciated!
Kelly L Draper
- West Plains, Missouri, USA
---
2001
Some additional info. The plating in in accordance with the military standard QQ-C-320, Class II Type I. Question- Does anyone know where I can buy the ferroxyl solution used in this spec to test for porosity. It is made up of:
Potassium ferricyanide (K3Fe(CN)6) 1 gm
Sodium Chloride (NaCl)10 gms
Agar 10 gms
Water (distilled or deionized) to make 1 litre
Thanks again!
Kelly Draper
- West Plains, Missouri, USA
---
2001
A. Hi Kelly.
Yes, chrome does oxidize, but in fact any chrome you look at is already oxidized. No, chrome does not discolor. You are surely seeing rust from the substrate steel. Engineering chrome (hard chrome) does not provide a lot of rust protection because it is always cracked; depending on the environment the cylinder rods will see, it may be necessary to have an underplate of nickel, electroless nickel, or something else.
It is difficult to say, without looking at the exposure history, whether the chrome plating is defective or is being asked to do a corrosion prevention task it is not capable of. But poor base metal prep, or poor plating may be causing excess porosity.
Still, you'd need a terrible amount of rust before it would account for the chrome peeling, so I would lean towards believing that maybe the chrome was improperly applied, with a current break or bad surface prep, and you have laminar plating and no real adhesion.
Sorry, I don't know where to get supplies like ferroxyl solution if not simply from your local plating supplies distributor.
Ted Mooney, P.E.
finishing.com
Pine Beach, New Jersey
---
---
July 12, 2012
We produce a welded structure for the solar power industry and on this structure we have a 1050 steel shaft that is chrome plated. The spec is 50um AS UNE-EN ISO 6158 [link by ed. to spec at TechStreet] Fe/Cr 50 hd. The specification calls for 2 layers each 25um with intermediate machine polishing. This finished assembly goes through a hot dip galvanizing process. We protect the chrome shaft with various media so the shaft cleans easily but we are having many failures. It seems the first / top layer of chrome is de-laminating. I have pictures: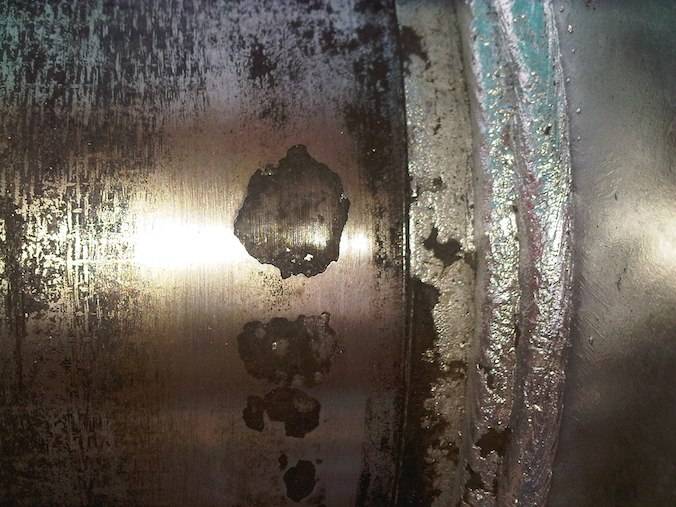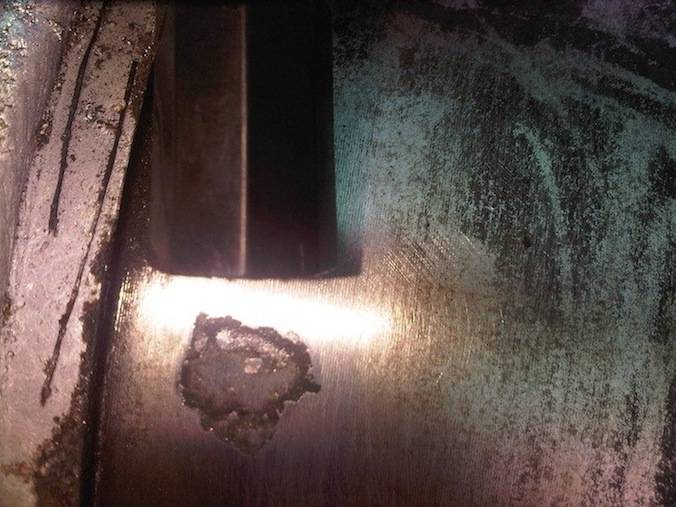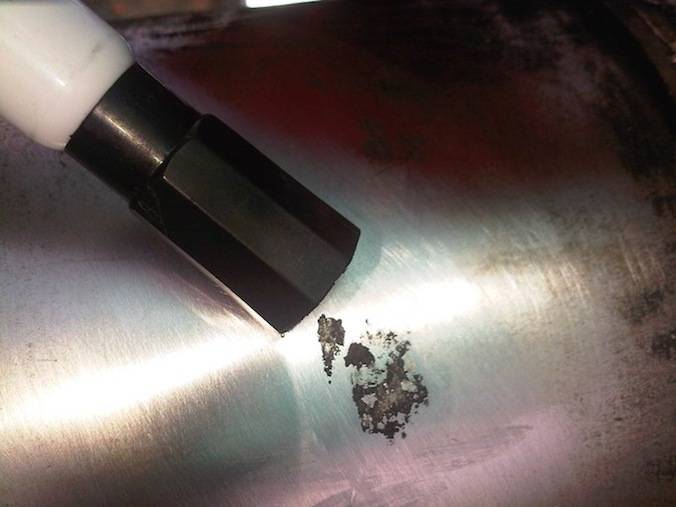 Thank you in advance for any suggestions you could supply.
Regards
Bill
William Comer
power systems - Phoenix Arizona
---
July 23, 2012
A. Hi,

May I firstly ask in detail what your process steps actually are from start to finish? In an ideal world we would not put 'chrome on chrome' as this is well known to cause issues with lamination and peeling of deposits. You mention the component is polished between layers of chrome, is there a sufficient activation process when the component returns for a second layer of chrome plating?
Emily Gardiner
Chemist - Poole, Dorset, UK
---
September 9, 2012
A. Hi,

Its looks like fretting or poor adhesion when I look at the picture. And I also think the trivalent chrome in the chrome solution is too high.

Regards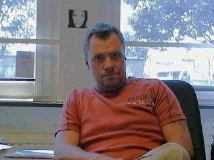 Anders Sundman
3rd Generation in Plating
Consultant - Arvika, Sweden
---
September 10, 2012
A. I was not aware of a process that could deposit Fe/Cr with any degree of accuracy.
Chrome can be a bit of a problem to reactivate with no flaws. Polishing certainly is not helping if it has any oil/fat in the polish media. Getting all of that off can be extremely difficult, depending on the product used and the heat generated.
A part this large is rarely made to a tolerance of 25 micron, So how are you chucking this up for "polishing" to get a uniform surface removal?

If it were mine, I would try a test of conforming anodes and plate it in one step.
James Watts
- Navarre, Florida


If you have a question in mind which seems off topic, please Search the Site