60,000 Q&A topics -- Education, Aloha, & Fun
topic 8967
Gold and Silver plating of Titanium Jewelry
2001
Q. I have a titanium plating question. I am a jewelry manufacturer, and I am considering using a plating technique to incorporate precious metals into detailed surface designs on titanium rings. The rings are all made from 6/4 titanium alloy and the surface effects are milled to a depth of about 500 microns. Is it possible to fill in these milled "channels" with an electroplated precious metal, silver or gold? Can I achieve a plating of 500 microns or should I lessen the depth of the mill cuts? What is the long term durability of a thinner coating?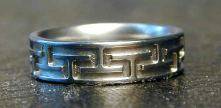 Help and thank you for your responses.
Daniel S
[last name deleted for privacy by Editor]
jewelry design - Cincinnati, Ohio, USA
---
---
---
December 26, 2012
Q. Hi, Please see the picture --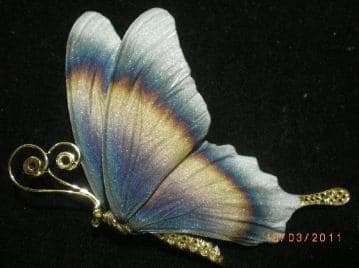 Made of gold-plated titanium with anodized color is sandblasted before the titanium plating? How can I have a titanium coating for this?
Thank you
Ali
jeweller - Tehran, Iran
---
---
---
September 7, 2013
I recently had success using five 9volt batteries and 95/5 silver tin cathode and anode in plating a titanium ring that looks totally polished and Awesome. I had a pint mason jar with 4 table spoons of borax in distilled water.
Bud Gilmore
- Auburn, Washington, United states
adv.