topic 8967
Gold and Silver plating of Titanium Jewelry
(2001)
Q. I have a titanium plating question. I am a jewelry manufacturer, and I am considering using a plating technique to incorporate precious metals into detailed surface designs on titanium rings. The rings are all made from 6/4 titanium alloy and the surface effects are milled to a depth of about 500 microns. Is it possible to fill in these milled "channels" with an electroplated precious metal, silver or gold? Can I achieve a plating of 500 microns or should I lessen the depth of the mill cuts? What is the long term durability of a thinner coating?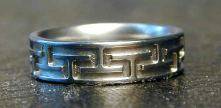 Help and thank you for your responses.
Daniel S
[last name deleted for privacy by Editor]
jewelry design - Cincinnati, Ohio, USA
---
(2007)
A. Titanium can be plated but, because it is such a stable and passive material, it is difficult to activate it for good adherent plating. ASM Metal Handbook Vol. 5, Surface Engineering, has a good chapter on plating titanium and refractory metals.
As for either filling in those mill cuts with plating vs. reducing their depth, maybe do neither? If the precious metal is flush with the mill cuts it will wear rapidly; if it is recessed it will wear very slowly. 50 microns of plating would be quite a lot, so I'd probably count on 50 microns of plating and, if you wish, reduce milled depth to maybe 150 to 200 microns.
Ted Mooney, P.E.
finishing.com
Pine Beach, New Jersey
---
---
December 26, 2012
Q. Hi, Please see the picture --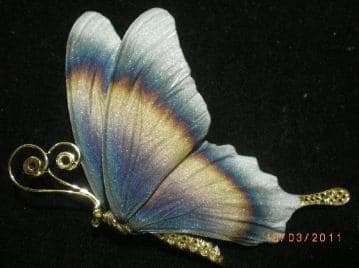 Made of gold-plated titanium with anodized color is sandblasted before the titanium plating? How can I have a titanium coating for this?
Thank you
Ali
jeweller - Tehran, Iran
---
December 27, 2012
A. Hi Ali. Beautiful jewelry!
You cannot electroplate titanium onto anything... so you must either make the jewelry out of titanium or have the titanium coating vacuum deposited onto the jewelry. The problem with the 2nd approach is that the vacuum deposition equipment is expensive, so you must have it done in high volume. If you are doing just a few pieces, vacuum deposition is probably not practical.
We may be having some language difficulty, with me misunderstanding you though. It looks to me like this item is sandblasted solid titanium which has been artistically anodized in selective areas. I do not know the exact technique, and I am not an artist; but I suspect the butterfly wing was partially immersed, and "rolled" back and forth during anodizing to get that beautiful blue wing edge and rainbow colored outline. Good luck.
Regards,
Ted Mooney, P.E.
finishing.com
Pine Beach, New Jersey
---
---
September 7, 2013
I recently had success using five 9volt batteries and 95/5 silver tin cathode and anode in plating a titanium ring that looks totally polished and Awesome. I had a pint mason jar with 4 table spoons of borax in distilled water.
Bud Gilmore
- Auburn, Washington, United states
---
September 2013
Hi Bud. So, did you attach the ring to the negative or positive pole of the batteries?
If the positive, you may have anodized the ring rather than silver plating it, because I don't think silver is soluble in a borax solution, although someone may know better. If the negative pole, you may have electropolished it. Thanks.
Regards,
Ted Mooney, P.E.
finishing.com
Pine Beach, New Jersey


This public forum has 60,000 threads. If you have a question in mind which seems off topic to this thread, you might prefer to Search the Site