60,000 Q&A topics -- Education, Aloha, & Fun
topic 8308
Dirty Anodes in our Copper Sulfate Bath
2001
We are plating electroless nickel on titanium. The problem seems to be with our copper strike. The copper is not throwing into low current areas. We are running current densities around 35 ASF. The copper strike is a copper sulfate tank, consisting of 7 oz/gal copper sulfate, 7 oz/gal sodium hydroxide, and 24 oz/gal rochelle salt. The bath checks out OK chemically. The copper anodes in the tank look terrible. They are covered in a bluish-purple film that takes a Scotch Brite [affil. link to product info on Amazon] pad to remove. When the film is removed, it has the appearance of a ultra fine rust colored powder. The film builds up if we leave the anodes in the tank with no current.
Help! We are absolutely stumped!
Chris Mance
- Tinker AFB, OK
---
2001
I have never seen a copper sulfate bath with sodium hydroxide. Maybe look in your guide book at a sulfuric/sulfate make up?
Todd Huehn
- Minneapolis, Minnesota
---
2001
The alkaline copper bath is the one called for in our Technical Order. We've been using it for years without this problem. The bath works great, just not since last week.
Chris Mance
- Tinker AFB, Oklahoma
---
2001
Hi Chris.
I think the anodes are polarised, clean them up or try a new one. Maybe you have use to high current density.
Regards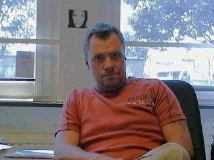 Anders Sundman
4th Generation Surface Engineering
Consultant - Arvika, Sweden
---
---
---
March 2, 2011
This is a follow-up to the unresolved issue in letter 8308.

We must use a non-cyanide rochelle copper strike. Copper (I) oxide powder builds up on the anodes and outside the anode bags and sloughs off to the bottom of the tank, gradually reducing tank depth. We never remove our anodes from the plating tank - the copper in solution is apparently reacting with the oxygen from the electrolysis of water.

Is this preventable or reversible? Will adjusting anode surface area reduce this phenomenon?

Adding cyanide is not an option.
Art Campbell
Process Tech Support - Oklahoma City, Oklahoma, USA
adv.