60,000 Q&A topics -- Education, Aloha, & Fun
topic 8279
Finish Thickness
2001
Hi,
I am looking for a range of thickness for most finishes used in ferrous and non-ferrous metals:
different types of anodizing
powder coating
different types of paint
black zinc
black oxide
I understand there is variability. I'm just looking for a range.
Stan D
[last name deleted for privacy by Editor]
Ericsson - Lynchburg, VA, USA
---
2001
My experience has been with primer that are about 1 mil thick and topcoats that are about 2 mils thick. Epoxy and polyurethane respectively.
Kelly Draper
Systems & Electronic Inc. - West Plains, Missouri, USA
---
2001
You are likely to find most answers in the Metal Finishing Guide and Directory Issues, year 2000 (organic) and 2001 (inorganic) published by Metal Finishing magazine.
Mandar Sunthankar
- Fort Collins, Colorado
---
2001
Hope this is of use as we do a little of most of these Different types of anodising ñ all depends on the alloy being anodised.
Chromic about 2.5 to 5 microns 0.0001-0.0002î

Sulphuric from 8 to 25 microns 0.0003-0.0010î

(with sulphuric 25 microns is about the top you can get)

Hard anodising 25-75 microns 0.001-0.003î typical - normal thickness 50 microns

(we have put on 200 microns 0.008î but this I would call exceptional and not to be expected on all alloys)

Powder coating:

Not a clue!

Different types of paint:

Can vary - 8 microns is the lightest primer we do and this is on the edge of what is possible. We would like to put on 15-25 microns primer and 25-50 microns top coat.

Black zinc:

This is applied to a zinc plated finish the zinc can be 5-25 microns with a normal thickness of 10-15 microns (0.0004-0.0006î).

Black oxide:

Thin ñ very thin normally in the microns range.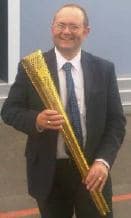 Martin Trigg-Hogarth
surface treatment shop - Stroud, Glos, England
---
2001
Water-based inorganic zinc coatings: 0.2-0.5 mils.
Steve Sarmiento
- Chardon, Ohio, USA
---
2002
Spray paint 1.5 ± 0.2 mils total. for most common finishes. Coil coating 0.5 to 1.0 mils for most common finishes depending on whether primer is used.
Ron Zeeman
Continuous - Brampton, ON, CAN