60,000 Q&A topics -- Education, Aloha, & Fun
topic 8204
Scratched and Dull Surface on Stainless Steel Refrigerator Door
A discussion started in 2001 but continuing through 2019
2001
Q. We inadvertently used the wrong cleaner on our stainless steel refrigerator. We are left with a dull and scratched surface. Is there anything that can be done to restore it to its original finish?
Jody David
- Hollywood, Florida
---
2002
A. I am sorry to hear about your problem with the fridge. In my line of work I have learned that many chemicals can stain or scar metals. There is one solution that I know will work better than anything else. You will have to put forth some energy, but it will repair the damage better than anything else. You will have to buy a product called jeweler's rouge [affil. link to product info on Amazon]. You will also need a high speed buffer. It will make a mess in the kitchen, but nothing that can not be cleaned up. Jeweler's rouge is what jewelers use to clean and shine gold jewelry. It is delicate enough to leave your fridge unscratched when used. Take the high speed buffer and run it on the bar of rouge. This will apply the rouge to the buffer wheel. Have the buffer turning at a medium speed. This will help minimize the cleanup in the kitchen. Using light to medium pressure on the buffer, work a 1 ft. x 1 ft. area. keep the buffer moving and not sitting in one area to long. This will cause a burnish in the finish. After finishing hand polish with a clean terry cloth. I wish you well in your attempt. please let me know how it turns out. If I can be of further assistance, please me know.
John Rudd
- Sylacauga, Alabama
Ed. note: Please also see our FAQ, "Repairing scratches in stainless steel refrigerator doors".
---
2006
A. Hello Every Stainless Steel Scratch Sufferer!

I was just like many of you, with a brand new $3,000 refrigerator and a number of really ugly scratches! I had a housemate move out and during the process he rubbed something across the door of the refrigerator and scratched it. It looked really terrible, as it was perpendicular to the grain, curvy and over eight inches long. I was sick to my stomach every time I opened the refrigerator because the scratch was at eye level and I saw it catching the light constantly.

I looked at replacing the door at a cost of almost $800, but it seemed too costly. I was resolved to live with it until I found this site. I read all the suggestions:
1. 3M pads (grey and purple)
2. Barkeepers Friend [affil. link to product info on Amazon]
3. Revere copper cleaner [affil. link to product info on Amazon] Pot and Pan cleaner
4. Cameo [affil. link to product info on Amazon] Pot Cleaner
5. 00 0000 steel wool [affil. link to Rockler]
6. Baking Soda paste
7. Jeweler's Rouge
8. And Lastly, simple Brasso Stainless Steel polish/cleaner

I selected Brasso Stainless Steel Polish since it was the least aggressive and least abrasive item on the list. I worked with a soft cloth and rubbed only with the grain. I did this three times and each time the scratch became more faint. By the last time you could hardly see anything! I am a very critical person and I was very impressed with the result. I don't think my scratches were very deep, so it may not work for severe damages. Scuffs from keys, jewelry or utensils are good candidates for this method.

I was so pleased with the result that I tackled another scratch on my dishwasher. It too was buffed out or easily blended in with the grain.

I will tell you that the Brasso Stainless Steel cleaner is also a polish. This means that the area where you work may become more lustrous that the rest of the stainless steel. To resolve this I just polished the whole panel after buffing out the scratch.

When you are done with the Brasso, follow up with Stainless Steel Magic [affil. link to product info on Amazon] or even WD40! to remove the fine grit and debris created while polishing. I know it's hard to believe but WD-40 [affil. link to product info on Amazon] really works to clean off the stainless steel. The best part about Brasso and WD-40 is that they are CHEAP and they are gentle.

Good luck!
Christopher Cioff
- New Brunswick New Jersey
---
2006
Q. I am regretting the day I purchased my stainless steel gas range. But know it's too late! I need help! I have it set in an island which is hard to hide and it is getting really dull and around the gas ranges it is getting ugly brown stains what can I do to fix this?
Any suggestions are greatly appreciated.
Melly
[last name deleted for privacy by Editor]
personal - Mission Texas
---
2006
adv.
Melly, here is our Christmas gift to you. Our product, Scratch-B-Gone for Stainless steel has been used on just this problem hundreds of times and with great results. Our homeowner kit will let you resurface your range top and remove those unsightly stains, and remove unwanted scratches, quickly and like a pro.
Good luck and wishing you a Happy New Year.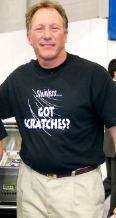 Barry Feinman
BarrysRestoreItAll

Carlsbad, California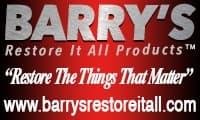 ---
2007

Oh my god! Thank you so, so, much for your Brasso tip!

I stupidly scratched my Siemens fridge door with a metal sponge - daft, I realise but I was very tired after hours of cleaning

Anyway, I was convinced that I would have to live with this eyesore for years to come until I cam across this website. I didn't use Brasso, I used a similar product I already had at home (John Lewis Silver Polish - (their version of Silvo [affil. link to product info on Amazon]) and boy did it work! The circular hair-line scratches COMPLETELY disappeared. I applied it with a kitchen towel. Tentatively at first but with more gusto as I observed improving results. I finished off with olive oil and voila, my fridge was as good as new.

Good luck!
Bebe Arnos
- Aberdeen, UK
---
September 26, 2008

OMG, the Brasso worked!Thanks for the tip.
C. Beaulieu
- Canada
---
---
2007
Q. HELLO ! I have a stainless steel kitchen (cupboard doors, drawers, cooking table etc). My house-wife have just ruined it by using an abrasive sponge which has left circular scratch marks in some places, vertical ones in other. I can't change my kitchen as I only bought it a couple of years ago... I live in New Caledonia, and I don't know what products I'll be able to find here to take the scratches away or at least improve their aspect. I should be able to find Brasso type of polishes. I just wanted to be a 100 % sure before trying. My kitchen is already a mess and I don't want to make things worse.
Thanks for your help.
SOPHIE GUIOMAR
hobbyist - NOUMEA, NEW CALEDONIA
---
2007
Q. My stainless steel fridge got etched by a CLR [affil. link to product info on Amazon] type product. How do I fix this one?
Jill Seifert
student - Minneapolis, Minnesota
---
2007
A. Before you try anything else, try Brasso [affil. link to product info on Amazon] metal cleaner. It worked great to remove light scratches on stainless steel.
Gary Lakin
- Virginia Beach, Virginia
---
---
January 29, 2008
Q. I used a silver pot and pan cleaner to clean my fridge and after I wiped it off I had a lot of circular marks on the door what can I use to get the scratches out
Audrey Jesso
housewife - Canada
---
February 16, 2008
adv.
Hi Audrey, you can get Scratch-B-Gone throughout Canada at Reliable Parts. Our safe and easy-to-use kit will remove CLR or bleach stains and surface scratches.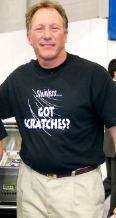 Barry Feinman
BarrysRestoreItAll

Carlsbad, California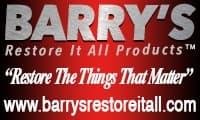 ---
March 1, 2008
Q. I have a stainless steel fridge. I wanted to keep a calendar on it and since it's not magnetic I had the bright idea of using a suction cup. After a few a months I removed it. I cannot get the suction cup ring stain removed. Help!
Karen Heaning
home owner - Fort Pierce, Florida
---
December 13, 2008
Q. I was working and the girl said that her fridge was scratched badly top to bottom! And her fridge is a Kenmore type and I don't know what to do. And if I buy her a new one it will cost about $1,200. What should I do?
Marcia Santos
product designer - Delran, New Jersey
---
July 31, 2009
Q. Hello please can anybody help me....

We installed a new kitchen last year which cost more than we could afford. I cleaned my stainless steel hob with a detergent, which I sprayed on and left on, then I totally forgot all about it. When I cleaned the detergent off.. it had marked my hob, it looks like it's taken the top layer off, now I'm left with great big black discoloured stains on my hob... please can anybody help me, my hob constantly looks dirty and I'm so gutted.
Caroline Hartery
home - Wales
---
September 19, 2010
Q. HELP! My new stainless steel range is discoloured at the bottom and I believe it is from an all natural cleaner I have been using. I use it on the floor and some must have splashed onto the range. It consists of water, vinegar, baking soda, lemon juice, and two essential oils (citrus and tea tree). I purchased a stainless steel cleaner and polish (ZEP) and it has not removed the discolouration. Any ideas of how I can fix this?
Corrie Clutchey
- Vancouver Canada
---
October 12, 2011
Q. I have a stainless steel refrigerator ... I used Windex the other day to clean and it left a white stain just where I sprayed ... Any idea how to remove this stain?... Pleas help!
Maria M.
[last name deleted for privacy by Editor]
housekeeper - Blackstone, Massachusetts
---
January 5, 2012

I used an abrasive cleaner on my stainless steel hob on Christmas Day (I didn't realize how abrasive and unfortunately left it on for about an hour) thinking that it would lift all the debris for cleaning later. The cleaner removed the shine from the surface where I had sprayed it so it wasn't even. I read on your site about the use of Brasso and Hey Presto it has worked admirably, not perfectly but I will continue to apply until I am happy with the finish. Brasso is much cheaper than a new hob!! Thank you.
Karen Harris
- South Wales, UK
---
March 5, 2012
Q. Someone in my church used a wrong cleaner on top of our stainless steel drinking fountains. Its has eaten away the finish in parts what should I do to fix it?
Casey Cocks
- Somonauk, Illinois
---
October 24, 2012
Q. My 6 year old GE Profile SS fridge has always been relatively easy to keep clean. Today, someone used Pledge Multi Surface on it, and it is a mess. I have tried windex, club soda, Mr. Clean Magic Eraser. How do I get this nasty, greasy, and very smelly product off the fridge?
Paula Migliaccio
consumer - Barrington, Rhode Island, USA
---
Dull smudge swipes in my stainless steel fridge
November 26, 2016
-- this entry appended to this thread by editor in lieu of spawning a duplicative thread
Q. I have I inadvertently used some cleaner on my fridge that has left ugly dull smudge swipes on it. No amount of rubbing will take them off. Whatever I do as soon as I finish they come right back. Is there ANYTHING I can do or use to remove them.
Linda Fox
- USA
---
---
July 10, 2017
Q. I also have dull "stains" in the center of my stainless steel elevator door. It's like someone used an acid cleaner on it. It's not scratched. It's somewhere between stained and etched. I've used stainless cleaner/polisher but the stain comes back. Definitely ugly. Any ideas about how to fix it?
It looks like the original finish is long grain.
Dave Pierson
- St. Paul, Minnesota
---
September 16, 2017
Q. I have a brushed stainless steel oven and I noticed it was impossible to get off my the oil and other splatter stains on the front part with the ignition dials. I put some apple cider vinegar on it to clean but that did not remove it so I cleaned it with the pad part of the sponge. That got it all off but now I noticed that part I scrubbed is now shinier than the rest (while still maintaining the brushed look). How do I make it more dull looking to match the rest?
Nicole Martino
---
February 2, 2018
Q. Tried removing scratches from my ss fridge by using a scratch kit bought on line. It left dull smudges from the circular motion used. Anything I can use to fix it?
Stacey Olson
- Dickinson North Dakota
---
---
Heat stains on stainless refrigerator because air conditioning was off
January 8, 2019
Q. I believe I have what are 'heat damage' stains on my brushed stainless steel refrigerator. We had our air conditioning turned off for 6 months when we went north. It is very discolored. Can anyone please give us some advice? It is unsightly. Thank you!
Carol Halpin
- Punta Gorda, Florida USA
---
January 2019
A. Hi Carol. I'm not saying you're wrong; I'm just saying that as a Northerner I have never heard of 'heat damage stains' to stainless steel at house temperatures. I suppose there are materials in a house like waxes, adhesives, furniture polishes, etc., that could volatilize and deposit onto stainless surfaces. Usually, if you have one stainless appliance, you have several: how does the stainless dishwasher, stove, or microwave look?
Regards,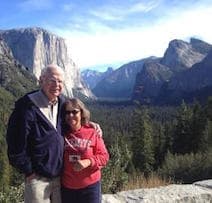 Ted Mooney, P.E. RET
finishing.com - Pine Beach, New Jersey
Aloha -- an idea worth spreading
---
January 9, 2019
Q. Thank you for responding Ted. Being the expert here ... after your questioning the SS being damaged by lack of air conditioning, makes me think it wasn't. All I know is that we came back to a discolored refrigerator. Maybe the Brasso is the route we should go after all? I just didn't want to do anything too invasive. BTW, I did put 'Cameo' cleaner on a magic eraser but the result was a lighter SS. Is that even possible? Is it even possible that my whole darned fridge is discolored and should be this lighter color SS? It came with the house when we bought it so I don't know what it originally looked like. Thank you :-)
Carol Halpin
- gorda, Florida USA
---
January 2019
A. Hi again Carol. I don't claim to be an expert on stainless steel refrigerators. But if the Cameo and Magic Eraser removed what you considered as the stain, and it didn't scratch the refrigerator, I'd continue with it. Cleaners like that don't stain stainless steel to a 'light SS'; so the shade you got is what you should have got :-)
Other readers should be careful about "Cameo" though. What happens is once a brand name gets traction, companies tend to put it onto other products. There are Cameo cleaners for Aluminum & Stainless Steel, and for Copper & Brass & Porcelain, and possibly others. Your success with one on your particular grade of stainless steel doesn't mean other readers can necessarily use "Cameo Cleaner" on their grade of stainless steel, or clearcoat, or stainless-colored paint. Owners of new refrigerators should follow the manufacturers suggestions for cleaning.
Regards,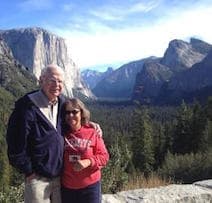 Ted Mooney, P.E. RET
finishing.com - Pine Beach, New Jersey
Aloha -- an idea worth spreading
---
---
January 29, 2019
Q. I used an abrasive sponge on my brand new dishwasher & a dull 2" x 5" smudge remains. Any suggestion?
Arlene Watts
Retired - Ocala Florida USA
^- Privately contact this inquirer -^