World's #1 finishing resource since 1989
No login needed: Chime right in
topic 8201
Can Cu Contamination Cause Stainless Steel Corrosion During Annealing?
2001
During intermediate annealing in a Wekllman batch furnace during deepdrawing sinks, the 304 2B stainless material corrodes so heavily in some places that pickling doesn't help. The black oxides look like rinsing stains. On non-annealed blanks we found a copper contamination. Can copper cause corrosion at high temperatures (1000°C) when present on the surface of stainless steels?
Please help.
Peter Caenen
- Hasselt, Belgium
---
2001
Copper will certainly oxidized to a black scale at 1000 °C and if there is enough copper there to form a molten metal state, the melted copper will probably penetrate into the stainless steel along the grain boundaries. If this occurs, relatively little copper on the surface could cause damage deep into the stainless steel. Metallographic examination could confirm this condition (or help identify other problems).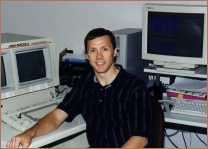 Larry Hanke
Minneapolis, Minnesota