topic 15893
Stubborn Pitting in 316L Electropolish
2002
I have a cube machined out of 316L cold rolled annealed. All six faces of the cube were machined and cleaned identically. 4 of the 6 surfaces, say right & left, top & bottom all electropolish to a mirror at current densities as low as 200 ASF. The two remaining surfaces, front & back, pit terribly at current densities below 1200-1400 ASF, then polish above that. No matter how I orient them in the tank, cleaning process, electropolish formulation, the same two surfaces pit. Must have something to do with the grain orientation. If I mill a slot across the surface that I know will pit, the bottom of that slot will pit, but the sides of the slot go mirror brite, and under the microscope these pits extend all the way to the edge but will not form on the adjoining surface just mils away. In fact, no matter what complex pattern I cut into this part, all surfaces facing front & back will pit, while the others go mirror brite, no matter how they were prepared, contacted, or oriented. My one solution is to get a bigger rectifier. But what else can be done to solve this problem?
Thanks,
Dave Kinghorn
Chemical Engineer
SUNNYvale, California
---
2002
Sounds like you have a free machining grade of material. Check the Sulphur or Selenium content.
Tony Duell
- Birmingham, England
---
2002
Agreed.
The rolling elongates the sulfide or selenide inclusions that confer the free-machining property, and also elongates the metal grains. Subsequent annealing creates new equi-axed metal grains (non-directional) but cannot modify the now-elongated sulfides or selenides, so these remain as corrosion-susceptible sites on the plane that is perpendicular to the rolling direction.
Suffix L (that is, 316L) denotes low carbon (0.03 percent maximum, against 0.08 percent maximum if there is no L). Suffix F (316F) denotes the free-machining grade that carries high sulphur or selenium. In the absence of the F, the sulphur and selenium are specified low, and they will not affect machinability or corrosion resistance.
You seem to have either 316F or 316FL when you thought you had 316L.
There are plenty of commecial laboratories that do spectrometric analysis of steels for something around $US20-30 per sample.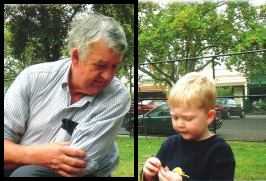 Bill Reynolds
consultant metallurgist
Ballarat, Victoria, Australia
We sadly relate the news that Bill passed away on Jan. 29, 2010.
---
2002
Thanks fellow tank jockeys:
Although the certs that came with the material indicates Sulfur below 0.030%, machining was done offsite so there may have been different raw stocks mixed. Analysis should show this. I have an experiment planned. I have acquired 316L raw materials, plate stock rolled one direction, rolled two directions, bar stock rolled one direction, and a never rolled piece. I'm going to cut them into cubic electropolish test coupons, with many electropolish test patterns cut into the 6 faces, and compare EP response on the different rolling orientations.
Stay tuned...
Dave Kinghorn
Chemical Engineer
SUNNYvale, California


If you have a question in mind which seems off topic, please Search the Site