Not a lecture hall but a roundtable with a seat for you!
60,000 topics spanning 36 years. Education, Aloha, & Fun
topic 7897p2
Galvanic Compatibility of Aluminum and Copper, p.2
---
< Prev. page (You're on the last page of this topic)
---
A discussion started in 2001 but continuing through 2020
September 28, 2016
Q. I have a client that wishes to purchase a copper rain chain that will be draining water out of an aluminum gutter. I typically dissuade my clients from doing so due to electrolysis. However the website where the rain chains are advertised says it is not a problem as long as you do not put them in direct contact with each other which seems like it would be difficult since the attachment piece needs to be placed inside the gutter. They advised to spray clear lacquer or piece of plastic underneath attachment piece. I wish to get a second opinion concerning this matter.
Nadia Crowther
- KYLE, Texas US
---
---
October 19, 2016
I am looking to make a thermoelectric (Peltier) system where the peltier chip is cooling a block of copper. Then an aluminum rod that is hard anodized will be threaded into this block using thermo paste.
I am doing this two piece design because copper is not food safe but has a very high thermo conductivity. I want maximum thermo transfer and effectiveness of the Peltier chip. ie, get that aluminum rod as cold as possible. The aluminum piece will be submerged in beer to chill the beer. That is why the aluminum is hard anodized, to help with the food safe-ness. This is long term storage (1-2 months max at a time)
The copper will never touch the beer, only most of the aluminum will.

My questions are:
1. Even with the hard anodize, and the thermo paste between them (Though not perfectly distributed), and the copper not being in contact with the beer. Is there a plating or anything I can add to the copper to slow or even stop that galvanic corrosion on the aluminum? Since cost is a factor, what is the second thing I can do?

Example, I am assuming the best answer is to plate the copper with maybe Silver or something. Is the second best option to plate in Nickel? Something that is presumably less expensive?

2. If there were a way to make copper food save via plating of some sort or what have you, and I could make the whole thing out of copper (Likely expensive btw), what plating or treatment might that be?

Thank you
Kelly
Mr. Kelly Johnson
- Burnsville, Minnesota
---
---
Aluminum saildrive is pitting; is copper bottom paint the problem?
November 15, 2016
I use copper based antifoul paint on the hull of my sailboat. At the end of season I see pitting on the boats aluminum lower saildrive unit and the aluminum prop. I use magnesium anodes, and they show significant galvanic reaction. What do I need to do to reduce the pitting on the aluminum saildrive and prop?
P.S. the boat is used in a fresh water lake.
Rick
RA Swinton
- Orillia ON Canada
---
November 16, 2016
Q. The aluminum prop and saildrive leg are annually cleaned up and painted with OMC zinc based primer and marine enamel.
The pitting problem persists. The copper anti-foul paint is not applied to the aluminum parts.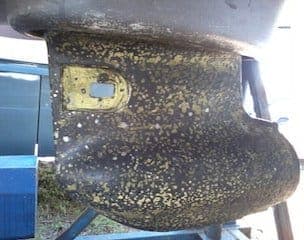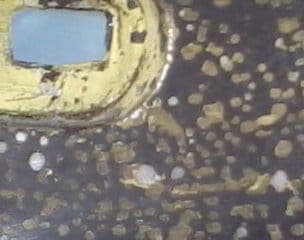 Here is a photo of the saildrive leg showing the pitting. The prop has similar pitting.
RA Swinton
[returning]
- Orillia ON Canada
---
---
May 30, 2017
Q. Good morning
On an algae-resistant shingle roof (partial copper granular) that drains into an prefinished alum. .032" gutter, should I be concerned with galvanic action?

Is there a corrosion possibility from the rain run off-from a copper roof into a prefinished alum. .032" gutter ?
ed wloszek
cass - Detroit, Michigan
---
---
Aluminum gutter pinholes
June 16, 2017
Q. I have a problem with corrosion on aluminum 10 year old gutters. I live on the water in Oceanport NJ. Recently we noticed corrosion on some of our gutters on our home we built in 2006. The outside bottom of some of the gutters have large areas of corrosion showing through the finish paint and many pin holes.

The only copper we have is flashing, but a gutter company I spoke with says the salt water air (we are directly on the water) is reacting with the runoff from the flashing to form a battery and causing the corrosion. The corrosion is happening on a few but not all our gutters.

I would think that the aluminum in some of the gutters is faulty and not related to our location, etc.

Thoughts?
Bob Kelly
Home owner - Oceanport, New Jersey USA
---
---
October 12, 2017
Q. I have a brass component coming in contact with aluminium. I understand this will cause galvanic corrosion between the two. Will Nickel plating on the brass component prevent the same?
Mihir Bajekal
- Mysore, Karnataka India
---
---
February 18, 2018
Q. I have an old outboard motor with a 1/4" threaded brass plug in the aluminum lower unit. The plug is used to fill the lower unit with grease. It's been in there a while.
When I tired to remove it, the plug is frozen in place. Is there an oxide or other material formed between the brass and aluminum that could possibly be dissolved with a liquid solution? or do you have any suggestion as to how to remove the plug? It's the slotted screw that is now stripped.
Matt Curtin
Curtin marina - Beverly, New Jersey
---
---
March 5, 2018
Q. There was a thread that wasn't answered previously about copper tubing and aluminum fins. I want to understand why there is such negative marketing for metal (copper/aluminum) solar pool panels. I have 4 very small pin hole leaks after 20 years ( I had to remove to replace my roof) but was told they may have been created due to the panel freezing and not draining. All 4 pin holes are all just about equally in the middle of the tubing. Every company I've talked to in San Diego, Orange,LA and Riverside County will only install this plastic stuff. BTU transfer per square foot is pretty pathetic and expensive for what you get to boot. I'm really not convinced metal is not the best material to use.
Mike Root
- LAGUNA NIGUEL, California
---
---
February 27, 2018
Q. We have installed aluminum doors over copper door pans separated by a bituthene membrane. Is there any chance of corrosion if the materials are separated?

Thanks
Alfred Seccombe
- Carmel, California, USA
---
---
March 14, 2018
Q. Hello, I have been asked to design a bird feeder for university I am planning on making mine out of Copper and Aluminium. I will be using plastic o-rings and washers to screw the pieces together, will this be okay to do so? So long as the Copper and Aluminium is not touching one another in any way?

Thank you.
Sean Malto
- Kansas City, Missouri, United States
---
---
September 6, 2018
Q. Hello, I have a 6061 Aluminum cooling channel that has an OFHC 101 Copper plate fastened to it. Water is typically used as the coolant. I am seeing degradation of the aluminum. It would be difficult to coat the copper plate so can someone recommend a plating on the aluminum to keep it from the galvanic corrosion.
Mark Bernick
- Duquesne, Pennsylvania, USA
---
---
November 20, 2018
Q. I, mistakenly, wrapped aluminium foil tape on copper pipes for insulation (the pipes carry hot and cold water). Apparently, that won't insulate it one jot! I'm now going to lag the pipes with recommended foam lagging. Can I lag over the existing aluminium coating or should I take it off (painstaking to do as it's well glued on). If I don't take the aluminium tape off is there a risk of galvanic corrosion of the copper pipes?
Syed Gilani
- London, England, United Kingdom
---
March 21, 2019
Q. I am John in Overland Park, Kansas and plan to use uncoated 1/2" diameter aluminum rods as balusters on deck rails made of cedar-toned treated lumber. Will the corrosion of the aluminum rods be severe enough to cause a problem?
John Bosnak
- Overland Park, Kansas
---
March 27, 2019

Q. Thanks for the information about corrosion of aluminum balusters in treated lumber. Would 304 stainless steel balusters provide sufficient corrosion resistance to treated lumber (cedar-toned treated southern pine) or is 316 stainless steel required?

John

John Bosnak

[returning]




- Overland Park, Kansas





---

March 2019

A. Hi John. You'll find all sorts of outdoor stuff made of each. We can say that 316SS is better, but it's hard for anyone to say whether 304SS will please you or you'll wish you went for 316SS. Probably more important than the material is to make sure it's passivated. Please search the site for passivation of stainless steel and continue the discussion on an applicable thread if you wish ... we shouldn't let threads about galvanic compatibility between aluminum & copper wander into procedures for passivation of stainless steel or nobody will be able to find anything :-)

Regards,

Ted Mooney, P.E. RET

finishing.com - Pine Beach, New Jersey

Aloha -- an idea worth spreading
---
---
May 10, 2019
Q. Hi,

I'm a computer hobbyist wanting to fashion a custom aluminum bracket to mount a nickel plated copper heat sink to a GPU (temperatures won't pass 80 °C). I've read multiple threads saying to not mix aluminum parts with copper based parts however, this has all been regarding a water cooled system.
The aluminum will not be in between the heat source and the base of the heatsink
Will an aluminum bracket in contact with Nickel plated copper at ~80 °C in dry conditions corrode?

Thanks!
Ricardo Gonzalez
- Los Angeles, California, USA
---
---
June 10, 2019
Q. I have copper flashing and valleys on my roof, installed AFTER I had installed a few galvanized metal gutters and downspouts .. I KNEW what would eventually happen but thought I could afford to replace them with copper gutters and downspouts... Well the time has come and I can't afford the copper... will aluminum last longer or will that react, too, and destroy the much thinner aluminum?
Jerry Mills
Milzarch LLC, restoration architecture - Sanford, Florida, USA
---
---
Iron phosphating a copper tube with aluminum fins
December 12, 2019
Q. A copper tube and aluminum fin used in a heating system similar to baseboard is to be pretreated in a iron phosphate conversion 5-stage wash system. I assume that this will cause a galvanic reaction. Is there likely to be any negative consequence to the wash system or wash chemistry?
Taidgh Buckley
HVAC Manufacturer - Westfield, Massachusetts, USA
---
---
March 31, 2020
Q. Our company makes residential electrical boxes. I'm designing a box with a pre galvanized steel plate that need to be grounded with a pig tail with copper ring terminal.The steel plate has an area of 1.75 Sq. In. I'm considering to use a Zn plated steel rivet for the joint and worried if the rivet will corrode. Is rivet corrosion going to be an issue or do I have enough Zn area compared to the copper terminal.
Mathew Thomas
- Memphis,Tennessee, US
adv.