topic 7671
How to Get Aged Look on Galvanized Roof
A discussion started in 2001 but continuing through 2016 and beyond.
2001
Q. I have a covered bridge with a typical corrugated galvanized steel roof... I want to lose the shiny, new look of the steel to make it look old and rustic. How can I do this without contaminating the water under the bridge?
Thanks,
Jeff Urban
- North Royalton, Ohio, USA
---
2001
A. I have seen a slurry of Pumice [linked by editor to product info at Amazon] used with tampico brushes, to mechanically polish down the shine of zinc and other hot dip coatings (during the sheeting manufacture, not after installation). Using a very fine - grade FFF pumice, should result in a pewter-like finish. It is not expected that the slurry will pick up any appreciable zinc off the sheet surface, but thinking environmentally, it might be best to arrange to rinse the slurry off the roof and collect it for proper disposal.
Your call, and this will take a lot of labor, I'm sure. Someone working with such roofing may give you an estimate of how long nature will take to give about the same finish. My estimate would be a year, or less.
Good Luck.
W. Carl Erickson
- Rome, New York
---
2001
A. I have done a few Mexican restaurants that have this look, the electrical conduit was washed with sulphuric acid/water solution and I think the tin roofing was washed with the same. I have heard that Hydrofluoric Acid may be used but be very careful with this extremely dangerous acid. It will eat glass.... I would suggest testing of several solutions before trying on your project.
Good luck.
Craig Calhoun
- Houston, Texas
----
Ed. note: Thanks Craig, but hydrofluoric acid has no role in this at all and is the most dangerous material you can imagine. Please see the entry of December 1, 2010 and don't even consider hydrofluoric acid.
---
(2003)
A. Have used vinegar, bleach, strong salt solution, the main thing is you need "acid". I have never used any acid that would be harmful should my grandkids be around while I have worked on tin in the past. Set the tin on your drive way, pour on a vinegar & salt & let it set.... no scrubbing. Just be careful where you wash the salt off to, it will kill your plants.
Kele Robers
- Ft. Worth, Texas
---
2001
Q. Good day all.
I have been asked to try to find a means of dulling the surface of an installed mill-finish aluminum roof on a house - the neighbours are complaining of the glare from sunlight.
What I have in mind is a conversion coating, e.g., an oxide that can form at ambient temperature on the installed roof. Application should be as for paints - by roller, brush or spray. The solution applied should not be too toxic or dangerous to the environment or to the applicator. I might add that I am about to try out in the laboratory, some of the formulations in the textbook by Wernick and Pinner, The Surface Treatment and Finishing of Aluminum and Its Alloys =>
in the chapter on conversion coatings.
Thanks in advance
John E. Leitch
- Pietremaritzburg, South Africa
---
2004
-- this entry appended to this thread by editor in lieu of spawning a duplicative thread
Q. I want to do a project around home using galvanized steel. I've been trying to find some that's old and dull/slightly rusty, but no luck. So I thought I could distress it myself, a friend said to use swimming pool acid. any thoughts?
Pete Lexy
- Wrightwood, California, USofA
---
(2005)
-- this entry appended to this thread by editor in lieu of spawning a duplicative thread
Q. I would like to find out if there is a way to treat corrugated galvanized roofing to reduce the glare or solar reflectance to a dull finish. I do not want the roofing to rust, I just want to reduce the glare.
David Shube
homeowner - Minturn, Colorado, USA
---
(2005)
-- this entry appended to this thread by editor in lieu of spawning a duplicative thread
Q. Just had galvanized awnings added to my homes exterior by a handyman. The only thing I can find to "age" them is in a kit. Surely there is a process, and one can purchase the pieces in the steps.
Ericka N. Gillette
homeowner - Cedar City, Utah, USA
---
(2005)
-- this entry appended to this thread by editor in lieu of spawning a duplicative thread
Q. My name is Romualdo de Blas and I live in Bisbee, Arizona. I am a retired architect designing a new house for myself in the historic preservation district of this old mining community. Corrugated steel roofing and siding was commonly used in this district from the 1880's to the 1940's. I want to duplicate the appearance of that weathered material and need to find out if there is a user-friendly product that can be applied to new galvanized corrugated steel that will make it look rusty in a matter of days or weeks. Any suggestions would be appreciated. Thank you.
Romualdo de Blas
retired architect - Bisbee, Arizona, USA
---
(2005)
A. There's a multi-step painting process by modern masters called metal effects that can be used on exterior metal roofing. I think it's a little pricey if I remember correctly, but it looks really nice. There are a few different finishes available....aged iron, copper patina, etc. hope this helps
It's a 4 step process....a coat of seal over the steel, then a coat of metallized paint that matches the steel over that, then a coat of rust activator (which supposed oxidizes in minutes) and then another coat of seal over that....you can read more about it at the modern masters website under metallic effects. There's also an image gallery with some examples of rust effects used on exteriors.
Shannon Sparks
- Springfield, Missouri
---
(2007)
A. I have primed galvanized surfaces with vinegar before painting and I have completely removed galvanization with Muriatic acid. Any acid-weak or strong will work at removing the galvanization from sheet metal. The acid from years of rain will remove it, but stronger store bought acids will cause it to rust faster. Rust is nothing more than a burning action taken on the metal by oxidation just as ashes from a fire. The zinc coating just protects iron from oxidation. Remove the zinc with acid.

I've seen movie sets in New Mexico sprayed with varying degrees of diluted Sulfuric acid just a few weeks after construction that looked a hundred years old in a very short while.
Ron Cook
building construction supervisor/school teacher - Tahlequah, Oklahoma
---
July 16, 2008
A. Try phosphoric acid. It'll knock the glint off of galvanized surfaces and leave them quite dull. Repeatedly soak the panels and rinse with plain water. Phosphoric is a common fertilizer element so it's not dangerous to the ground in the concentrations you'll use. In fact, your grass may grow greener if its soil PH is too high!

You'll need to wear chemical rubber gloves [linked by editor to product info at Amazon] and protective gear, but it won't hurt you if you get splashed (unless it's the eyes, nose, ears, and so on). I generally apply it with a red Scotch Brite [linked by editor to product info at Amazon] abrasive pad. Remember to rinse the panels when you're done.
Chris Shelton
- Camano Island, Washington
----
Ed. note: Don't ever use acids without wearing goggles [linked by editor to product info at Amazon].
---
September 26, 2009
A. Try using diet Coke, the acid in it will dull even polished aluminum, and it will be environmentally friendly.
Kenny Hibbs
- Rockwall, Texas, USA
---
April 2, 2010
Q. I am trying to renovate a 1930's house, that has a 1900 barn made of tin that is very rusted and very beautiful. I will let you know what works best for me. Thank you for all the information! I want to make the house look like the barn.
Richard Rees
- Grass Valley, California
---
December 1, 2010
! I would be interested to hear the results of any experiments here - I have heard that muriatic acid is the way to go.

RE. HYDROFLUORIC ACID - PLEASE DON'T GO NEAR THE STUFF UNDER ANY CIRCUMSTANCES - this is from wikipedia:

Hydrofluoric acid is a highly corrosive liquid and is a contact poison. It should be handled with extreme care, beyond that accorded to other mineral acids. Owing to its low dissociation constant, HF penetrates tissue more quickly than typical acids. Because of the ability of hydrofluoric acid to penetrate tissue, poisoning can occur readily through exposure of skin or eyes, or when inhaled or swallowed. Symptoms of exposure to hydrofluoric acid may not be immediately evident. HF interferes with nerve function, meaning that burns may not initially be painful. Accidental exposures can go unnoticed, delaying treatment and increasing the extent and seriousness of the injury . . .
Andrew Paul
- Yucca Valley, California, USA
---
April 9, 2011
PLEASE FOLKS DO NOT USE ACID UNLESS YOU KNOW WHAT YOU ARE DOING. Acid needs to be disposed of after you have finished and there is no good way of doing that unless you neutralize it with soda ash when done. Even then what do you do with it? I know when galvanized is welded it turns rusty immediately. that leads me to believe that heat can burn it off probably. Use a torch on your metal and see if that works. Or like someone else said earlier try diet coke 1st.
FATHER JAMESON
- WEST COVINA, California
---
April 10, 2011
Thanks, Father Jameson, but don't use a torch on galvanized material. Welders who weld galvanized metal and inhale the zinc fumes get flu-like symptoms called "metal fume fever" -- which you can read more about by searching our site for that term.
Regards,
Ted Mooney, P.E.
finishing.com
Pine Beach, New Jersey
---
November 18, 2012
Q. How long will it take to get the rusty look on tin after acid washing?
Billy c
- Belden, Mississippi
---
November 19, 2012
A. Hi, Billy. I assume we're actually talking about zinc coated steel sheet metal rather than tinplate or solid tin. But once the zinc is gone, rust will occur as soon as the same day or next day.
Vinegar plus salt, or diluted household bleach are probably a bit safer than sulfuric acid or muriatic acid. Good luck.
Regards,
Ted Mooney, P.E.
finishing.com
Pine Beach, New Jersey
---
December 30, 2013
Q. I am looking for a way to put a greenish patina look on two accent roofs on a custom home. They don't want copper, but want the look of old copper. There is going to be standing seam so there will be about 28 sheets of Bonderized metal 4' X 10', Thanks for any help.
Danny Kasinger
Roofing - Riverside, California, United States
---
---
January 15, 2014
Q. Only days after installing a Galvanneal steel roof on a residence dozens of large dark areas developed over about 25% of the material, producing a checkerboard effect which is very unsightly. My installer tells me it is caused by oxidation and is normal and that eventually all oxidize but it may take a long time.

Is there anything I can do to accelerate the process so the roof has a uniform look?
Mac Wesson
- Dallas, Texas, USA
---
February 28, 2014
A. Mac,
I'd be a bit cautious about believing your contractor there, I'd be more concerned that the zinc isn't uniformly applied than getting it to look uniform.

Outside that, mild vinegar solution (1 gal vinegar, 9 gal water) should help speed it along. I'd advise against it though, if it ain't broke, don't fix it.
Marc Banks
Blacksmith - Lenoir, North Carolina USA
---
---
Drips from pre-rusted roof are staining the deck
October 4, 2014
Q. Prepared galvanized corrugated steel roofing using muriatic acid, and a bleach/salt solution to create an older looking, rusted roofing on pergola. It was sprayed with a hose after a day then the roof was put in place.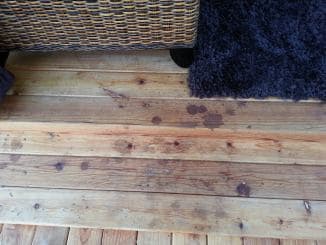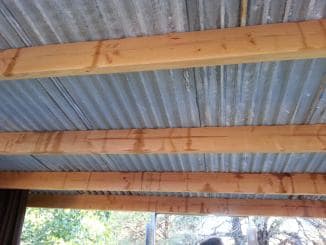 We started getting droplets of white powdery substance all over the new cedar decking causing dark stains.It drops on the furniture as well but comes off with a wet cloth. Not so on the sealed cedar deck. Any ideas how to stop this and what's causing this from the roof and how to get it off the decking? It also runs down the rafters! Help!
Inice Gough
art and ambience - Sisters, Oregon, USA
---
October 10, 2014
A. Hello Inice,
When the roof was nailed or screwed to the rafters where there rubber grommets used to seal around the holes? If they were used, were the screws or nails over torqued so the grommets are not seated properly? Im not trying to be smart but I would address the leaks first so you don't have to keep cleaning furniture and the deck. It could very well be that a portion of the salt / bleach application was occluded in the treated galvanized steel, and was liberated after the roof heated up by the sun. I would assume that the drips appear after a rain. As far as the stains on the cedar deck, you may have to sand. I'm not a wood expert and don't know how porous treated cedar is.

Mark Baker
Process Engineer - Phoenix, Arizona USA
---
October 13, 2014
Q. Yes, thanks. Grommets were used and properly placed and the moisture isn't from the top, but the bottom of the steel. This process has been used before with great success but we read that besides Muriatic Acid, the salt/bleach solution would speed things up. This was a BIG mistake. The muriatic acid had worked beautifully in the past - ALONE. We also agree that the salt/bleach part is the problem. I'm going to clean the rafters with Oxalic Acid and then the deck since my search for a remedy suggested this (I hope!). I'm keeping my fingers crossed this works, and next time stick with Muriatic Acid alone for roofing material!
Inice Gough
[returning]
art and ambience - Sisters, Oregon, USA
---
October 15, 2014

Hello again Inice,
I don't have experience with the use of oxalic acid on cedar, and I hope this works for you. It seems odd that the moisture and drips are originating from the underside of the steel, especially if you are certain there are no leaks coming from the top of the roof. I would be interested to know how soon the roof panels were installed after the bleach/salt solution and water rinse process were completed.
Mark Baker
Process Engineer - Phoenix, Arizona USA
---
October 2014
That's a good observation that was bugging me but didn't make it to my conscious mind. Is it possible that the topside of the panels was well rinsed, but the bottom wasn't, so the condensation is causing drips of chemicals? Ever notice how slimy bleach is? It's very difficult to rinse.
Regards,
Ted Mooney, P.E.
finishing.com
Pine Beach, New Jersey
---
October 16, 2014
We're curious if the rinse needed to be more like a power sprayer! It was left on the driveway 2 days actually, then sprayed with a hose. The next day it was put on. We're in high desert, no moisture really. Condensation was from early morning moisture only, no rain. I'll be doing the experiment with the oxalic acid this weekend. The dreaded droplets seem to have stopped. I'm thinking I might take a strong hose and spray the underside of the roof before trying the oxalic acid just to make sure most of it is off. I'm still thinking the salt/bleach should be eliminated if doing this for roofing material. Curious if this happens often when adding this step. Bad decision on our part. Hindsight 20/20 of course
Inice Gough
[returning]
- Bend, Oregon usa
---
October 18, 2014

Oxalic acid worked great! I used a spray bottle for rafters and deck, then came back with a rough sponge. No more salt and bleach for us. We're sticking to muriatic acid alone next time for roofing anyway.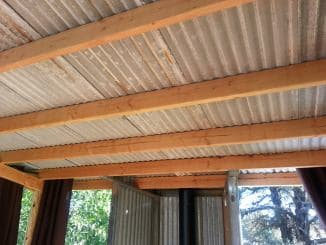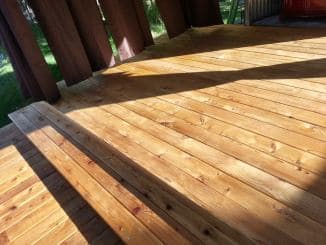 Inice Gough
[returning]
- Bend, Oregon usa
---
October 20, 2014
Hello Inice,
Thank you for sharing your success. By doing this you have enlightened many readers and responders. We all learn something new every day!
Mark Baker
Process Engineer - Phoenix, Arizona
---
---
January 21, 2015
Q. I am trying to get the corrugated metal panels to rust. I have degreased the panels, used muriatic acid and let it set for a hour and longer and then sprayed peroxide on the panels and still no rust! What do I do?
Ronda Bromm
- Tekamah, Nebraska USA
---
March 27, 2015
A. Try to put a coat of decking oil on the aluminium sheets. Gives an aged look and protects the aluminium sheets, works really well. I would never use acid as it reduces the life span of the roof.
Peter verhoeven
- Brisbane, Australia
---
March 31, 2015
A. Instead of an acid, you should use sodium hydroxide. Some of the commercial oven cleaners (e.g. "dirtoff") have concentrated sodium hydroxide as an active ingredient. Spray sparingly from 40 cm distance and you get a great aged effect.
Peter Verhoeven
- Brisbane, Australia
---
April 2015
A. Hi Ronda. If muriatic acid did nothing, when we all know that zinc reacts instantly with it, I'd start to suspect that the panels are painted rather than galvanized. There are a lot of faux finishes on roofing sheet these days. I once visited a plant that roll-coated the roofing sheeting with paint in every faux finish you can imagine.
Regards,
Ted Mooney, P.E. RET
finishing.com
Pine Beach, New Jersey
Striving to live "Aloha"
---
---
August 31, 2015
Q. What process can I use to dull a new corrugated aluminum fence with wood framing that divides my yard from a neighbor? Is the process different than all the above suggestions for a galvanized roof?
Judy Dwyer
- Duluth, Minnesota, USA
---
August 2015
A. Hi Judy. Does a magnet stick to it? If it doesn't, it's solid aluminum. If it does, it's aluminized steel (assuming you are right that it's not galvanized).
If it's solid aluminum, spraying it with oven cleaner (caustic solution) should dull it. Note that this is dangerous and environmentally questionable. You must wear at least goggles [linked by editor to product info at Amazon] and chemical rubber gloves [linked by editor to product info at Amazon], while making sure no children or animals are around. Then you must rinse into a trough to capture the caustic and neutralize it with vinegar (most people think that consumers and homeowners should not mess with strong chemicals this way, and they'll foam a lot more than you expect).
If it's aluminized steel, I'd be concerned about losing most or all of your rust protection. Good luck.
Regards,
Ted Mooney, P.E. RET
finishing.com
Pine Beach, New Jersey
Striving to live "Aloha"
---
December 29, 2015
A. Haven't tried this on galvanized yet, but I know that Urea is used to add age and patina to raw copper. While it used to be hard to find, it is now readily available as "Ad Blue" =>
... the liquid used in today's diesel car and truck engines to turn the NOX into N and O. You can buy it in any auto parts store.
Skip Redman
- San Diego, California USA
---
February 2, 2016
A. Re: White spots from galvanized roofing. Zinc has different levels of oxidation. When left to sit in contact with an anodic material it will form a white chalky oxide and when heated above roughly 1400 °F it will form the toxic zinc oxide mentioned in this thread, which is yellow in color. The prior may have been your problem and the acid may have washed away an anodic material.

In regards to acids. Remember, all acids are compounds with available H+ ions. H+ ions bond to metals and oxidize them. The best acid, assuming equal mol, to dissolve any metal will [almost always] be an acid made of an element that forms the most soluble compound in water after the acid has oxidized the metal.

Strength is another factor, vinegar has a low mol (amount of acid available in solution, essentially) and is also a weak acid (less H+ per mol) sulphuric, nitric, phosphoric (the acid in Coke), hydrochloric are strong acids (H++). Diluted, these strong acids can be used just as safely, obviously because most of you have drank a soda in your life. Always add acid to water. A drop of water may boil if added to concentrated acid.

As for aging: I like a 7" angle grinder with a 50 grit disk. Works great. Drink extra coffee and add 3 eggs to your breakfast. I think salt makes the most natural finish. Plenty of time for more coffee while it works.
mike richardson
Built to Grow, llc, Commercial General Contractor - Eugene, Oregon, usa
---
November 10, 2016
A. I have found that "EASY OFF" over cleaner in the yellow can works great to remove the zinc coating and accelerate the aging process. The active ingredient is sodium hydroxide. Spray it on thick leave it for three hours then wash it of with clean water. You will need to rinse and wipe several times to get all the white residue off.
Michael vanhoff
- Boise, Idaho
----
Tired yet? If not, a similar thread with additional ideas is letter 46671 "Knocking the shine off of new galvanized tin panels".


If you have a question in mind which seems off topic, please Search the Site