topic 7164, p2
Is Galvanized Steel Poisonous?
---
1 2
---
A discussion started in 2001 but continuing through 2018
October 12, 2010
Q. I see people using galvanized metal containers to grow vegetables. With water containing chlorides (salts), fertilizers containing salts, and electrolysis in the ground, I am wondering where the metals, etc. are going when they dissolve. Is this not a hazard to eat food grown this way. Some even "line the galvanized container, but guarantee not to corrode for 8 years. So am I consuming heavy metals for 8 years until I replace the container?
Thanks
Alex Kallas
Sustainable agriculture educator - Vista, California, USA
---
---
October 13, 2010
Q. Hi, I have built an apple press to make cider using a galvanised drain tray. The juice when pressed will collect in the tray and drain straight out of holes in the corners. Is this safe as the juice will only stay in the tray for a short while. Should I line the tray with plastic?
David Hadsley
- Hertfordshire, UK
---
---
December 22, 2010
Q. I live in Kansas City, Missouri and unknowingly, as a secretary, breathed sheet metal welding, gluing and cutting fumes for 2 years. I don't know where to go or what type of doctor or hospital to go to for diagnosis and treatment.
I go from "normal" to immediate uncontrollable Parkinson-like movements and shortness of breath when I breathe minute amounts of chemical fumes (perfume, cigarette smoke, car exhaust, glues, etc.) I also react to anesthesia and medications.
My reactions affect my heart and have caused me on one occasion to die plus chest pains, headaches, vision problems, lung granulanomas and nodules, depression, forgetfulness, fatigue and an inability to organize.
I became ill after my company bought and moved the sheet metal company they had outsourced welding to for years into our shop, increasing shop men from 7 to 35 and adding forklift trucks, plasma bed cutter, a second gluing/cutting table, lots of welding machines, degreasing areas, etc. and worked double shifts making commercial HVAC ductwork
Ann Adams
Sick from welding fumes - Kansas City, Missouri, USA
---
---
January 26, 2011
Q. I wanted and had installed a metal cap fitted to close off the roof my fireplace to prevent heat loss from the gas log insert. After installation I was told that the metal was galvanised steel (my original request was for stainless) I asked about any safety issues and was told as long as the flames did not directly impact the metal there were not any. I have a very low tolerance for fumes. It did not take me long to start having this metallic taste. I am concerned that just being heated is dangerous. If so I will have it removed sooner than later.
RICHARD LEE CARTWRIGHT
- FAYETTEVILLE, North Carolina
---
---
May 27, 2011
Q. I have been welding galvanized for over 10 years and now I have learned after 6 months in a specialist's treatment that my lungs can no longer take the fumes. I have to take an inhaler from now on because of lung damage.
Chester Tumlin
- Jefferson, Georgia
---
---
November 13, 2011
Q. My husband works as a steel tube mill operator. He read the MSDS labels concerning the galvanized steel they are turning into tube. This includes a welding process. It said it can be dangerous.The company said they would do a week long test. There is no ventilation. It is already making people sick. Do they not have the right to refuse on safety conditions?
Linda Kell
- Evansville Indiana
---
---
November 15, 2011
Q. I use a circular galvanized feed pan underneath my dutch oven to hold the briquettes. The pan is about 4" deep, the oven is about 8" tall. I have heard that the heat from the briquettes cause some galvanized gas (I am guessing zinc) that is poisonous. Any one know anything about this? I have been outdoor cooking like this for years....no problems...but, others are saying this is very dangerous?
Cliff Cayton
- Portland, Oregon USA
---
November 16, 2011
---
February 7, 2012
Q. I work as an operator on a CO2 Laser. I recently was asked to cut several sheets of 14 ga. galvanized steel. The result has been almost a week of flu like symptoms including a fever that keeps me from sleeping. Has anyone else been exposed to Zinc Oxide in this manner?
John Vento
- Melville, New York, USA
---
February 16, 2012
Q. Dear Sir,

We are a set of four students making a food machine and we are using GI sheet metal to make a hopper shaped container that carries the dough. Also we use the same GI sheet to make an oil bath where we heat the oil up to 200 °C. Can GI sheet can be used or is it dangerous to use GI in food processing units? Please educate us!

Thanks!

Regards,
Anamika
[last name deleted for privacy by Editor]
- India
---
---
February 25, 2012
Q. I spray zinc wire at work. It's called terminal arc spraying. When I am finished for the day I got 1/4 inch of zinc powder on my person and on the floor; when I get home at night my wife told me I stop breathing for a few minutes -- could it be the zinc?
usher
[last name deleted for privacy by Editor]
- hartford Connecticut
---
---
March 15, 2012
Q. Hi Ted,
Thank you for all the info here. I'm wondering if using a galvanized water trough as a hot tub is safe for me and my family? It is a trough that would be used for live stock.
Thanx so much.
Genevieve Littletion
- Oakland, California, USA
---
March 16, 2012
A. Hi Genevieve.
If livestock can safely drink from such a trough, yes, you can safely bathe in it. However, it will not be durable if you use chlorine or bromine disinfectants in it instead of dumping after each use. These are very very tough on metal.
Regards,
Ted Mooney, P.E.
finishing.com
Pine Beach, New Jersey
---
March 17, 2012
Q. I have a question about galvanized steel wire. I am using 18 gauge wire, to make ear wires, and earrings. When I make the ear wires, I bend and cut the wire, then polish the wire with a soft cloth. Can this amount of contact cause any poisoning?
Tiffanie DeMayo
- Newport, New Hampshire, USA
---
---
March 29, 2012
Q. What is the melting point temperature of G.I. Sheet with a thickness of two (2) mm.
arthur arcenas
switch gear - Dubai, UAE
---
---
April 29, 2012
! Yes, extremely toxic gases are released when heated above 1200°C. Make sure you wear a mask if welding or similar work involving high temperatures. Also ensure the work is done outside or in really well ventilated room. While the fumes are generally odorless they can cause everything from loss of appetite and dizziness to lung burns and even death.
Yek Ravani
- Ottawa Ontario Canada
---
August 11, 2012
Q. Hello, I have read your responses on the vegetable garden and I have a similar question. I am making raised bed and I was wondering if the hexavalent chromium you mentioned may find it's way into vegetables? Alternatively will it leach out of the sheets and wash down into the water table? Perth has a high water table and sandy soils that offer no resistance to chemicals passing through. I don't want to contribute to poisoning the ground water. (I know the amounts would be minute but it all adds up doesn't it?)

I have also heard that frogs will not go near galvanised steel, because it's toxic to them. Do you know anything about this? I would like to have an organic vegetable garden with no toxins and lots of frogs. The other building material would be wood but we have so many termites and I don't really want treated wood to introduce arsenic. I can use non-treated but then my beds would fall apart and I would be encouraging termites to hang out near my house.

Thanks for your time :)
Penelope Stutz
- Perth, Western Australia, Australia
---
---
August 24, 2012
Q. My propane BBQ grate sits too low. I found some galvanized fence loop caps that fit nicely into the grill and they supported another grill at just the right height. Of course the galvanized brackets are sitting on top of the burners. I often cook with the lid closed which would trap any emissions, if any. Am I putting my family's health at risk?
Douglas Richards
- London, Ontario, Canada
---
---
September 5, 2012
Q. Hi Ted,
Just found your informative forum.

Similar to the other person, I too made a smoker. I used what appears to be either grey phosphate and/or black oxide coated metal container. I had a gas burner at the bottom, so no wood or any other combustible material was in there. After a few seconds some thick black smoke came out which I breathed in. It wasn't very pleasant, let me tell you. I did get tightness in chest and felt bad for some days.

My thoughts are that the inside was coated with either a water soluble oil, sealer, or wax. Do you know if this is particularly harmful? I guess it's too late now, but if you have any information about this, I'd be most appreciative. I'm going to see my GP next week (still a little wheezy). Thanks! John
John Dennis
- Christchurch, New Zealand
---
---
September 11, 2012
Q. I wanted to know if the coating on galvanized steel would leach into the skin if it were made into jewelry?
Cheryl Mosca
- Kernersville, North Carolina USA
---
---
November 29, 2012
Q. We have an oven in which we cure composite. The design of oven has a temperature range up to 450 °F. Some panels on the floor have been damaged (aluminized steel). We want to replace these panels with galvanized (easier to obtain locally and more cost effective). Are there any health issues or structure problems that we could be facing. Also the oven does have a power exhaust flue.
Mike Mickus
- Wichita, Kansas, USA
---
---
April 22, 2013
Q. Hi,
I am building my own garage gym and I got a galvanized steel pipe which I would like to use as a wrist roller.
I will be touching this pipe usually not longer than 30 minutes at a time.
Can skin oils and sweat cause any funky reactions and the resulting compounds be absorbed through the skin?
Thank you for your help.
Best Regards,
Jens S.
Jens Schuetz
- Santa Clara, California, USA
---
April 25, 2013
Q. Hi there! I have seen a lot of suggestions on craft websites to use galvanized buckets for kids storage. I love the idea and was all set to get some when a neighbor mentioned to me that storing toys in galvanized buckets could be harmful to my child! Yikes! My little guy is 9 months and also sucking on everything! I'm curious and concerned. Please let me know. It seems to be the new hip and economical idea but are parents just not informed or am I overreacting?
Kate Smith
- Santa Cruz, California, USA
---
---
May 20, 2013
Q. I'm thinking of using a vintage Broil King Hot Plate.

The flat heating plate is tin, but looks like chrome, very shiny.

Will tin off-gas when heated?

Thanks
Roger Pelizzari
- West Virginia
---
May 28, 2013
Q. I have a friend that is using a galvanized trough that is used as a livestock water container to sterilize/pasteurize straw as a growing medium. He is heating it with open propane burners from below but only bringing the internal temperature to @170-180 degrees. Is there a health problem with the food crops he's growing in this straw?
Jaime Yarbrough
- Smith River, California, USA
---
June 6, 2013
Q. I am heating water for my pool through galvanized pipe running through a fire, I know that galvanized pipe can give off toxic fumes when put in a fire at first, I was wondering about the water being contaminated. I am keeping the water circulating through the pipes and it is heating my water up just worried about the water being safe to swim in.
Brandon S.
- Mulberry, Indiana USA
---
July 4, 2013
Q. I have been doing sheetmetal for 25 plus years (HVAC). Have always been told about the toxic fumes from heating galvanized metal but have also been told that the first burn off usually takes care of that, I am using some 26 ga. to repair cross over channels between the burners on a propane grill (the only parts they don't sell). Would like your thoughts and or opinion . thanks
Dennis Wacker
- Leav., Kansas, United States
---
August 18, 2013
Q. Hello, I came across this page after searching for info on the safety of galvanized steel in child's room. On the website Pinterest, there are many crafting ideas floating around concerning large oil drip pans used as magnetic boards for children (see nicandkate09.blogspot.com/2011/08/alphabet-board.html for an example of what I'm talking about). Some pointed out that the galvanized steel coating on the pan might have lead in it. I'm wondering if this would be toxic to a child in any way? Assuming it would be hanging on the wall in a child's room and they would be touching it frequently during play. And would spray-painting the pan decrease any of the safety issues, if there are any?
Elizabeth Candelaria
- Albuquerque, New Mexico, USA
---
August 25, 2013
Q. Hi, I am planning on hosting a garbage can dinner and bought a new galvanized can, only to discover that it might be dangerous. The food doesn't actually touch the can, water heated in the bottom steams the food. Do you think this is dangerous?
Jenny Koch
- Tremont, Illinois, USA
---
October 12, 2013

-- this entry appended to this thread by editor in lieu of spawning a duplicative thread
Q. Hey I was just wondering if it's dangerous to use Galvanised steel as jewellery wire. I want to start making Celtic torcs and I want to make the first one out of the wire I already use for sculpting. I'd like to be able to wear it if I make one, do you think it will be safe?
Dan Taylor
- Malvern, Worcestershire, United Kingdom
---
October 31, 2013
Q. I am having a water well installed and they are going to use galvanized pipe. About 450 feet for the water. Is that safe for drinking water?
Ryan Snapp
- Eustace, Texas, USA
---
---
November 4, 2013
Q. I'd like to make an old galvanised gas bottle (large 45 kg size) into a shed heater. I understand well the dangers of welding galvanized but what about when the heater is used as a wood burning heater (glowing red heat) is it losing zinc (vapour or particles) in small quantities or not at all?
Ross Peake
- Canberra, Australia
---
February 26, 2016
Q. My question is similar to the gentleman's from Canberra. If we use galvanised for a back-splash in a workshop and are using a torch for lampworking (glass blowing) will the back get hot enough to give off toxic fumes? I am thinking of spacing a couple of nuts in between the sheet metal and the studs on the wall to create a "radiator" that would disperse the heat so the panel stays cooler.
Carlos Conejo
- Thousand Oaks, California
---
---
Burning lawn debris in a galvanized trash can dangerous as far as fumes?
July 7, 2016
Q. I am thinking of making a Burncage out of a galvanized steel trash can, something like the one Truevalue sells and was wondering if the can will give out fumes while burning lawn debris and personal documents?

Thank you!


Monica Ortiz
Homeowner rural - Cleburne, Texas USA
---
---
September 19, 2016
Q. I purchased zinc plated knobs for my kitchen cabinet which were made in India. Should I be concerned about zinc exposure. There are about 36 knobs purchased from Lowes who stated the zinc covered steel. Thank you for your comments. I have young children.
Linda Quarles
- Indianapolis Indiana USA
---
---
October 23, 2016
Q. I am making an infrared sauna using red 250 watt R40 heat lamp bulbs. I want to put a protective screen a few inches in front of the bulbs so that no one can touch them. I am thinking to use galvanized steel hardware cloth. Concerns have been raised about the metal off-gassing in the confined space of the sauna. Is this likely to be an issue? At what temperature would such metal begin to off-gas? Is there a better product for this that you know of? Thanks.
Brian Haviland
- Austin, Texas US
---
---
November 1, 2016
Q. I just bought me a galvanized fire ring and I know its specialized in burning fire. I had plans one day to burn marshmallows and cook on it. Is it harmful or should I just dig the galvanized fire ring out the ground and get a refund.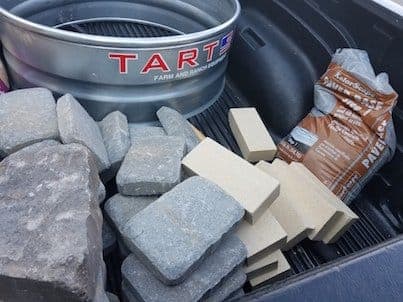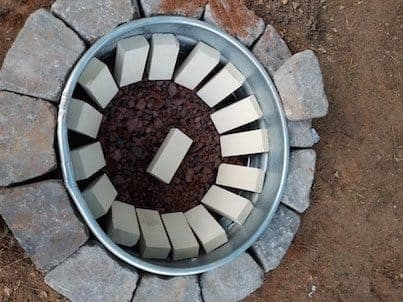 Jonathan Tucker
- Charlotte, North Carolina United States
---
November 16, 2016
Q. I'm using a galvanized steel utility pail made by Behrens as an outer casing for a make shift insulated oven. Inside the galvanized steel pail will be a very hot stone heated up to 550 °F. On top of that stone will be an aluminum camping pot with food inside the pot cooking from the heat of the stone. I've heard rumors that galvanized steel when heated can release toxic vapors. My question is this. Although my food is not even touching the galvanized steel should I be worried about using the galvanized pail as it is heated and could potentially leach toxic vapors into my food that's cooking in an aluminum camping pot. Hope this makes sense. I will be greatly appreciative of any information someone might have about this.
bryce prince
- San Tan Valley, Arizona, USA
---
December 19, 2016
Q. I was scrubbing down some galvanized pipe for a desk I'm building, using what I thought was a non-abrasive scrubbing pad. I noticed a metallic smell every so often, but thought that was just from the hot, soapy water I was using to soak the pipes. It was only after a while that I noticed that the pad was actually scouring the metal, and that it and my gloves were covered in grey smudges. Now I'm worried that I might have inhaled a bunch of zinc or other metal particles and damaged myself. I haven't noticed any symptoms of anything, but should I be worried?
Theo Graham
- Omaha, Nebraska, US
---
---
December 28, 2016
Q. I've made a heat exchanger for my wood burning fireplace out of galvanized Steel pipe. Do you think it will reach temperature to turn into gas. My son's eyes started to get puffy so I stopped using it but it could also be him helping me start the fire, and smoke & dust getting in his eyes. Let me know what you guys think.
Michael mcqueen
- Indlps, Indiana
---
---
February 21, 2017
Q. Hello I run 2 ten ton melters and my company wants us to melt galvanized steel, is it hazardous to melt down 7000- 10000 lbs of galvanized steel?
Aaron Dransfield
- New castle, Kentucky
---
November 10, 2017
Q. I had an electro galvanized nail in my mouth today will I get zinc poisoning?
Alex Erwin
- Cassville, Missouri
---
---
---
January 6, 2018
Q. Hi.

I have a Weber BBQ and I want to use charcoal briskets to cook, of course removing the gas bottle and fittings.

My question is: Can I use a piece of gal mesh to cover the hole in the bottom of the Weber to stop charcoal falling through? Will it affect the food?
Kevin Moran
- Sydney NSW, Australia
---
---
February 12, 2018
Q. My son is working at a place that galvanizes metal. He does the filing and cleaning after the pieces are dipped. When it was sleeting the other night, fumes where coming off the metal. He asked for a mask several times but did not get one until after he had been working for over an hour. He started throwing up before they got him a used mask. He had to come home. He has been feeling bad with a headache and stomach issues since then. This was Saturday. What caused this? And is there something he can do to help the symptoms and for this to not happen again? Thank you!
Rhonda Mayo
- Claremore, Oklahoma, USA
---
---
February 16, 2018
Q. I want to line my propane gas grill with corrugated galvanized sheet metal. Will the heat cause any toxic fumes from the metal and transfer to the food?
Ray
Ray Holt
Beach Rentals - St. Pete Beach, Florida
---
---
April 14, 2018
Q. I recently found a very lovely DIY birdbath that I'd like to make. The instructions include using a galvanized tray as the base and it will be in contact with the water. I noticed some people commenting on the instruction video that this is harmful to birds/hummingbirds, but I don't know if this is a valid concern. The water would be in constant circulation if that makes any difference.
Annie Szentner
- Nanaimo, BC, Canada
---
---
Can zinc-based primer cause metal fume fever?
July 9, 2018
Q. I am a professional painter and I am working in the new construction of a stadium. I paint 10 hours a day using a zinc primer on metal bolts and nuts. We grind, profile, clean and then prime. Almost every painter, including myself have come down with flu like symptoms and missed a couple days work. I have formed a rash on my ankles, and feet and once I dripped some primer on my upper chest where my shirt was open. I wiped it off at once but have now got a rash that itches there. I don't know if the flu like symptoms were actual flu or something else or metal flu. I am going to ask around if any of the other trades have had flu symptoms.
Mark McCune
Union Painter - Phoenix, Arizona, USA
---
---
July 23, 2018
Q. I have been looking at making a fire pit out of an old tire rim.

Went on Amazon to see what they had for a decorative pit and saw a Galvanized fire pit. One person mentioned it being a bad idea and people shot his comment down. However, I want to side with him.

I see results for a campfire getting to around 900-1000 °C. That seems rather close to the point of concern.

Now, I understand that there are a lot of factors that go into a fire and its temperature, and taking into account the ventilation of a outdoor wood fire pit, and the fact that the smoke from the wood would probably cause you to move into fresher air …
Do you see ANY way that the galvanized fire pit would pose a real world issue even if you were trying to get the ring to glow by stoking and bellowing the fire?
Bill Flippen
- Eugene Oregon USA
---
---
August 23, 2018
Q. Hi, I'm looking into purchasing a gazebo for the deck and was wondering what is best material that won't leach any toxic fumes even while being heated in the sun and no air breeze. The gazebos offered have either Galvanized steel, galvanized aluminum or polycarbonate roofing.
Thanks in advance!
Nataly Fisher
- New York
---
---
September 23, 2018
Q. Hi my partner burns pallets with galvanised nails in the wood burner. Is it safe there is also a crack in the top of the wood burner.
Tasha birton
- Amersham Buckinghamshire England


This public forum has 60,000 threads. If you have a question in mind which seems off topic to this thread, you might prefer to Search the Site