topic 6835
INFO NEEDED ON CHROMING of PLASTIC SKULL
(2000)
Q. THIS QUESTION IS GOING TO SOUND ODD. BUT HERE IT GOES, I HAVE A LIFE SIZE PLASTIC SKULL, I WANT TO "CHROME IT" MOUNT IT ON THE FRONT OF MY OLD HARLEY-DAVIDSON MOTORCYCLE AND MAKE IT A HEADLIGHT.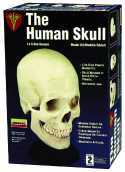 WHAT AM I IN FOR? HOW?
WHO? HOW MUCH?
THANK YOU.
TONY S
[last name deleted for privacy by Editor]
- YOUNGSTOWN, OHIO
---
(2003)
Ok, This is a fairly difficult task to undertake. Electroplating a plastic object is something not easily done (plastic not being conductive and all that). I used to work as a chemist at a plastic plating company many years ago and I have some knowledge of the plating process but it isn't a home brew type of thing. I will give you a quick rundown of the process. First the part is dipped in an acid cleaner tank (Sulfuric acid, chromic acid, water) then it is dipped into an acid etch tank (same as cleaner tank but stronger).
After this, the part will have microscopic pit marks covering it. It then is rinsed in a couple of tanks, cleaned in a hydrochloric acid tank, rinsed again, then dipped in a palladium tank. From here it is dipped in a tank called electroless copper (Cupric sulfide, Cupric sulfate, Formaldehyde). The palladium (it sticks in the small pit marks) attracts copper from the cupric sulfide and ends up with a very thin layer of copper coating. Now the part can be electroplated as normal. When we Chrome plated parts (flusher handles, faucets, etc.) we had 2 copper strike, 2 nickel strike and 1 chromic tank.
David Zahn
- Berea, Ohio, USA


This public forum has 60,000 threads. If you have a question in mind which seems off topic to this thread, you might prefer to Search the Site