education ... fun ... aloha spirit
Chime right in! (no registration req'd)
-----
"Conductive Plating of Ceramic Cylinder (help and supplier needed)"
2000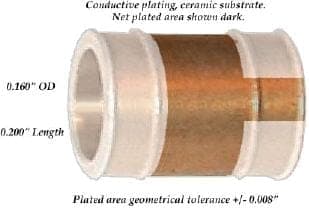 To any interested Supplier or Expert,
I am a R&D engineer for a small company that is developing micro-sensor systems for sensing pressures inside the body.
I need to coat ceramic cylinders that are 0.160" OD and 0.200" long with a conductive coating. There are several candidate ceramic materials to choose from that all have low coefficient of thermal expansion (CTE) as needed in this application. Some are porous, some are nonporous. All may be processed at high temp if need be.
We need to ultimately have only a circumferential strip (about 0.100" wide) on the OD to be conductive plus a small axially oriented strip that connects to the circumferential one.
I am considering the following processes although I don't know about the plating.
"Electroless Copper and Nickel-Phosphorous Plating"
by Sha, Wu, & Keong
from Abe Books
or

Affiliate Link
(finishing.com may earn commission)
1. Electroless copper plate the entire parts.
2. Apply resist to the desired conductive areas.
3. Etch and then remove resist.
I need the conductive layer to be in the range of 100 micro inches - to 1 mil and controllable in thickness to within ± 0.0002". We will be either soldering or conductively bonding to the surface. A supplemental coating of tin or other non-tarnishing material to the copper is desirable but not essential.
The quantities are about 100 for development, then batches of roughly 10,000-50,000.
Anyone interested, please comment on the following:
1. Recommended plating supplier (we can do the masking and etching elsewhere if the supplier is unable)
2. Does the electroless copper & etching scheme described above sound reasonable? Would selective plating be better? Would some other plating material be better?
3. Can this process (or another) be done to ceramic and if so should the ceramic be porous or nonporous?
Thanks in advance for your help.
Tom P
[last name deleted for privacy by Editor]
- Los Angeles California
^
^- Sorry, this RFQ is outdated
View Current RFQs