topic 6736
Gold (Au) plating peels off of nickel plating
(2000)
Q. I have faced Au peeling problem. The defect percentage is about 1 out of 25.
The base substrate is Cu and then Ni and finally Au. The Ni layer is very thin, just as a barrier for Cu diffusion.
Since we have not done the Au plating immediately after Ni plating, we have tried to use sulphuric acid (10% for 10 second) to clean the Ni surface before Au plating.
What is the cause for this Au peel off? For the same process flow, I have not found this problem before.
Please advise me if anyone knows the answer. Thanks.
Kelvin YU
- Hong Kong
---
(2000)
A. Is it just the Gold that is peeling off? Are you using a Strike between the Gold and Nickel layers? Are you trying out something new or was it an established process and suddenly you are encountering problems?
Mark Camilleri
- Malta
---
(2000)
A. Kelvin. Au can peel off if you use too much brightener in nickel solution. Regards,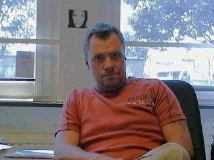 Anders Sundman
3rd Generation in Plating
Consultant - Arvika, Sweden
---
(2000)
A. 10 seconds seems like a very short time in your acid dip to reactivate the nickel plate which you have allowed to go passive. Try at least a minute and use 10 to 20% HCl instead.
Neil Bell
Red Sky Plating
Albuquerque, New Mexico
---
(2000)
As mentioned before, you are having an activation problem on the nickel. This should be quite easy to solve.
Try electrolytic activation with the work cathodic for 60 seconds at 3 or 4 volts. If the acid etches the part too much lower the voltage or shorten the time.
If this does not solve the problem completely then I would electroclean the parts is an alkaline electrocleaning solution for 2 minutes with the work cathodic, rinse, rinse then electrolytic activation for 60 seconds.
Another solution would be to gold plate immediately after nickel plating.
---
(2000)

Q. We have a similar problem with a few exceptions: Defect rate 1 out of 250, Plate Gold immediately after Electrolytic copper build with NO nickel build. I was given a possible solution that I have not been able to test yet but it's along the lines of what Anders is talking about: Add Activation step to remove any brightener film that may be present. Use a 2% Sulfuric Acid, 0.25% Peroxide (33% grade) at room temp for 60-90 seconds. This will darken part but thats okay. Like I said, I haven't tried this yet so I'm kind of hoping someone will respond to this possible solution. Thank you.

Tom Greifenkamp




- Cincinnati, Ohio USA




---
---
November 5, 2014
-- this entry appended to this thread by editor in lieu of spawning a duplicative thread
Q. Is there any chances of facing upper plating layer peeloff (gold plating) if higher amount of brighteners used in nickel ( Under coating )?
Naveen kumar
- Bangalore, Karnataka , India
---
December 2014
A. Hi Naveen. We appended your inquiry to a thread where Anders has answered it directly. Of course, this is not the only possible reason for poor adhesion. Passive nickel is another common cause, and anything is possible. Please describe your situation. Thanks.
Regards,
Ted Mooney, P.E.
finishing.com
Pine Beach, New Jersey


This public forum has 60,000 threads. If you have a question in mind which seems off topic to this thread, you might prefer to Search the Site