60,000 Q&A topics -- Education, Aloha, & Fun
topic 6559
Alodine 600 is not properly coating some aluminum alloys
A discussion started in 2000 but continuing through 2019
2000
Q. I am the QC and lab technician at a small sheet metal manufacturing shop in N. Idaho. We have just switched to the Alodine 600 and are having some mind-boggling problems.
The 600 coats 2024 BR and 7075 CL aluminum alloys good, but coats 2024 CL, 7075 BR, and 6061 aluminum alloys very poorly (the coating is streaky and light). Our biggest problem though is 7075 T0 BR .063 aluminium that has been heat treated to T62. We cannot seem to get an adequate coat of the 600 on these parts.
The chemical properties of the 600 are in the middle range of concentration and pH, and toner 22 has been added.
All parts are cleaned in an alkaline cleaner, then deoxidized, then processed. All chemical baths have 2-step immersion rinses after them.
Any help at all would be appreciated here!
Benjamin Curto
- Sagle, Idaho, USA
---
2000
A. Ben
I can't help but feel your desmut / deoxidizer is the problem. I might suggest a nitric dip possibly or a fluoride one. Sounds like you have a film that is preventing the 600 from penetrating
Drew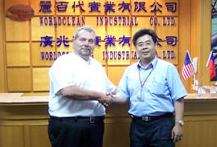 Drew Nosti, CEF

Ladson, South Carolina
---
2000
Q. Hi,
I'm having the same Alodine 600 problem with 6061 and 5052 Al. The only info that I have found to date is that Sulfate contamination will cause Alodine 600 from adhering.
Needless to say I had all rinses, etc. analyzed/changed and still the problem appears. My alkaline cleaner & desmut/de-ox tanks are new and still the same problems crops up on 6061 & 5052 Al. I have also tried a Fluoride one to no avail. What I have tried is making a small bucket of Alodine 600 solution at 30 °C (our tanks are at 22 °C). At 30 °C I seem to be getting better adhesion but still it is streaky and a lot lighter than at 22.
Any info or anything I can experiment with to solve this problem will be greatly appreciated.
Marc Nanni
- Montreal, Quebec, Canada
---
2000
A. I have experienced that same problem before, tried every acids/alkaline clean but got the same negative result.
This may not be applicable to your requirements but I found out that scrubbing with scotch brite just prior to Alodine dip solved the problem.
dado macapagal
- Toronto, Canada
---
2001
A. Hi,
We have been finishing 7075 bare and 2024 bare all tempers for several years with Henkel 600 & 120O. I agree with the gentleman from Canada -- the key is scotch brite cleaning prior to treatment. Also be sure you monitor the pH.
Joe Harmuth
- Madison, Connecticut
---
---
To minimize your searching efforts and to offer multiple viewpoints, we've combined some threads into the dialog you're viewing. Please forgive any resultant repetition or failures of chronological order.
---
---
Alodine 600 help for dark gold conversion coating
2006
Q. I'm pretty new to this so don't be to hard on me. I would like to improve my results in color and consistency. I'm using Alodine 600 to plate 6061 and 2024 aluminum parts. The desired color is a dark gold. I'm using a phosphate acid for 3-4 min. Then dip in cool water and spray with hot water then back to cool for 3 min. Alodine for 3 to 6 min. let hang 30 sec dip in cool water 10 to 15 sec. Dry with air heater. I recently installed a heater in the Alodine to bring it to 70 °F. Since then the parts have come out lighter gold and the 2024 parts don't seem to plate at all. The acid strength and Alodine strength are at max recommended. Do the times seem off? Any help would be greatly appreciated.
Chris Fischer
- Chippewa Falls, Wisconsin
---
2006
A. The product you are using is relatively new on the market and is very sensitive to surface preparation. I suspect that the phosphoric acid deox is not doing a complete deox job - switch to 30%/vol Nitric Acid, or better still, call your chromate vendor, discuss the problem, with his technical people, then I am sure they will recommend a mixed acid product that will work better ahead of their chromate formulation.

Robert H Probert
Robert H Probert Technical Services

Garner, North Carolina
---
---
How I can get a good appearance of Alodine 600?
January 12, 2009
Q. Dear Sir

We purchased material from Henkel to do Alodine 600. Our process followed the material Spec, but no matter how many times we tried,we always got a poor appearance: The surface appears "cloudy",the color on the surface is not uniform,it seems that some place get a very thin coating--it's even worse near the holes on the parts. Meanwhile,another company processed our parts,got a very nice appearance(I wanna say our machining should be all right.)
Expecting your advice!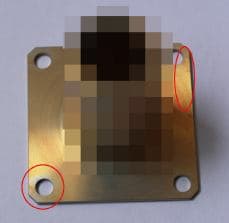 Jay zhao
- Chengdu, Sichuan, China
---
January 13, 2009
A. If someone else got good results, then there is a high probability that there is something wrong with your process.
There is also a possibility that you got a bad can of material. Years ago, we had a problem with 1200 and the manufacture denied anything could be wrong with their product. With much complaining, they pulled the QC sample and lo and behold, it did not meet spec. We had to switch to a competitor because they could not provide another lot number on a reasonable time frame. It is rare, but it happens.
Ask who you bought it from to send their tech service rep out to troubleshoot the problem. When you buy proprietary material, tech service is expected to go with it.
James Watts
- Navarre, Florida
---
January 15, 2009
Q. Thanks for your reply! If suppose that our material for the process is OK. Any detailed situation would cause "Water Stain" or "thin coating"near the holes (Please see the Picture on 1st floor).
I think maybe there is something wrong when we during washing and drying after anodizing.

Many thanks
Jay Zhao
[returning]
- Chengdu, Sichuan, China
---
March 15, 2009
A. Just would like to share my experience. The white areas usually are the spots that water gets together and stays there. We have to use air blow to dry parts right after Alodine rinsing. You can check whether there is white stain after Alodine dipping?. If there is, so it is not the same as my case, :). Hope it's useful.
Tapanon Satjaratanchot
- Samutprakarn, Thailand
---
---
August 15, 2014
Q. We run only the Alodine 600, were having some problems with the streaks and turned to scotch brighting prior to the Alodine application. We have recently completely rebuilt the chemicals in the tank and are having issues with it looking real spotty, coverage is there but looks terrible. pH is 1.68 and tank runs at 20 °C. Have been battling this for a while. Any suggestions?
David Vance
- Wichita, Kansas USA
---
August 19, 2014

A. David

That you can produce acceptable results on a mechanically cleaned (scotchbrite) surface suggests your chemical cleaning process isn't doing what it should. Without more details it's hard to tell but my first guess would be you have an oxide film present on the surface.

Willie Alexander




- Colorado Springs, Colorado





---

August 19, 2014

A. We don't use Alodine but we do encounter the situation you described. For us, a spotty, non-adhering coating indicates our pH is to low. Depending on the size of our tank, we will add a cup or two of sodium hydroxide and retry. Usually 1 addition will get it sticking again.

Justin Brooks




- Rock Island, Illinois




---
---
February 1, 2017
Q. Hello, we are having adhesion issues with yellow Alodine staying on 5052 aluminum. The work piece is a rectangular box shape with PEM screws already inserted in the screw holes. We follow our usual process that we use for chromating 6061 aluminum, but it does not turn out with a nice appearance, especially along the edges where it does not even seem to be coating. The overall appearance is uneven, heavy in some spots and very light in others. Sometimes the chromate will rub off as well.

We always check the pH level and the temperature before hand so this is not the issue.
Does anyone have any help or advice they can offer?

Kind regards,
Charlene Nauss
Plating Shop Owner - Nova Scotia
---
February 10, 2017
A. The 5000's are more active than the 6000's and chromate seems to form faster, so, in a side bucket, raise the pH 0.3 then 0.5 and see if that slows it down only enough to keep it from rubbing off. Use ammonium hydroxide to raise the pH, be careful, go slow, and do it in a bucket before you try the whole tank.

Robert H Probert
Robert H Probert Technical Services

Garner, North Carolina
---
---
April 28, 2018
Q. I have a question regarding the sulfate of Alodine 600, what are causes why sulfate gets high?
Erwin Flores
E.W. Johnson Co. - Plano Texas, USA
---
April 2018
A. Hi Erwin. What acid are you using in your de-smut? Are you rinsing very well after it? Are your rinses deionized water or not? Did you do the Alodine makeup with deionized water? Is this a combination line doing both chromate conversion and anodizing where contamination could come from a sulphuric acid anodizing tank. What do you consider high?
Guessing the cause of a problem something with little data to start from is difficult.
Regards,
Ted Mooney, P.E. RET
finishing.com - Pine Beach, New Jersey
Striving to live Aloha
---
April 29, 2018
Q. We use SmutGo NCB Aero for desmut, All Rinse and make up water are DI Water.
The Alodine is just new, after two days of use I pulled sample to be tested and to my surprise it was already at around 500 ppm. The coating finished looks very good, the Alodine content and the pH are all within the requirements.
Do you have a titration / gravimetric procedure to determine the amount of sulfate in the Alodine Solution or where can I get this procedure?
Erwin Flores
- Plano, Texas USA
---
May 2018
A. Hi Erwin. I have not done such analyses and can only refer you to responses from others. Topic 20174 is about this. I am unfamiliar with SmutGo, but it is probably a tri-acid desmutter, and a source of sulfate. Good rinsing after the desmut, with a pH of not over 7.0, minimizes this dragover.
Luck & Regards,
Ted Mooney, P.E. RET
finishing.com - Pine Beach, New Jersey
Striving to live Aloha
---
---
Alodine 600 & pH
October 31, 2019
Q. Hi, my name is Doug I was recently given ownership of the chem film dept at the co. I work for. We make aeronautic parts for the military mostly of aluminum per Mil-DTL-5541 [link is to free spec at Defense Logistics Agency, dla.mil] classes 1A & 3.

We are having a huge debate over the pH level of the Alodine 600 solution. History for years shows salt spray testing passing when pH is around high 1.8's to low 1.9's. One customer's mandatory pH range is 1.5 - 2.2 while the chem co. suggests 1.5 - 2.0. We have one person insisting that the optimal pH is at 1.7 or lower.

If I understand correctly, a lower pH in the Alodine makes more aggressive solution but finishes thinner than a higher pH. So what I'm asking is that those of you that run Alodine 600, what pH do you maintain?
Doug Mayer
Employee - Nicktown, Pennsylvania, USA
---
October 31, 2019
A. The optimum pH is a function of (1) concentration, (2) temperature, and (3) alloy, and varies with each of those parameters.

Robert H Probert
Robert H Probert Technical Services

Garner, North Carolina
---
November 1, 2019
Q. Thanks for the reply. Do you use Alodine 600? What do you maintain your pH at? You must have a pH range and a target to go by when doing titrations.

We run, a variety of alum through the process, 2024, 7075, etc. Our salt spray test panels are always 2024 per MIL-DTL-5541. (we don't use 6061 for the CL3 thinking that if 2024 passes then any & all alloys will pass)
Doug Mayer
[returning]
aeronautics - Nicktown, Pennsylvania, USA
---
November 4, 2019
A. We use Alodine 600 and follow the Manufactures recommendations. We very rarely have to make any adjustments to the pH, we keep the concentration in spec at all times and monitor the pH. Generally when we keep titration around 8 our pH tends to be around 1.65 t0 1.7
Micheline Forth
Edwards Interiors - Rincon, Georgia