topic 6238
Magnesium anodizing processes & coatings, HAE, Dow 17
A discussion started in 2000 but continuing through 2017
(2000)
Q. My company has been anodizing aluminium components in Singapore for 20 years.
We now want to set up an anodizing line for magnesium. We are aware that amongst others there are several processes with brand names such as Anomag, Keronite, Magoxid and Tagnite as well as processes using different Dow chemicals and processes using the 'spark' method.
Does anyone know firstly how to obtain a list of all processes available, and secondly how to obtain an assessment of the relative merits of each.
Our initial target is the AVCC market with the automotive and aerospace markets later.
Thank you.
Michael A Oxborrow
metal finishing shop - Singapore
---
(2000)
A. Hi Michael, I think you've created a pretty good list of anodizing methods, and letter 685 addresses the "Microarc Oxidation" method that you mentioned.
Tom Pullizzi's faqs: "Early Pretreatment of Magnesium". Good luck.
Ted Mooney, P.E.
finishing.com
Pine Beach, New Jersey
---
(2000)
A. Dow 17 and HAE anodizing processes have been used on magnesium for some time. Their process parameters are widely available from a variety of non-proprietary sources; including the United States Military Specification MIL-M-45202 [Ed. note: now AMS M45202.html]. A new class of "spark anodizing"coatings have come on to the market in the last several years. It appears that they are all superior in both corrosion and abrasion resistance to the earlier commercialized coatings and are similarly priced. These new coatings are not, however, covered by military specifications. Commercial specifications, such as ASTM B893 [link by ed. to spec at TechStreet], have been written to cover these new hard anodic coatings.
adv.
Based on our own and other independent testing, I believe Magoxid-Coat® is the best of these new coatings, particularly in abrasive wear resistance. Also, unlike some other anodizes for magnesium, it contains no heavy metals. Of course, I am somewhat biased as Luke Engineering is a jobshop applicator of the patented Magoxid-Coat.
Chris Jurey
, Past-President IHAA
Luke Engineering & Mfg. Co. Inc.
Wadsworth, Ohio
---
---
(2003)
Q. What do the initials HAE stand for when referring to magnesium treatments?
Marshall D.
metal finishing - Anaheim, California, USA

---

(2003)
A. HAE is an anodize for magnesium.
David A. Kraft
- Long Island City, New York



---

(2003)

A.

Not real sure of the spelling of his last name, but it is my understanding that the initials themselves are those of the inventor of the process, Harry A. Evangelides.

Mike Swasko

- Cicero, Illinois, USA

----
Ed. note: The spelling is correct :-)
---
(2005)
Q. I am a technology consultant assisting a company that has developed a chromate-free coating for corrosion resistance for magnesium alloys for the automotive industry. The company cites the Dow 17 process as the major alternative to their technology, i.e., they believe Dow 17 is used widely in the auto industry to coat magnesium alloys. However, I have not seen indication in my research that Dow 17 is widely used here. Can anyone point me to references on whether Dow 17 is used for auto components and, if not, what is the typically accepted method/product for coating magnesium alloys?
Denise Duros
technology consulting - Boston, Massachusetts, US
---
(2005)
A. Dow 17 is an anodizing process -- Dow 7 is the more typical chromate process for magnesium. Powder coat is the typical finish used in the auto industry to protect mag; it has to be totally encapsulated for any pit or void in the coating will initiate instant corrosion. There are a couple of firms offering a colored anodized magnesium process that comes from New Zealand: International Hardcoat in Detroit being one that offers it and I believe Metal Cladding of Lockport, NY as well. To be brutally honest, there isn't a lot of magnesium being used for the simple reason that there is no good means of coating it to prevent the onslaught of corrosion.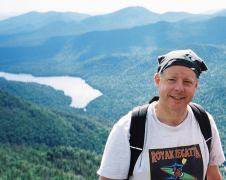 Milt Stevenson, Jr.
Anoplate Corporation
Syracuse, New York
---
(2005)
A. Considerable efforts are being made to enable greater use of magnesium in automotive. Searching the SAE website gives 7458 results for magnesium corrosion. Mostly Technical Papers, e.g.,

SAE 2000-01-1124 Corrosion Fatigue of Anodized Am50a Magnesium Die Castings

SAE 2001-01-0421 Corrosion Prevention for External Magnesium Automotive Components

SAE 2002-01-0081 Evaluation of Protective Coatings on Magnesium for Phosphate Process Compatibility and Galvanic Corrosion Prevention

SAE 2004-01-0133 Protection of Mg Alloys for Structural Applications in Automobiles

SAE 2005-01-0732 Corrosion Protection of Structural Magnesium Alloys: Recent Developments

Also, the newest update of the old Mil-M-3171 [link by ed. to spec at TechStreet] standard:
AMSM3171 [link by ed. to spec at TechStreet](October 2005) Magnesium Alloy, Processes for Pretreatment and Prevention of Corrosion On

Purchase and download at www.sae.org
Ken Vlach
- Goleta, California
Finishing.com honored Ken for his countless carefully
researched responses. He passed away May 14, 2015.
Rest in peace, Ken. Thank you for your hard work
which the finishing world continues to benefit from.
---
(2005)

Thank you for the great references, Ken!
Denise, I suggest you order a printed copy and wait for the postman though as the SAE downloads are fouled with DRM technology.
Ted Mooney, P.E.
finishing.com
Pine Beach, New Jersey
---
July 23, 2008
Q. Hello my friends. Please help me for this university student technical problem:

1- HAE min. & max. hardness quantity is what?

2- cathode & Anode area scale what (ac voltage)?
omran karami
student - iran
---
July 23, 2008
A. Hi, Omran. You might need to do a literature search for authoritative answers to those questions, but in addition to the literature already discussed, you might try www.ecm.auckland.ac.nz/course/cm423/423%20Teaching%20Chapter-2b%20Processing.pdf [Ed. note: Sorry, that link is now broken].
And, if you can possibly find a copy, the old Dow Magnesium Finishing handbook should help =>

Good luck.
Regards,
Ted Mooney, P.E.
finishing.com
Pine Beach, New Jersey
---
---
March 13, 2013
Q. A good-sized portion of our business is anodizing magnesium, specifically, Dow 17 (sodium dichromate, ammonium bifluoride, phosphoric acid, DI water).
Aside from the "normal" light spots in dead holes, air-gaps or just some struggling that is usually corrected with a chemical addition we have run into a major problem. We use aluminum for our racking fixtures (6061 flat stock and nuts, 2024 bolts, and 3000 series washers). Something is aggressively attacking and etching the aluminum. We can still coat, but the amperage hangs up, it takes a long time to coat and we stop before we arc a part.
About 4 weeks ago we had the problem and we drained the tank EXCEPT for the "sludge" of chemicals on the bottom and we ground down/cleaned the sides to improve our electrical ground (DC anodizing and tank is ground). We put the solution back into the tank and we were good to go - said it must have been the ground.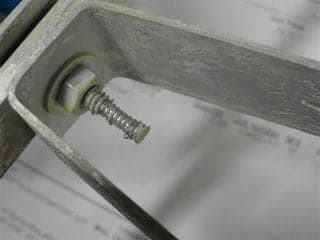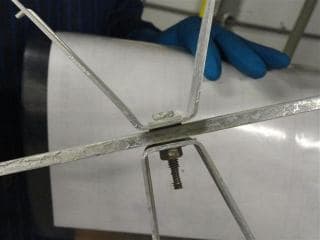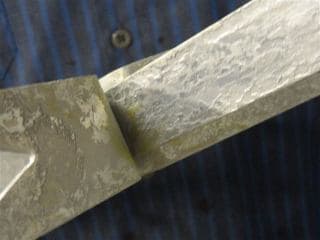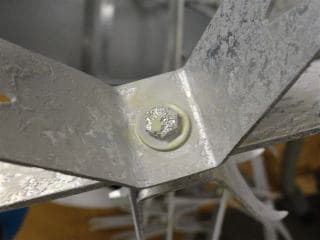 12 days later, same problem aluminum being attacked. This time we drained out the solution, removed the sludge, put the solution back in and made chemical additions based upon our titration. Good to go - coating like a champ - for 14 days . . . and the problem is back. New solution history 12/10, 9/11, 2/12, 9/12 (intermittent control power loss),11/12 (not coating, electrical problems). Maintenance 11/12 (replace corroded tank with new tank), 11/12 new rectifier and controller. Racks etching - 6/09, 12/09, 3/10, 2/13, 2/13. We're stumped. No change in chemical vendors, aluminum vendors.
Dan Marini
supervisor - Enfield, Connecticut USA
---
April 3, 2013
A. Hi Dan,

I have never used aluminum for jigging in a Dow 17 solution. I would expect the solution to attack the aluminum.

In a previous company we used to have copper flight bars with magnesium jigs. The jigs were masked off with PTFE coating and only the contact points left exposed. The magnesium was attacked, and probably lasted only a few weeks before needing changing. The one thing magnesium jigs did for us was not to introduce tramp metals into the solution.

The one favour you could do yourself is to mask off as much of the jig as possible to reduce the area that can be attacked by the solution. It still isn't ideal, but will reduce the attack.
Brian Terry
Aerospace - Yeovil, Somerset, UK
---
---
Will anodized mag wheels retain high shine?
March 24, 2017
Q. I have some polished magnesium wheels can these be clear anodized and still maintain the high shine?
Gary Grossi
- Santa Rosa California USA
---
March 2017
A. Hi Gary. Although there is such a thing as real magnesium wheels, people use the phrase "mag wheels" today similarly to the way they use the phrase "tin foil". Virtually all of them today are actually aluminum alloy because it proved so impractical to keep magnesium wheels shiny. Please see Topic 03, "Coating/restoring Halibrand wheels; history of magnesium wheels".
If they are really magnesium, you probably won't keep them shiny. If they are in fact aluminum alloy, clear coating will probably prove more satisfactory than anodizing. Good luck.
Regards,
Ted Mooney, P.E. RET
finishing.com
Pine Beach, New Jersey
Striving to live "Aloha"


This public forum has 60,000 threads. If you have a question in mind which seems off topic to this thread, you might prefer to Search the Site