Where the world gathers for
plating, anodizing, & finishing Q&As since 1989
-----
Crazy corrosion on bronze! Why?
April 28, 2022
Q. Hi! I'm Feral, (by name and nature) and I am grateful to any and all of you who could give me insight into my issue.

I finished a bronze sculpture in liver of sulphur and then waxed it. After Completing this I added a copper coated steel BB (air rifle pellet) to the piece and adhered it with a dot of crazy glue. It was sold, the gallery owner wrapped it in bubble wrap, crated it and shipped it across the country. (This took no more than a week In transit. The customer left it boxed and wrapped for 7 weeks until they were ready to install it. When it was removed from the box. The bb was gone, it looked like it melted and the bronze was covered in a yellow 'rust' in the place where the copper sphere had been.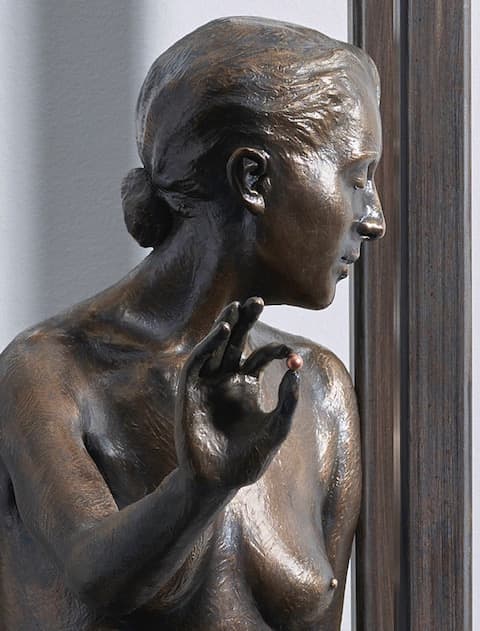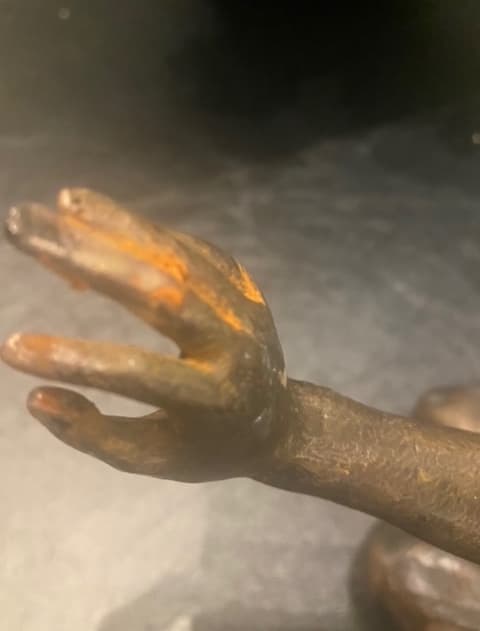 The ball that is now missing and replaced by rust is 4.5mm.
The Figure is seated but if she were standing she would be about 20 inches high I'm guessing
First I am trying to determine what chemical reaction took place to make a metal object 'dissolve' in this time and second I am trying to figure out how to repair this issue given that it is now In Toronto and I am in British Columbia.
Thank you for any light you can shed!
Feral Nifty
artist - Whistler bc, Canada
---
April 2022
A. Hi Feral. To establish facts first: sorry to be indelicate on a child-friendly site, but her nipple appears to perhaps also be a copper BB rather than part of the bronze? It could just be a trick of the lighting in a limited resolution photo ... but obviously if it is copper, that would be a game changer.
The next thing to note is that the discoloration sure looks like rust, but bronze doesn't/can't rust. Which brings me to the second question: is this a piece that you cast yourself and know to be bronze, or something that you refinished which might actually be cast iron?
Personally, I strongly doubt that the copper pearl "dissolved". There might well have been some limited sort of reaction, but totally dissolving? I doubt it and think it fell off, got knocked off, or pulled off and got lost.
Update ... having now briefly studied 'copper' BBs, unless you got something special, BBs are not copper but copper-plated steel, which changes my thoughts.
I lean towards believing this was environmental damage from water, leaking into the bubble wrap, then, yes, dissolving the steel BB.
It's hard to suggest a fix when we don't know for sure what the staining actually is, but if the buyer, the gallery, or a hired hand could try to re-wax one of the fingers with your wax, who knows, the rust might come right off. Second opinions welcomed :-)
And I think you need to shop around for a real copper pellet, not copper plated steel; E-bay has them in 4.5 mm.
Luck & Regards,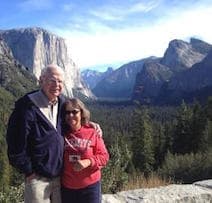 Ted Mooney
, P.E. RET
Striving to live Aloha
finishing.com - Pine Beach, New Jersey
---
April 30, 2022




Thank you so much Ted for the response and the research. I was part of the pouring, and she is indeed bronze the nipples sheen is likely light or someone (:0) over-polishing. Those high surfaces sometimes get a little too much attention.

The BB is copper coated steel and I think you are right it had to be the steel that has caused the oxidation. I am surprised the copper coating disintegrated so fast but with the wrapping ... I guess it was a perfect environment.

A question: If I did not do a good enough job of sealing the piece with wax would the liver of sulphur patina contribute to the accelerated oxidation?

Is there a suggestion for the most ideal (I want to say perfect but that is unrealistic) way to wax a bronze? is there a favoured product?

Thank you again! I love to sculpt but this area of knowledge is just growing. I appreciate so much the chance to learn more.

Feral

Feral Nifty

[returning]




artist - Whistler bc, Canada


privately respond to this RFQ ^
Ed. note: As always, gentle readers: technical replies in public and commercial replies in private please (huh? why?)



---

April 29, 2022




A. Try to contact Canadian Conservation Institute; that is job for professional metals conservator. Hope it helps and good luck!

Goran Budija




- Cerovski vrh