Problem? Solution? Chime right in!
(perhaps the world's last 'no registration' site)
•
-----
"Looking for practical linear grinding/finishing tool for non-production use"
January 15, 2021
Q. Hi, this is my second question posted to this forum. Thanks for all the help as I'm quite new to the finishing process. I'm doing a railing project out of 316L stainless, using all square and rectangular tubing, with some areas with 2'x2' sheets. This project is a one-off and I don't plan to do this professionally. My question is, I'm hoping to find a linear grinding/finishing tool that will suffice for getting a decent #4 finish that won't break the bank. I'm aware of various systems that I can purchase, but these are all pro quality meant for long and heavy use. I just need to get through this job. Is there a less expensive or "hobby" option for this kind of tool that will also make a decent finish?

I've been using a 4.5" angle grinder and abrasive discs, but I'd like something that gives a more uniform finish on flat surfaces, and which will take less time -- my hands are giving out.

Thanks again!
Brandon Jones
- Kaunakakai, Hawaii
^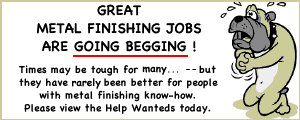 Plating Shop Manager [Salisbury, MD]
Junior Quality Engineer [Santa Clara, CA]
Plating Process Engineer [Wenatchee, WA]