Not a lecture hall but a roundtable with a seat for you!
60,000 topics spanning 36 years. Education, Aloha, & Fun
topic 61122
Lime Away took away the shine on my stainless steel fridge door - how can I fix it?
A discussion started in 2007 but continuing through 2020
2007
Q. Thanks for reading. While cleaning the water/ice dispensing portion of the fridge with Lime A-way, she failed to recognize that some of it had dripped off both edges, running the entire three feet down the front of the door to the bottom of the fridge. The fridge is a Whirlpool Stainless steel; Needless to say, two distinct lines running 3 ft each on the same door doesn't look great. Could somebody please give me some step by steps on how to repair this without settling for replacing the door. Thanks again.
Matthew C
[last name deleted for privacy by Editor]
hobbyist - O'Fallon, Illinois
---
---
June 30, 2010
Q. I used Lime-Away on my fridge water/ice dispenser and it dripped down the front and left drip stains on my stainless steel. Can I use Car Polish to get rid of it?
Vanessa Gionis
- Sugar Land, Texas, USA
---
October 6, 2010
A. Vanessa, harsh chemicals like CLR should never be used on stainless steel as they will compromise the chromium barrier of stainless and result in staining.

adv.
Scratch-B-Gone will restore the finish of damaged stainless.

Best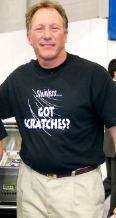 Barry Feinman
BarrysRestoreItAll

Carlsbad, California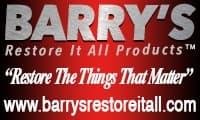 ---
---
March 17, 2013
Q. I have tried 5 popular stainless steel cleaners, lime away, fantastic ,vinegar water and vinegar baking soda mix for my drip stains from the ice maker on my new stainless steel fridge . . . nothing has worked. Would silver polish be an option? Very stubborn . . . not even a little better after spending so much on these possible solutions. Thanks for any thoughts.
Celeste Fasone
- Woodland Park, New Jersey, USA
---
September 17, 2013
A. For water stains on the stainless fridge, use WD40. Yep ... I tried EVERYTHING and this works great. I now clean all stainless steel products with WD40.
Billie Dias
- Kapaa, Hawaii
---
---
September 22, 2014
Q. I read on Pinterest that I could rub a cut open lemon to erase water streaks on my stainless steel. I did this a few times and it worked great. I rubbed the lemon on the areas and promptly wiped off the appliances with warm soapy water. It shined like new.
Recently, I had several water lines running down my refrigerator door. I used my lemon technique and it didn't come off completely, only took some of it away. I thought I should let the lemon sit on the fridge a little longer ... got distracted, FORGOT about it and noticed it dried on the spots the next day. When I cleaned with warm soapy water, the stainless steel now appears as one big light circle on the door (lighter than the original stainless steel color). The fridge is only a year or so old. Have I ruined it? Is there any way to clean it with something that will make the color look even throughout? I want it to appear as dark as the rest of the stainless steel. HELP! Can't afford to buy a whole new fridge (Whirlpool Gold). I have a photo but the link to send it would never open?
Rebecca Nielsen
- Mechanicsville, Virginia, USA
----
Ed. note: We aren't seeing the problem with the link, but please e-mail the pic to . Thanks.
---
April 14, 2019
A. I used Lime-Away on a refrigerator ice/water dispenser to remove built-up mineral deposits. Big mistake. Some of the Lime-Away got on the stainless steel door and permanently (I thought) discolored it with black "stains". So I did what turned out to be the "smart" thing and got on the internet ... I quickly discovered that other people had fallen victim to this same problem.

Lots of solutions were proposed, but I finally hit on using Barkeepers Friend [affil. link to info/product on Amazon]. Just a small amount sprinkled on a damp, soft cotton cloth, rubbing gently WITH THE GRAIN and in no time, the stains were gone! I finished up with Sprayway Stainless Steel Cleaner [linked by editor to info/product on Amazon] and the refrigerator door looked like new again! Whew!
John Armstrong
- Frisco, Texas USA
----
Ed. note: This metal finishing website is primarily for camaraderie and technical info exchange; as a rule, for time-proven reasons, this "no registration required" website avoids postings which suggest brands/suppliers/sources (why?).
But most consumers aren't chemical technicians, so when a thread is highly consumer-oriented like this one, we must bend the 'rules'. So, mention products if you must, but no slams please, and try to restrain yourself from overly glowing praise :-)
---
---
June 6, 2020
-- this entry appended to this thread by editor in lieu of spawning a duplicative thread
Q. I used Lime Away to clean the hard plastic 'container' at the bottom if my ice and water dispenser. Some of it spilled over on to the fridge door and now it's dull compared to the rest of the door/fridge. Is there any way to bring back the original shiny look? Thank you!
Norma Jarman
- Corpus Christi Texas USA