World's #1 finishing resource since 1989
No login needed: Chime right in
topic 6167
Restoring old silverplate
2000
Does anyone know a do-it-yourself way to repair worn spots on old silverplate?
Faith Brynie
- Bigfork, Montana
---
2000
Real silver plating is done by electroplating, and almost always from a cyanide electrolyte. Cyanide is one of the most potent and fastest acting poisons ever discovered, So there is no safe way to electroplate it yourself unfortunately.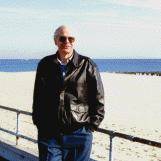 Ted Mooney, P.E.
Striving to live Aloha
finishing.com - Pine Beach, New Jersey
---
2002
Faith,
Mr. Mooney is correct in the sense that the best and real way to silverplate is with an electroplating process but he may have overlooked a cheaper way to do it without cyanide. I found a supplier of Jax Silver Plating Solution [affil. link to info/product on Amazon] which is brushed on, allowed to dry, rinsed off and gives a reasonable silver plated finish without the need of electricity. It's an easy and inexpensive way to touch up parts.
Regards,
Lance Fisher
- Fairlawn, New Jersey
---
I find that you are correct, Mr. Fisher. Thanks.
In fact, I've since discovered there there are a number of commercial immersion silver plating kits. They rely on the fact that silver will come out of solution in preference to exposed metal like copper and brass that is lower in nobility. Immersion plating gives a really thin coating because as soon as the surface is covered with even one atom thickness the reaction will cease. But if the item will see little wear, and you are willing to repeat it fairly frequently, you and a number of other readers are reporting that it can work. There are a number of brands recommended on these pages and we've added an FAQ, "Silver Plating at Home", that sources the Jax as well as Medallion Liquid Silver Plating Solution, Miracle Silver, Nu Silver, Quickshine, Silveron, Silver Plating Formula, Silver Secret, and The Silver Solution.
Thanks!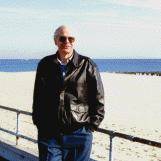 Ted Mooney, P.E.
Striving to live Aloha
finishing.com - Pine Beach, New Jersey
---
August 17, 2009
Perhaps because I am a chemist, I understand the risks and the way to safely handle toxic materials that I can state the following about silver cyanide plating solutions:
1. The cyanide is the water-soluble silver salt. What the properties of the cyanide ion versus other salts such as silver chloride or silver nitrate I do not know, but the industry standard is to use the cyanide salt. Gold plating uses the same chemistry.
2. The cyanide salts of noble metals are caustic, that is, they act like lye if they come in contact with skin or mucous membranes. For that reason, common sense says protective equipment is required such as splash goggles [affil. link to info/product on Amazon], apron [affil. link to info/product on Amazon], latex or nitrile Rubber Gloves [affil. link to info/product on Amazon], and mechanical ventilation to prevent respiratory exposure. Should the liquid come in contact with the skin or eyes, a deluge eyewash or shower immediately proximate the location of the work is required. This is all OSHA-required industry standard. Why, because stuff happens and why take the risk?
3. On the positive side, the concentration of the salts in solution is usually not very high - a few percent at most. I'd be surprised to see them any higher, so the risk of receiving a lethal dose of cyanide gas is quite low, and requires the liquid come in contact with an acid.
4. Bleach will kill cyanide. That is, any aqueous cyanide spilled or residues when exposed to copious amounts of bleach with convert the cyanide to nitrogen and carbon dioxide. But, in an industrial setting, that is called treatment, with the exception of spill response, required an expensive permit to treat toxic waste.

So, the more the cyanide in volume or concentration, the larger the risk. Given those minimal requirements, silver or gold plating using cyanide can be performed safely.
George Whiteman
- Santa Barbara, California
---
December 1, 2010
[A hobby plating company] sells a non-cyanide based silver plating system, including a home brush-on plug-in system for approximately $50. Has anyone used it?
Peter Hoppner
- Princeton, New Jersey
---
December 2, 2010
Hi, Peter. We don't compare one brand of stuff to another on this technically oriented forum. But the site's supporting advertiser EPI (Electrochemical Products Inc.) [a finishing.com supporting advertiser] offer non-cyanide silver plating processes. They recommend them only for electronics applications rather than jewelry and decorative applications because the color of non-cyanide silver plating is slightly off. But what Tiffany considers slightly off may well meet the standards of a hobbyist. Good luck.


Regards,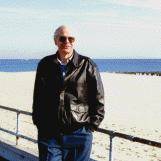 Ted Mooney, P.E.
Striving to live Aloha
finishing.com - Pine Beach, New Jersey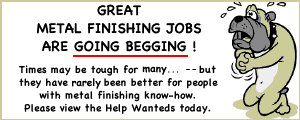 Junior Quality Engineer [Santa Clara, CA]
Plating Process Engineer [Wenatchee, WA]
Plating Supervisor [Chicago]
Plating Quality Inspector [Chicago]