The world's most popular metal finishing site, and striving to be the internet's friendliest corner
topic 6159
Improving adhesion of paint to polypropylene
A discussion started in 2000 but continuing through 2019
2000
Q. I am a project manager for a custom injection molding company in Ohio. We are currently developing a project for a major window & door manufacturer. Our goal is to mold window & door frames from a natural colored 20% talc filled polypropylene. These frames will be finished by consumers--probably using common latex paint. Our problem is that polypropylene has poor adhesion to coatings. We want to develop methods for surface treating (rather than base coating) that will allow adhesion of latex house paint for up to 2 years (possible retail store shelf life). Any insights would be greatly appreciated.
Rick Felumlee
- Frazeysburg, Ohio
---
2000
A. Rick,
Had you asked me that question a month ago, I'd have said 'tough bananas' as I know of/knew of no adhesive that would bond well to either PP or Pe.
But the other day someone said that there's now a bonding agent for adhering fibreglass to Polypropylene ... in the plastics (chemical) fabricating field in the past, one has had to use heat fused glass fibres in order to bond FRP to the PP.
Apparently this is an adhesive ... so may I suggest that you contact your local fibreglass resin SUPPLIERS to see if there's any truth at all about this adhesive. Personally, I'd have my doubts.
By the way, natural PP, talc filled or not, will eventually U.V. degrade unless it has U.V. fillers (Carbon black, etc.) but you'd know that, I'm sure.
I wish you luck,
Freeman Newton
White Rock, British Columbia, Canada
(It is our sad duty to
advise that Freeman passed away
April 21, 2012. R.I.P. old friend).
---
2000
A. Hi Rick
Although you say you don't want to coat I have done some work on water borne primers for automotive that may fit your need. These coatings were for aftermarket polypro parts. The project never completed due to the issues brought on by consumers vs insurance companies; however, a factory applied type primer finish may be viable.
Good Luck
Gordon Vidt
- Newark, Ohio
---
2000
A. Rick,
Further to my previous reply, may I make a comment?
Why in the hell are you using PP?
Why don't you use PVC? Most window mfgrs use PVC. It is much More resistant. It can be painted more easily. It doesn't have such a high coeffic. of thermal expansion. Parts' quality would, I think, be much more easily controlled.
Lastly, this may cost less to do apart from having less painting hassles.
The only advantages that PP has over PVC is a somewhat better resistance to temperature and to some solvents like acetone. C'est tout!
I should have mentioned this before. Sorry.
Cheers !
Freeman Newton
White Rock, British Columbia, Canada
---
2003
! Hot melt PP based adhesives, while not considered to be "structural", will bond to untreated PP. YH America or Aica could help you. If anybody has found anything else to bond to it without surface treatment, I'd love to know about it.
PP is a straight chain simple hydrocarbon, and is eaten up by UV. Vinyl is much better, in part due to its structure. Why is PP being pushed in applications where it really doesn't fit (i.e., outdoor, painting, bonding)?
Because it's CHEAP. This is what happens when the accountants take control of material selection. Let me know the name of the windows, so I can avoid them.
Why not try to bond to Teflon, while we're at it? Oh wait, it ain't CHEAP.
Brian D. Witt
- Flora, Illinois
---
2004

Thanks guys for making this understandable to the layman. My tale. I purchased an 04 Bayliner 285 and had the letters stenciled on the transom rear facing door of this boat as the Coast Guard recommends (3 inch letters etc). The problem? The lettering didn't stick as was promised by the technician / installer. We were all perplexed, confused and generally walking around with wrinkled brows. So I took the piece (30" X 18" porous surface) to a local plastics Guru. He came out of his lab smiling saying this was polypropylene.
Q. Now, the question is simple...do I resurface so the stencil will adhere better or do I determine a paint that will securely adhere to the original porous surface.
Appreciate your response!
Mike Musso
- Oceanside, California
---
2004
A. I found this thread while searching for a similar need for allowing acrylic (waterborne artist) paints to adhere to PP.
"Although I am searching for a clear product to act as a primer/tie coat, I would suggest the easiest solution for this person is to buy some of the Krylon Fusion [linked by editor to product info at Amazon] spray paint, and make a masking tape stencil for the lettering onto the boat hull. Although my company is in no way affiliated with Krylon, they make some pretty strong claims that Fusion will adhere to normally hard to coat plastics."
Mike Townsend
- New Berlin, New York
---
2005
A. Adhesion promoters are commonly used in the automotive aftermarket for painting polypropylene and thermoplastic polyolefins, among other plastics. A light or mist coat of Bulldog Tie Coat [linked by editor to product info at Amazon] applied before the top coat provides excellent adhesion. It can even be mixed in some solvent based paint systems.
John Power
- Memphis, Tennessee
---
2006
Q. I've tried everything on this stuff: Krylon Fusion, Bulldog, PO Primer, Washing Sanding with ajax & a scotch brite pad & then trying the primer techniques again in still comes off and if you get the surface warm that your painting it comes off like dead skin and any minor impact it breaks apart. My main staple for business is painting children's batting helmets but some of these helmet companies are just cutting too many corners. Hell when you put a flames test on this stuff you might as well put a wick on this so called plastic and have yourself a candle. IF ANYBODY FINDS A SURE FIRE WAY TO MAKE PAINT AND CLEAR COAT BOND TO THIS STUFF LET ME KNOW.
Joseph Lott
- Jasper, Alabama
---
2006
A. I believe that a product called BONDiT A-43 will satisfy your needs regarding a primer for painting polypropylene.
Kath Thomas
- Santa Rosa, California
---
(2007)
A. OK, on the issue of painting polypropylene. YES IT CAN BE DONE! The bumpers on virtually EVERY car out there are made of Polypropylene or a blend thereof.

Painting it is as easy as painting everything else if you know what to use. First, clean the RAW plastic with a product called Super Clean Plastic Cleaner (part number 1000-A) =>

This will remove any waxes, residues, mold release agents, etc. Then spray a product called Bumper and Cladding Coat Adhesion Primer =>

on the plastic...

There is no need to scuff or sand the plastic.

Use a NON-Catalyzed paint to color it however you like. If you want to use a paint with isocyanates, you need to have a dry non-isocyanate containing paint in between...otherwise the adhesion will go out the window in a big way.
Scott Bixler
- Rainsville, Alabama
---
June 12, 2008
A. First you heat the piece with a benzene touch hot but not too hot. Before it cools wipe down with denatured alcohol wipes. Just pouring denatured alcohol on a rag will not work. Then prime with catalyzed urethane primer. Test it for yourself.
Joe Sides
- Murchison, Texas
---
April 13, 2010
A. Lots of things don't work on PP. Complicating the issue is that it can sometimes have mold release agents on it as well. Here's the process that will get paint to stick and stay (though it can be worn off it will not flake or fall off without wear).

1) Clean the thing being painted
2) Clean the thing being painted with Transtar 1004 Prep wash. This is phosphoric acid and you might be able to just use that but I don't know for sure and I don't know the concentration. Clean everywhere and everything you're going to paint. No cleaning = no nice looking paint sticking.
3) Prime with either 3M 05907 Polyolefin adhesion promoter or Transtar 1023 TPO Adhesion promoter. I've tested these two and both work. Neither seems better than the other but they are both $30 for a single spray can (ouch, but no one said it would be cheap). Again prime everywhere and everything you want to paint. This stuff apparently slightly changes the chemical makeup of the surface of the PP to make the paint stick. I had to go through research papers, a company in Japan and a very surprised chemical engineer who has probably never before gotten a call directly from a customer.
4) Paint. I have used Rustoleum Appliance Epoxy. Krylon Fusion might work, but I have found it lacking in other plastic situations. Their standard interior/exterior works better on ABS than Fusion.
5) Let the thing dry for at least three days.
David Jannke
- Dallas, Texas
---
April 16, 2010
A. Have you ever heard anything about atmospheric plasma systems? It could be useful for painting PP materials.
There is only initial investment costs, not continuous costs.

Hope this info can help you.
Take care.
Cuneyt Gencal
- Kocaeli, TURKEY
---
January 11, 2011
If you may concerning the above problem, you would get more useful answer from under described information.

Notice the term : AMAPPA
AMAPPA means PP-g-MAH-Polyetheramine (MAH:Maleic Anhydrate)

There are two type of AMAPPA
1. Resin Type : Mixable with PP Resin
2. Emulsion Type : Like Primer(waterborne and solventborne)

You can find some technical information from
www.huntsman.com/performance_products/Media/ELASTAMINE%C2%AE_amine_for_thermoplastic_polymer_modification_0609.pdf
Dalwoo Kim
- Seoul City, South Korea
---
May 23, 2012
Q. Hi,

I have read the many helpful responses, and am now more confused! I have a 'dart 16' rotomold sailing catamaran, and the surface is really waxy, so to apply a name for the boat, stickers last about 3 sails before they wash off.so paint.... Which of the above would be the best one off solution for applying a name to my boat WITHOUT destroying any of the hulls strength?

Chris

Chris Jones
- Limassol, Cyprus
---
February 10, 2015
A. I am a Coating Chemist. We are often approached to develop coatings to stick to polyethylene-polypropylene. These are known as olefins. Unlike other plastics that have surface molecules to adhere to, PE and PP are totally inert and nonreactive. They have low surface energy. Flame treating or corona discharge can produce oxidation and create hydroxyl carboxyl, and carbonyl- polar groups that the paint can adhere to. Another method is a thin low solids primer called CPO - Chlorinated Polyolefin. Kind of like the polyethylene itself with chlorine groups on it. This is soluble in only toluene or xylene and is applied very thin and this will make the PE PP paint-able, PP and PE are used all the time but people do not realize how hard it is to adhere to.
Mike Luckett
- Elkhart, Indiana
---
February 14, 2015
Polyethylene and polypropylene are called polyolefins. The surface of this material is nothing other then hydrogen atoms. Basically there is nothing for the paint to associate with. By the way I am a paint chemist. The surface tension is low. Low surface tension makes the Teflon fry pan non stick. If the paint can not wet the material well it will not adhere. There are ways to paint this however. Everyone is tempted to take short cuts but they will fail. A Poly Olefin Primer may be applied. This is made of a Chlorinated Polyolefin produced by Eastman Kodak. It is only soluble in Toluene or Xylene. It is best applied at low solids 2-3% or 97% solvent. The applied film is very thin and the subsequent coating is put over this, The CPO sticks to the PP and the paint sticks to the CPO primer. Other ways are to flame treat or plasma treat. What this produces chemically , are carbonyl, hydroxyl, or carboxyl molecules on the surface of the treated material. These groups give the paint something it can sink its teeth into. These are methods that do work. What happen every time is the Mfg. produces a part and then decides to paint it. The molding material is the critical piece to the painting ? Simply said PE and PP are very difficult to adhere to. All due to the inert surface.
Michael Luckett
[returning]
- Northville, Michigan
---
---
March 24, 2015
Q. To Michael Luckett and others,

I'm a waterborne acrylic artist painting on Yupo paper(100%PP). To get better paint adhesion to the untreated PP surface, I use a chlorinated polyolefin called 10-pp wipe primer. It is designed to make screenpint ink adhere better to PP.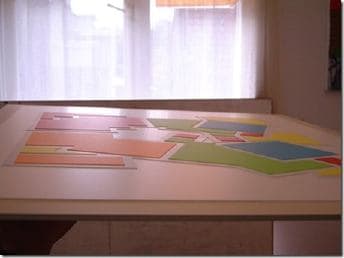 My question is what is the shelf life of such a primer when covered with a layer of acrylic paint? And: it's a solvent-borne primer and I put a waterborne acrylic paint on top of it. Will the acrylic paint remain attached to the primer over time?
Maarten Frenken
Artist - Den Bosch, The Netherlands
---
November 27, 2015
A. As well as the paint you use, the application technique (especially when using stencils) can cause the paint to peel.
The most common cause is down to applying the first coat of paint too thick or maybe not timing the re-coats correctly.
As different paints require different techniques, it pays to read and understand the instructions
Glenn Roads
- Hervey Bay QLD Australia
---
November 14, 2016
A. To get paint to better adhere to poly.

1 Clean plastic with cleaner, e.g., "ZEP" [linked by editor to product info at Amazon]
2 Scour plastic with 000 steel wool =>
3 Clean plastic with cleaner e.g., Zep.
4 Gently heat plastic with propane torch until surface looks oily.
5. Clean with alcohol until surface is free of oil.
6. Paint with plastic primer.
Lane Romel
- Brantfor, Ontario, Canada
---
January 4, 2019
A. Hi, I'm Amanda S. From Kentucky and I happened across this conversation in pursuit of some answers of my own. I've been dabbling in adhesives in many of my art projects. I'm not sure it this will work for a base but it's worth a shot, and it's an inexpensive experiment that may also be beneficial to your cheap skate superiors: Make a stencil for the lettering with tape or whatever you use, then fill the stencil with baking soda and pour liquid super glue on top of the baking soda (try to stay inside the stencil). This stuff dries instantly and can be sanded down for a smoother surface. Paint the letters after a quick sanding, and good luck! Hope it works out for you.
Amanda Singhiser
- Louisville Kentucky USA