The world's most popular metal finishing site, and the internet's friendliest corner
topic 60901
iPhone 10 Stains Fingers Blue
December 13, 2018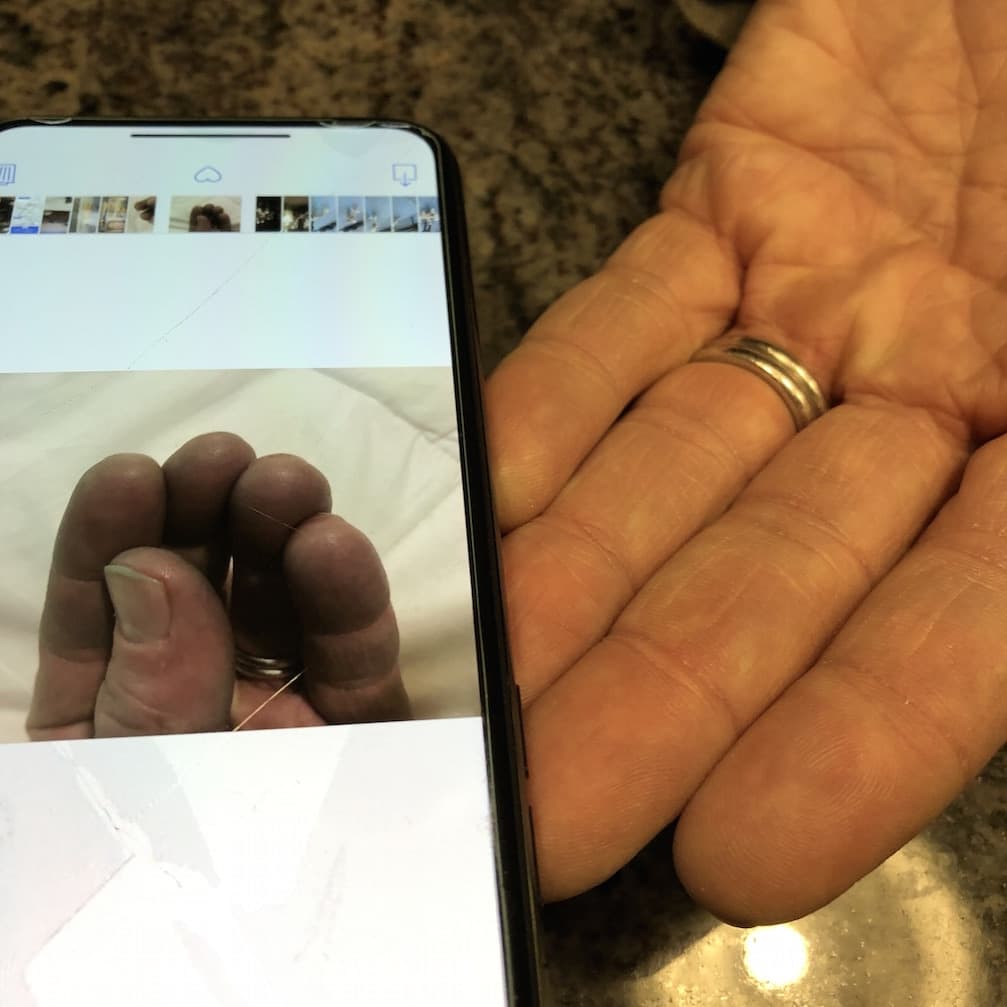 Q. A friend's fingers and hands got blue staining after a day of using a new Apple iPhone 10. The front and back of the phone are glass, but the "Space Grey" stainless steel band around the phone has a dark gray or black color stainless steel band around it, with the color applied by PVD.
I assume this staining is from carbon leaching from the finish for some reason, but if someone knowledgable in black PVD could offer a comment I'd appreciate it.
Picture on iPhone screen is after using it for a day; second picture is several hours later after washing and fading.
Ted Mooney, P.E. RET
finishing.com - Pine Beach, New Jersey
Striving to live Aloha
---
December 13, 2018
A. I don't think the carbon will leach out of the surface, but some of the coating might be coming off. What happens is that the coating has been deposited with very high compressive stress. Initially, it is very hard and virtually impossible to remove, so the parts go out the door. However, with thermal cycling the high stress leads to cohesive failure of the coating. It might not be the entire surface that comes off, just minute flakes that stick to your fingers. Of course, some times the entire coating flakes off. In one particularly bad case a PVD coating was applied to putter heads. The heads were painted, bonded to the shafts, packaged, and air-shipped to Japan. when they arrived in Japan all of the coating had flaked off.
Jim Treglio

PVD Consultant - San Diego, California
---
December 16, 2018
A. Adhesion of a coating is affected by the internal stresses of the coating as well of the substrate. For example I find it easy to coat TiN on stainless steel but not on glass. But there is no difficulty in coating pure Ti on glass. Some electroplated substrates are difficult to coat. A common cause of poor adhesion is improper cleaning of the substrate.
In this case it appears there has been some powder formation during coating which has not been cleaned. You may wipe it with some solvent and see if the coating is completely removed. One can also do a tape test to check adhesion.
It is not necessary for the coating to contain carbon. In fact, it is not easy to deposit real black coating by PVD techniques.
H.R. Prabhakara
Bangalore Plasmatek - Bangalore, Karnataka, India