Live! From beautiful Pine Beach New Jersey: Welcome to the world's most popular metal finishing website
topic 60690
Trivalent Chrome Electrolyte testing in lab
A discussion started in 2006 but continuing through 2018
Anodes for trivalent chrome plating
2006
Q. My name is Kelly Pichel and I have a small electroforming company. We have an ophthalmic mold job that requires Chrome plating. Our problem is that the amount of chrome we need and the size of our plating tank is small. Our tank holds two gallons. We found a company that sold us five gallons of TriMac 3 chrome, but we do not have anodes. We were told that we need Iridium plated Titanium anodes and nothing else will work. We need two small anodes and they cost $1000.00 each. is there an alternative anode? Where can I get some anodes that will work?
Kelly Pichel
electroforming - Aguanga, California, USA
---
2006
A. You have to use the kind of anodes that the vendor suggests, Kelly, but maybe platinum clad titanium will work. Although still quite expensive, I think you can find those anodes used, and for a fraction of that $1000 each.
Ted Mooney, P.E.
finishing.com
Pine Beach, New Jersey
----
Ed. note: Sorry for the awkward use of the word "used"; I didn't actually mean to suggest buying anodes 'second-hand', but I can see from the responses how it was read :-(
---
2006

A. Kelly,
It appears that you bought that electrolyte second hand, not directly from its original manufacturer. Maybe you should contact them for an opinion.

Guillermo Marrufo




Monterrey, NL, Mexico





---

2006

A. I would urge caution in the purchase of used iridium clad anodes. A reputable company is probably not getting rid of them. A company that is going out of business fairly probably did not take the finest care of their equipment. Junkies are simply middle man in the purchase, and quite a few of them go by the motto that once you buy it, it is yours.
I would be moderately surprised if you could not find your desired anodes from a reputable anode Mfg for less than 1 K per anode. Your required mesh size, plating thickness and shape will have a lot to do with the exact price. Remember, there is a difference between "clad" and "plated".

James Watts




- Navarre, Florida




---
---
Trivalent Hard Chrome?
2006
Q. At our facility, we use Hex chrome for our Hard Chrome plating line. Is it possible, or is there a process that will allow us to use Trivalent Chrome and get similar results?
Scott Hicks
- Sumter, South Carolina
---
2006
A. Major proprietary plating chemical suppliers in US do supply trivalent chromium plating process which produce Cr deposit similar to Cr6+ process.

Trivalent systems can save an electroplating shop money in a number of ways:

1. Lower Metal Concentrations - Chromium concentrations in trivalent plating baths are typically less than 1 ounce per gallon (oz/gal). Hexavalent chromium concentrations are 15 to 40 ox/gal. Lower heavy metal concentrations mean less chrome dragout, and thus, lower waste treatment costs and less hazardous sludge generated in trivalent systems. Reducing sludge quantities also saves you money in haulage and disposal fees.

2. No Reduction Step - By installing a trivalent system, you avoid the need to reduce hexavalent chrome wastes to their trivalent state. Since three pounds of sodium metabisulfite are required to reduce each pound of chromic acid, significant quantities of chemicals, as well as equipment and labor costs, are eliminated by switching to a trivalent system.

3. More Parts Can Be Placed on a Rack - Trivalent chrome chemicals produce a high quality plate even when rack densities are increased 15% above those for hexavalent chrome systems.

4. Lower Current Density - Lighter weight, less expensive racks can be used to carry the lower currents. Simple hooks made out of hard drawn copper wire have also worked well in trivalent systems. Use of such hooks eliminates the expense of designing and special ordering custom parts racks.

5. Fewer Rejects - The throwing power of trivalent chrome is excellent. It is almost impossible to burn parts, too, according to satisfied shop owner, even with current densities above 100 amp/sq.ft. Trivalent systems do not experience the white washing problems that hexavalent systems do.

6. Reduced Dragout - Trivalent chrome baths are far less viscous than hexavalent chrome. Less solution clings to the parts that are withdrawn from the bath. This reduces both treatment expenses and materials costs for the makeup chemicals.

7. No Fumes - When you stand next to a trivalent chrome plating tank, you notice an immediate difference. There are none of those eye-stinging, throat-irritating fumes that are emitted from a chromic acid bath. The hexavalent chromium in those fumes is a suspected carcinogen. Besides being unpleasant to breathe, the fumes present a danger to personnel and to the environment surrounding the shop.

8. Reduced Liability - Use of hexavalent chromium constitutes a liability to the shop due to the dangerous nature of the chemical. Spills and other accidental releases of hazardous wastes can lead to lawsuits that might have been avoided if safer chemicals were used.

David Shiu
- Singapore
---
2006
? Thanks David! I don't debate your list of advantages (although every process also has offsetting disadvantages. But can hard chrome (as opposed to decorative chrome) be done from trivalent baths of today's technology. My understanding is that the process is still only suitable for coatings of a few millionths of an inch thick, not several thousandths. Are you aware of a commercial installation doing hard chroming? If so, what thickness of chrome are they depositing? Thanks again!
Ted Mooney, P.E.
finishing.com
Pine Beach, New Jersey
---
2006

A. Liquid Development Corp. is, to my knowledge, the first and probably the only company that claims to have a system to produce hard and thick (over half a thousandth) chrome deposits from a trivalent chrome solution. It is a brush plating system and the deposit is claimed to surpass conventional hex chrome in wear resistance three times.

Guillermo Marrufo




Monterrey, NL, Mexico




----
Ed. note June 2016: Liquid Development Corp. was bought out by Sifco.




---

2006

Hi Ted,

I agree with you that trivalent hard chrome plating is still in developing stage with the most problematic issue on Cr3+ oxidize to Cr6+ at anode and efficiency drop due to neutral salts build up. Some suppliers already employ regeneration system (prevent formation of Cr6+) and pulse plating to obtain a thousandth of an inch corrosion-resistant hard chromium deposit.

Small scale installation (beta test) is done in some plating shops here (South-East Asia).

David Shiu




- Singapore




---
Thanks Guillermo. Thanks David.
Scott may find Weiner & Walmsley interesting =>
but it was published in 1980 -- at just about the beginning of practical trivalent chrome plating.
Regards,
Ted Mooney, P.E.
finishing.com
Pine Beach, New Jersey
---
---
Trivalent Chrome Plating Electrolyte Testing in Lab
February 9, 2018
Q. I am trying to create a trivalent chrome electrolyte to plate onto copper at a small laboratory scale.

My main electrolyte is:

M Chromium(III) sulfate salt 1.0 Mol (referred to the metal chromium content, so .5 Mol Cr2(So4)3)
HCOOH 0.5 Mol
CO(NH2)2 0.5 Mol
Al2(SO4)3·18H2O 0.15 Mol
Na2SO4 0.3 Mol
H3BO3 0.5 Mol

I am operating at room temp or slightly above, 20 °C - 30 °C or so. I am aiming for current densities around 10-25 ASD (.1-.25 A/cm2). My anode is pure platinum foil. My cathode/substrate is copper. I am doing this is a small 50 mL bath.

However, I cannot seem to get any sort of metallic coating at all. At best I get dark/black coatings on my copper that do no adhere well. Any advice?

Adam
Adam Vitale
- Richland, Washington, USA
---
February 2018
? Hi Adam. Please introduce yourself, your overall goal, and where you got this formula so we can understand how best to try to help you. There is nothing wrong with you trying to do whatever you want to try to do, but we don't really know exactly what that is :-)
For example, do you already know that people generally simply buy their trivalent chromium plating solutions from specialist companies which have spent decades developing them, and the formulations are not public knowledge? Trivalent chrome often requires special apparatus like diaphragms to separate the anolyte from the catholyte, as well. Are you confident you've done proper preparation to the copper to make sure it is ready to accept chrome plating?
You may know 10 times as much about trivalent chrome plating as I'll ever know; maybe you are a chemist who has already industrialized trivalent chromium plating solutions, but we readers don't know quite where to start until you tell us :-)
Thanks & Regards,
Ted Mooney, P.E. RET
finishing.com
Pine Beach, New Jersey
Striving to live "Aloha"
---
February 10, 2018
Q. Apologies about that. I am a post-doc graduate working at a national lab. I am not new to electrochemistry but I am new to chrome plating, specifically. I am mostly following published papers such as
https://www.researchgate.net/publication/259866027_Chromium_electroplating_from_trivalent_chromium_baths_as_an_environmentally_friendly_alternative_to_hazardous_hexavalent_chromium_baths_comparative_study_on_advantages_and_disadvantages

The main goal at the moment is simply to deposit trivalent chrome onto copper foils at a small laboratory scale. In my experience, depositing hexavalent chrome is (very) easy, but trivalent is giving me headaches.
Adam Vitale
Pacific Northwest National Laboratory - Richland, Washington, USA
---
Digital version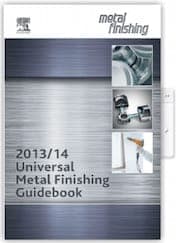 (No longer published, but Elsevier hasn't yet de-commissioned the online version of the Guidebook)
Download it before it disappears.
February 2018
A. Thanks Adam. We travel in slightly different circles, but practical industrial trivalent chrome plating has been done for decades now with proprietary formulations from companies like Atotech and MacDermid and other suppliers, with membranes to separate the anolyte from the catholyte, or with graphite anodes and no membranes. My understanding is that we still don't have truly practical hard chrome plating at high thicknesses from trivalent chromium (but see comments from David, James, & Guillermo above). You might find the two chapters about chrome plating in the Metal Finishing Guidebook helpful. Good luck.
Regards,
Ted Mooney, P.E. RET
finishing.com
Pine Beach, New Jersey
Striving to live "Aloha"


If you have a question in mind which seems off topic, please Search the Site