60,000 Q&A topics -- Education, Aloha, & Fun
topic 60510
What kind of coating for washing machine's aluminum spider arm?
A discussion started in 2017 but continuing through 2019
September 15, 2017
Q. I am looking into coating a washing machine part called a spider arm. AFAIK, it's made of die cast aluminum.
The part bolts to a stainless steel drum, which it spins. The drum is of course where you put your clothes. This setup is (afaik) always on a front load washer.

The thing is, the spider always corrodes and breaks - mine did in just 3 years. It's inevitable. Lots of theories as to why that happens...galvanic corrosion, water PH levels, too little detergent, too much detergent, using cold water, keeping the washer door closed...and so on.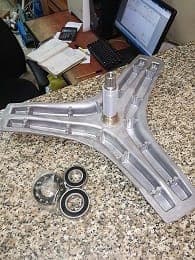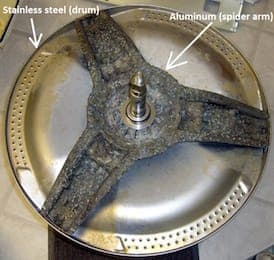 I am getting ready to put in a new spider-arm and I would like to treat/coat it so that I could get at least 10 years out of it. The coat of course has to be durable, adheres well to die cast aluminum (with the right prep work), resistant to alkaline water, soap, heat (100 °C/212 °F), bleach and bio-films.

What do you guys suggest?

More pics from google: https://www.google.com/search?q=spider+arm+corrosion&safe=strict&client=opera&hs=ocg&source=lnms&tbm=isch&sa=X&ved=0ahUKEwif2dmc8KXWAhXBcRQKHanTDLMQ_AUICigB&biw=1517&bih=745
Elliott Wright
- Thuwal, Jeddah, Saudi Arabia
---
September 17, 2017
Q. Thanks for your input Ted!

Since I've posted this question a few days ago, I've been looking into powder coating. I hear it's superior to 2k epoxy paint. I'm open to suggestions.

I am not sure though what kind of powder coating to go with - if powder coating would indeed be a better option.
Thermoset or thermoplastic? Fluidized bed method by heating the part, or electrostatic fluidized bed method? And if fluidized bed method instead of spraying, then what kind of powder...nylon? PCV? If using a gun, then again...what kind of powder?... Epoxy? polyester etc.?

What about pre-treatment? I hear conversion coating is best...but what kind?... Phosphate? Chromate? Oxide?

The conditions the spider will be in is basically aquatic - lots of soap and water, occasional bleach, and heat (100 °C/212°F).
Elliott Wright
[returning]
- Thuwal, Jeddah, Saudi Arabia
---
September 18, 2017
Q. When it comes to die cast aluminum, what is the best way to clean the surface before chromate conversion? What kind of a deoxidizer will do the job, so there would not be any traces of silicon, copper, etc. to ruin the end result, which is powder coating?

A step-by-step instruction would be so greatly appreciated!
Elliott Wright
[returning]
- Thuwal, Jeddah, Saudi Arabia
---
September 19, 2017
Q. Thanks Ted!

If I were to go with what you suggested at the end, wouldn't NOT properly cleaning it (desmutting etc.) before Alodining cause problems with the paint (epoxy) later?
Elliott Wright
[returning]
- Thuwal, Jeddah, Saudi Arabia
---
---
November 28, 2017
Q. I am in exactly the same boat. I have a new spider arm that I would like to do something to before putting this all together again. My machine lasted only 2.5 years!

Is there a simple process I can easily do from home?

What did you end up doing?
Michael Hornick
- Mississauga, Canada
---
---
December 30, 2018
! I went to do a washing load and I heard a terrible noise from my washing machine ... I knew it was the shaft that was broken.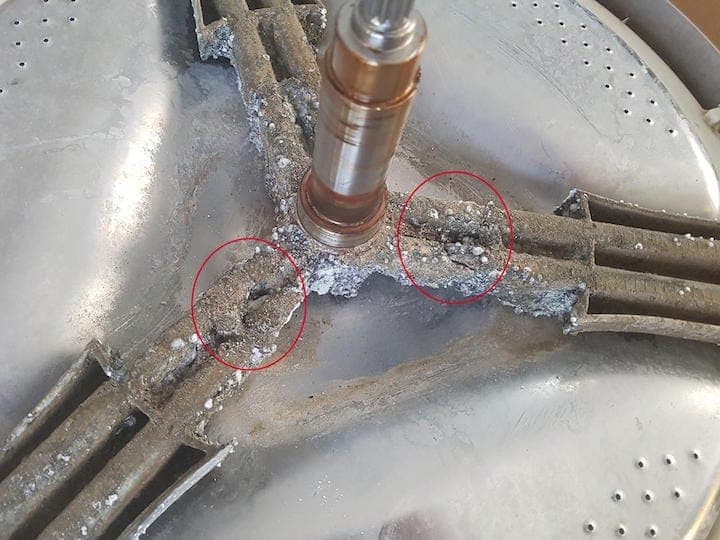 It could spin by itself but without any force; so today I fixed my Spider Arm/Shaft on my Samsung machine. Using the video below it's not that difficult at all -- it just takes time.

Purchased the part (DC97-12528A) at https://electropiecescowansville.com
Helpful Video to disassemble the part: https://youtu.be/gTXoKMHHpLs

I gave 2 coats of Rust-Oleum Specialty Appliance Epoxy Paint on the shaft.

Here are the results:
Before & After --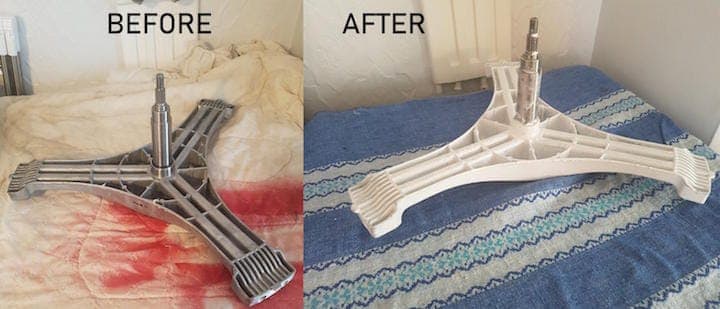 New part painted and reassembled --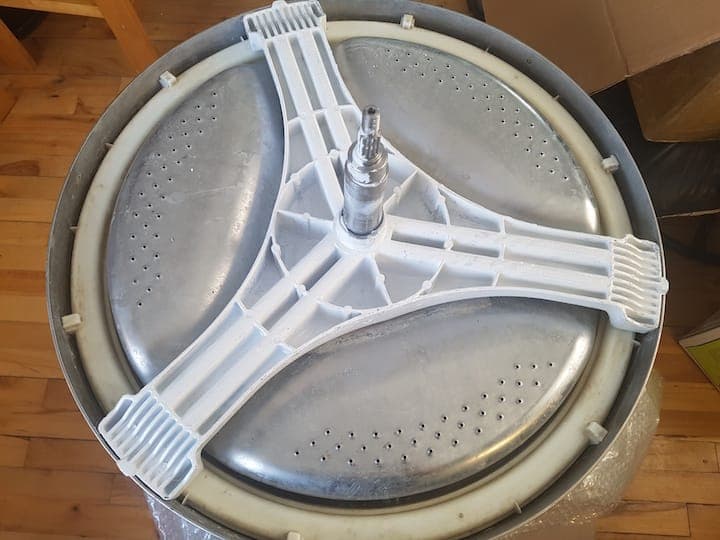 Let's see how this stands up.
Anthony fix
- Canada quebec
finishing.com is possible thanks to our supporting advertisers, including this shop: