Problem? Solution? Chime right in!
(perhaps the world's last 'no registration' site)
-----
"Replating Vintage Refrigerator Handles"
April 17, 2017
Q. I recently acquired an old refrigerator from the 1950's. I'm getting it ready be repainted and would like some advice of what to do with the door hardware. I believe the handles were originally chrome plated. They were quite rusty and dull. It looks as if the previous owners attempted to clean these with vinegar or something too acidic that damaged the finish. In spots that should be chromed, there is a splotchy, brassy, gold color.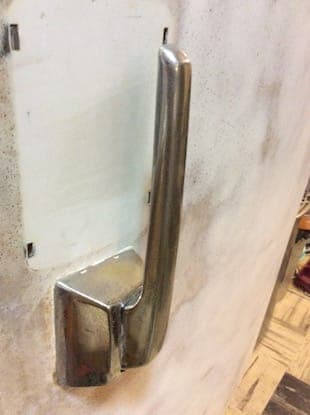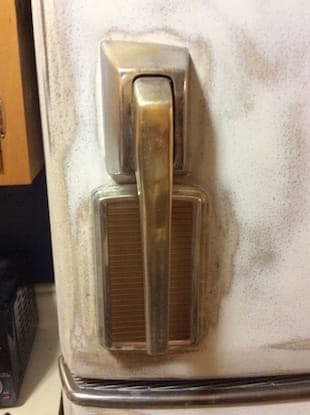 I am no professional, but It appears that these will have to be completely refinished. I'm wondering what the best option would be considering their purpose. Is there a more durable finish that will look just as nice or should I stick with traditional chrome plating since I'm assuming that's what was originally done? There are some slight scratches and a few nicks. Is there anything that I can do to prep these handles? Thanks in advance for your advice.
Jessica Marsh
Restorer - Las Vegas, Nevada USA
^
^- Privately respond to this RFQ -^