topic 60342
Magnetism due to nickel plating
December 17, 2016
Q. We would like to share the following problem --

The basic material of casting is ZAMAK 5 (MAZAK-5). To improve the aesthetic we do grinding on all walls. After this we do copper plating (4-5 micron). On this we do nickel plating (7-8 micron). Now this is the final product.
Presently we are facing problem -- there are magnetic properties developed due to nickel finish. Our requirement is that it should be non-magnetised, Or LESS magnetic property. Can we reduce this? Is there any other way of plating? Is there any other finish recommended? Please guide us.
ANAND PATHAK
PURCHASE - PUNE, MAHARASHTRA, INDIA
---
December 2016
A. Hi Anand. If you mean that your product attracts iron and you wish to de-magnetize it, look into de-gaussing, which can be applied at the end of the processing line, and is fairly routine.
If you mean that your product is ferromagnetic (attracted to a magnet), this is probably a fundamental quality of nickel plating. You could do high phosphorous electroless nickel plating (10%+ phosphorous), which in non-magnetic, but may be too expensive for your product. Please detail exactly what it is that you are plating -- we don't want people suggesting, for example, non food-safe finishes like zinc plating if food touches it. Thanks.
Regards,
Ted Mooney, P.E. RET
finishing.com
Pine Beach, New Jersey
Striving to live "Aloha"
---
December 20, 2016
Q. Last week we had posted question about magnetism. We got reply from Mr. Ted. He has asked further information.
The basic material of casting is MAZAK 5 (zamak5). On this casting we do grinding on all walls to get better finish. After this the casting undergoes nickel plating (not electroless). In the plating process, firstly copper is deposited; after this nickel is deposited. Now if we check basic casting it does not show magnetism. But after nickel plating it shows magnetism. If we place magnet in front of plated casting it's attracted towards casting. Since our products is used in machine tool industries there is not any restriction of ZINC plating? Is there any other way? Our main is that it should not attract magnet and good aesthetic. We can not do powder coating or poly-urythane coating. Normally in machine tool industries this type of finishing is not suggested. How to avoid magnetic issue?
ANAND PATHAK
- PUNE,MAHARASHTRA,INDIA
---
December 25, 2016
A. You may want to research for "The Lost Art of Tin Nickel Plating" by L. Morin; one of the many special properties of Tin Nickel electroplate is that it's non-magnetic.
Marvin Sevilla
- Managua, Nicaragua
---
February 6, 2017
A. Hi Anand,
I agree with Ted, high phos nickel could save the day. It is a shiny deposit, usually more so than electrolytic nickel.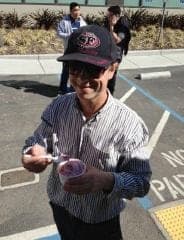 Blake Kneedler
Feather Hollow Eng.
Stockton, California


This public forum has 60,000 threads. If you have a question in mind which seems off topic to this thread, you might prefer to Search the Site