From 1946 to the mid 1970's, Lou Morin of Tarrytown, NY accumulated a fabulous knowledge of specialty electronics electroplating -- particularly tin-nickel plating. By 1990 he saw that much of his knowledge of this great plating process was not being captured in the literature and was in danger of being lost to posterity. So he began a narration of his knowledge of it, and in an hour and fifteen minutes of terrific extemporaneous speaking, he recorded it onto cassette tape.
He passed the tape on to finishing.com in 2001 with "no strings", but his great narrative style would be lost were we to transcribe it. Instead, today's technology means that we can get it to you in his own voice! With great pleasure we introduce --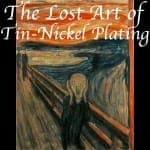 The Lost Art of Tin-Nickel Plating
We hope you find this free podcast educational, entertaining, and useful!
Part 1, Running time approx. 15 minutes.

Part 2 & Part 3, Running time approx. 30 minutes. Also included is access to a webpage with Tom Pullizzi's written notes.
Compare the podcast to the published literature:
by Tom Pullizzi, CEF, Secretary, finishing.com, inc.
Notes were taken on the contents of the tape for the purpose of a study of this electroplating process. It is hoped that the information in the study, along with publication of podcasts of the audio tape, will be useful to professional metal finishers who wish to add this alloy to their repertoire.
The information presented in the tape, in the opinion of this writer, does indeed show differences between his experiences and the data presented in the literature. The reader should listen to the tapes and make their own judgment on how to use the information for their own use. The speaker describes a simple control of his tin nickel formulation with only tin and nickel analysis, Hull Cell control of grain refiner, and one additive control for pH adjustment.