topic 60231
More metal was electrodeposited at low flow rate than at high flow rate
July 11, 2016
Q. Hello,

I've been trying to improve our plating system by studying its variables and the theory behind them, but the volumetric flow in our selective it's still a huge interrogation sign. We did a test where we kept everything constant but the flow and the results were very interesting, the behavior of the thickness of metal was a 4th degree equation, with the highest value and the lowest flow according to the data range. Now if we consider mass transfer and Faradays laws, at a higher flow the amount of metal electrodeposited should increase, because the mass transfer realized by convection and the quantity of ions near the double layer should be higher, and therefore the thickness of metal, but according to our data that's not the behavior of the system. Could anyone explain why that's happening and include a bibliographic reference please.
Fabian Arroyo
Student - Alajuela, Costa Rica
---
July 2016
? Hi Fabian. Sounds interesting, but I can only vaguely understand what you are describing. Do you have a diagram of the setup?
I'm understanding that you are holding the amperage constant as you vary the flow rate past a cathode, so you are delivering constant coulombs to the cathode but you are finding that the amount of metal deposited (i.e., the plating efficiency) is dropping instead of increasing at higher flow rates?
Regards,
Ted Mooney, P.E. RET
finishing.com
Pine Beach, New Jersey
Striving to live "Aloha"
---
July 11, 2016
Q. Hi Ted, sorry I don't have a setup diagram, however it's a reel to reel plating, and yes we kept current, velocity and other variables constant while we manipulated the flow.
Fabian Arroyo
- Alajuela, Costa Rica
---
January 1, 2017
A. Hi Fabian,
If I understand the question correctly, please consider EMF vs. Non-EMF interactions. If flow is low or ideal, electromotive forces rule the equation/situation. If, however, flow is too high, the elements' movements are greatly disturbed and coating deposit will be diminished. Ideally, flow should be fairly low and chemical composition must be well controlled.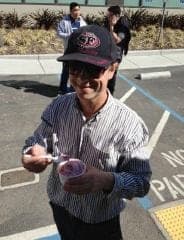 Blake Kneedler
Feather Hollow Eng.
Stockton, California


This public forum has 60,000 threads. If you have a question in mind which seems off topic to this thread, you might prefer to Search the Site