World's #1 finishing resource since 1989
No login needed: Chime right in
topic 59967
Finish for magnetic antenna bases for cars
August 4, 2015
Q. I work for a magnet company that produces magnetic round bases for the Mobile antenna industry as well as safety signal lights for emergency trucks and tow lamps on the back of vehicles being towed. The environmental conditions can range from extremely cold weather in northern Michigan to salty roads in Chicago and humid salty air in Florida.
The magnets are glued into a steel housing and the housing actually increases the magnetic strength up to 32 times. This is how we can make a 3.5" diameter magnet lift 95 lbs.
We currently carry the magnets 2 ways: either a nickel plating or black powder coating. Keep in mind, the thicker the coating on the steel housing, the weaker the magnet becomes (Air gap between magnet and steel surface). For each mil of powder coat we can see a reduction of 10 lbs. in holding strength.
These two markets have always enjoyed a fairly inexpensive magnet to mount to their products. They will sell a $300 safety signal flasher for the top of an emergency vehicle and magnets are 3.00 but they want a finish that lasts 10 years. I have been trying to educate myself over the past few years with plating processes and powder or e-coatings.

I ran into this site this morning and I wanted to see if there is a magic bullet for my situation. What would be the best corrosion resistant coating / coatings for a life expectancy of 10 years and would be common to most coaters. I know as everyone says it needs to be cost effective. Quantities are generally in the 5000 piece range but could be as low as 500 parts at a time. I have included a picture of the part. Sorry for the long winded explanation but I am really interested to hear everyone's comments. Just to verify this industry, we have no life expectancies' no warranties or promises of corrosion resistance. I would like to be able to start offering a warranty to get out in front of the rest of the magnet world

Thanks, Kerry
kerry buntrock
buyer - castle rock Colorado USA
---
August 2015
A. Hi Kerry. You seem to understand the situation very well. Precision coatings tend to cost significantly more, and heavier coatings can give you some magnetic issues (I understand that if a coating holds the magnet away from the surface, it weakens the magnetic attraction; but I do not really fully understand what if anything happens when you coat the top side of the housings).
Certainly you could apply automotive quality nickel-chrome plating, and your magnets would look much the same (just shinier and nicer), and perform much the same, but it would increase the price. Alternately, you could apply a good phosphatization and e-coating below the powder coating, and your magnets should function much the same (e-coatings are very thin compared to powder coating), but again at an increased price.
It's hard to estimate the additional cost of excellent nickel-chrome plating vs. whatever quality nickel plating you currently have, and to estimate the additional cost of good pretreatment plus e-coating vs. whatever you pretreatment you are now doing -- but you can easily get quotes. I think you'll find that the changeover to top quality can be easily and painlessly done without introducing significant new issues, but that these silver bullets may cost more than the traffic will bear. Best of luck.
Regards,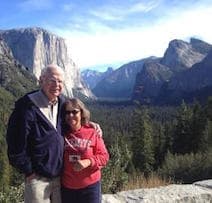 Ted Mooney, P.E. RET
Aloha -- an idea worth spreading
finishing.com - Pine Beach, New Jersey
---
August 6, 2015

A. I don't know how stainless steel would affect the strength of the magnet, but if could possibly work if you are relying on the glue to hold the magnet to the case. Black Oxide for the black and polished for the shiny look. Would give you good corrosion resistance.

Justin Brooks




- Rock Island, Illinois USA





---

August 6, 2015

A. Kerry,

have you considered a rubberised coating? Ted may also have a point with some kind of multi-stage, layered approach. I was just considering that a rubberised coating could, if applied properly, seal the magnet away from the elements, whilst also providing a level of scratch resistance. It seems to me this would also be desirable in the scenarios you have provided where a magnet could mark the paint of a vehicle.

-Michael.

Michael Whitworth




Heat Treatment Manager - Glasgow, Scotland, UK




---
October 9, 2015
A. Hi Mr Kerry,

All the above are excellent and well thought out choices.
Take your pick.

By the way guys, have any of you tried plating a Magnet?
What happens? We've been hanging magnets in plating tanks for years, but I've never tried electroplating one.

Anyone? :-)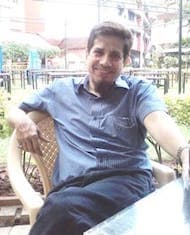 Khozem Vahaanwala
Saify Ind

Bengaluru, India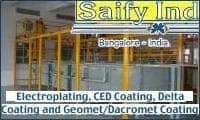 ---
October 2015

Hi. We have a thread here, letter 29013, "Plating of Magnets", which mentions that magnets can be electroless nickel coated, that rare earth magnets are conventionally plated before charging, and that plating magnetic objects (obviously) demands good filtration and control of metal fines. Unfortunately, the thread doesn't yet seem to reveal any actual experience in electroplating of charged magnets.

My guess is that, except for the potential problem of roughness from fines, it can be done without much problem because there is no inductance in DC currents. Just don't twirl the rectifier control knobs or try pulse plating :-)

Regards,




Ted Mooney, P.E. RET




Aloha -- an idea worth spreading




finishing.com - Pine Beach, New Jersey