World's #1 finishing resource since 1989
No login needed: Chime right in
topic 59759
Remember the "splatter" paint in trunks of GM cars?
A discussion started in 2014 but continuing through 2020
December 28, 2014
Q. I'm sure most everyone reading this post has seen the splatter paint used by General Motors during the 60s and early 70s? Looks kinda like some washing machine tubs also! I own/run a restoration business and mostly restore chevy Supercars. Plenty of aftermarket suppliers sell rattle cans and some you can spray with your paint guns but NONE duplicate the original finish. The closest they I've seen so far is to spray a base color then use something like a undercoating gun to spray another color to get the splatter effect. I'm trying to duplicate the original (Fisheye) splatter that GM used back in the day. It would be a dark gray with white or aqua colored specks that appear to be aqua or white (Fisheyes) in the dark gray trunk paint? I've got pics I can share of unrestored mint condition trunks to compare, but so far no luck in creating the original look. Anybody out there able to help at all? I'm pretty sure it's different paints mixed together that do in fact separate and cause the Fisheyes or splatter effect? I'm really lucky to find this great web site! I've been involved with automotive painting 40 years but never too old too learn! Thanks.
Rick Smith
car restorer - Mt.Airy, North Carolina
---
December 2014
A. Hi Rick. My first car was a '68 Buick GS400 muscle car, I mostly remember the all white interior of my convertible, requiring weekly cleaning with carbon tet. Maybe that's what dissolved my brain and made my recollection of the trunk paint pretty vague -- so a pic would help.
Meanwhile, if the fisheyes don't seem doable with spray paint, maybe it was a water transfer print rather than a splatter spray?
Regards,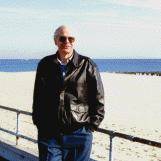 Ted Mooney, P.E.
Striving to live Aloha
finishing.com - Pine Beach, New Jersey
---
December 28, 2014
Ted, Thanks for your reply! A couple of pics of a very nice original trunk splatter paint.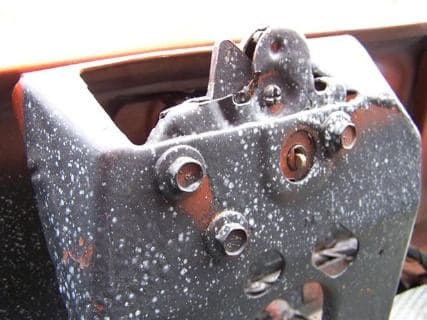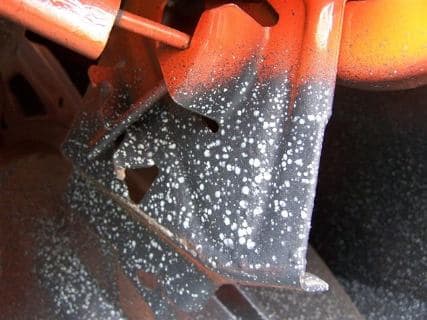 (original trunk paint)
They used two different types during the mid 60s a gray/white and later 60s until mid 70s had a dark gray almost black/aqua.I do think it was something easy and cheap for GM to use and many years ago my local paint supplier had a formula to make it but as time moved on those guys are gone and so are the old formulas!
Rick Smith
[returning]
car restorer - Mt.Airy, North Carolina
---
December 2014
Hi again. Okay, I can see that it was not a water transfer, but a spray. Thanks.
Regards,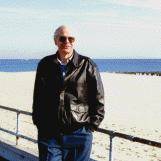 Ted Mooney, P.E.
Striving to live Aloha
finishing.com - Pine Beach, New Jersey
---
December 30, 2014
Q. The trunk was sprayed after the final body color along with any black out such as rocker panels and firewalls. So the trunk paint was in bulk no doubt and employees only took a couple minutes spraying the trunk area. I've heard water base with solvent based drops and oil base with water drops so that's the question! We all know water and oil doesn't mix but think about mass production of this paint as GM used it in every car they built. It was something cheap and cost effective that GM was most likely getting from a brand name supplier like Dupont. I'm sure somebody out there in this world can help solve this mystery?

RSR
Rick Smith
[returning]
- Mt.Airy, North Carolina
---
---
Undercoating on GM Cars in the 1950s
October 3, 2018
Q. Looking to duplicate undercoating on a 1958 Chevrolet Impala convertible. GM used a very heavy thick coating. Is this still available or what is close?
Bob Larue
Restorer - Worcester Massachusetts
---
October 2018
A. Hi Bob. I'm not a classic car expert but I am an old guy... and I remember my parents buying several GM cars in the 50s and early 60s. The undercoating was always a dealer add-on similar to today's 'glass etching' or 'teflon coating'. My non-authoritative guess is that GM did not apply that coating -- the dealer did.
I do remember that they were very similar to a tar coating: black, thick, lumpy, and full of runs ... probably not much different that the tar periodically applied to a flat roof to waterproof it.
Regards,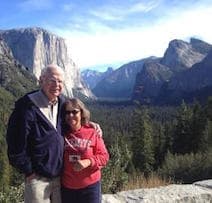 Ted Mooney, P.E. RET
Aloha -- an idea worth spreading
finishing.com - Pine Beach, New Jersey
---
July 27, 2020
A. I found this on the interwebs. I haven't tried it and have no knowledge of it but it may help find more info.

www.opgi.com/car-care-paint/paints-coatings-dyes-markers/trunk-spatter-paint-aerosol-can/paint-trunk-spatter-black-aqua-11-oz-ch28880.html
Jimmy Kerrick
- Georgetown, Texas