World's #1 finishing resource since 1989
No login needed: Chime right in
topic 59323
Loss of Gloss in Nylon Powder Coating
June 27, 2013
Q. Hi Finishing Experts,

My company has recently begun powder coating 304 SS with a high gloss, black nylon powder coat. We recently had a single batch come out of the oven gray with a matte finish. The batch before this occurrence was a shiny black. We ran another 3 parts after this concern and found that they were also shiny black. It has been very humid in the shop, but we have not altered our storage conditions. Could humidity or moisture in the nylon powder cause this sort of defect?

Any ideas as to what might contribute to this immediate color change and loss of gloss?

Thanks for your help.
Laura Doyle
- Colchester, Connecticut, USA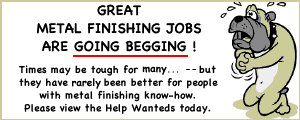 Junior Quality Engineer [Santa Clara, CA]
Plating Process Engineer [Wenatchee, WA]
Plating Supervisor [Chicago]
Plating Quality Inspector [Chicago]