World's #1 finishing resource since 1989
No login needed: Chime right in
topic 59302
Solid Film Lubricants Vs Fluorocarbon Coating Process - Are They The Same?
June 19, 2013
Q. I understand that Application methods by comparing Dry(Solid) Film Coating and Fluorocarbon coating are the same, using Dip or Spray.

My questions are,

1. Are they actually the same thing? Properties? Performance? Assuming both are using PTFE as solid lubricant.

2. SFL is thermally cured, how about Fluorocarbon?

3. Can a company that specialized in Fluorocarbon coating also be able to do a Solid Film Lubricant coating? Are they even using the same type of equipment?

Ray Poh
- Singapore
---
June 21, 2013
A. Hi Ray,

There area few types of Dry Film Lubricants (DFL), based on various technologies. There are the PTFE based ones, but also DFL based on Molybdenum disulfide and graphite. These technologies are all very different, although their function is the same in that they reduce the friction between mating surfaces.

A company that applies a fluorocarbon or PTFE based lubricant may not be able to (or may be unwilling to) process other DFL coatings due too the possibility of cross-contamination.
Brian Terry
Aerospace - Yeovil, Somerset, UK
---
July 1, 2013

Hi Thank you very much for your answer Brian Terry.
Ray Poh
- Singapore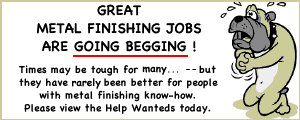 Plating Process Engineer [Wenatchee, WA]
Plating Supervisor [Chicago]
Plating Quality Inspector [Chicago]