World's #1 finishing resource since 1989
No login needed: Chime right in
topic 59037
Post cleaning passivated 303 stainless steel
November 7, 2012
Q. I have some 303 stainless steel parts that will be heated to 365 °C after passivation. The parts will discolor from the heat. Is there any way to clean the discoloration after the heating process? Does this temperature affect the passivation?
Mark Stevens
- Worcester, Massachusetts
---
December 4, 2012
A. Mark,
Is there are reason behind this heating?

The common methods to remove a discoloration like that are pickling, electropolishing, or mechanical removal such as sandblasting or tumbling.

I don't have a full set of phase diagrams handy but based on what a quick google search pulled up, I doubt a heat of 365 °C will do much to migrate any significant amount of iron to the surface. However, if you do any of the above to remove the discoloration, you may want to passivate again.

I would just move the passivation stage to the end of the manufacturing processes, which is where it belongs anyway.

Ray Kremer
Stellar Solutions, Inc.

McHenry, Illinois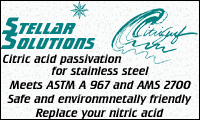 ---
December 19, 2012
A. Ray: The heating comes from the curing of high temperature epoxy. This curing is the next to the final step in the assembly of the product so the passivated parts are already on the assembly and in close proximity of the parts being heated. Close enough that the parts discolor. Additionally we have to be careful of the cleaning of the discolored parts as this is a medical device and the mating parts around the passivated parts are silicone.
Mark Stevens
- Worcester, Massachusetts, USA
---
January 10, 2013
A. Mark,

It is possible to do mild passivation methods, color removing. Or if it does not work, slight electropolishing in acid-free electrolyte may work, since such electrolyte does not impact silicon. We have already done some cleaning of the SS-cheramics assembly after heat treatment.

adv.
Contact me for testing arrangement.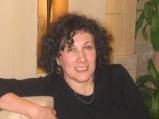 Anna Berkovich
Russamer Lab

Pittsburgh, Pennsylvania