Where the world gathers for
plating, anodizing, & finishing Q&As since 1989
-----
Passivating 303 vs. 304 stainless steel
2002
Q. We use passivated SS 303 and SS304 parts in optical and fiber optic assemblies. Occasionally I detect a 'burnt' odor to the parts after passivating, sometimes more than others, sometimes no detectable odor. In some of our fiberoptic assemblies, we use a fiber which transmits very high intensity light. Outgassing of nearly any material, particularly adhesives, will, over time, undergo some photochemical reaction and polymerize on the end of the fiber depositing a film which grows with time and degrades the light coming out of the fiber. We believe we see this problem of outgassing coming from passivated stainless steel parts also. It could be very low level of outgassing. The occasional odor a smell also makes me suspicious.
What is it I am smelling on passivated SS parts?
We need passivated parts to really clean the parts and prevent rusting. Some assemblies go underwater.
Is there any change to the passivation process which I might request from our vendors (passivating house) which would eliminate or reduce the 'smell' or any potential outgassing? Thanks.
Steve W. Kerrigan
- Shoreview, Minnesota
---
2002
A. Hello Steve!
303 stainless steel is a free machining grade, meaning it has controlled amounts of manganese sulfide inclusions to help break the chips when you machine it. My GUESS is that you smell only the 303 parts, and not the 304. Switch from 303 to 304 and I'd bet your problem will vanish. You may also find that your passivation bath will give you fewer problems, since the 303 is commonly done in a type 2 bath (with sodium dichromate added) whereas 304 is most commonly type 6, with its easier control.
Then again, you might also consider citric acid passivation. You can find vendors readily on this site. If you do, let us know if it solves your problem, OK?
Good luck!

Lee Gearhart
metallurgist - E. Aurora, New York
---
2002
A. Well, you could ask the folks that passivate your product exactly what acid they use to passivate. Commonly, nitric acid 20-40% ,H20 60-80% and 2% sodium dichromate is used. Many companies have found that mixture to be too strong, and have switched to the same amounts of sodium citrate, water, sodium dichromate. This mix is easier to neutralize and usually prevents the outgassing problem. Ask these folks to repeat the de-ionized hot water rinse which should be a standard part of their process, anyways. Nitric acid is usually too volatile for precise stainless parts, therefore more neutralization is usually required.
Good luck!
Jeff Swayze
body jewelry - B.C.
---
2002
A. Does the smell resemble sulfur? 303 has some in it to make more machine friendly. If you wish to have your vendors return parts that are free of this you could spec the "Coke" test. Which uses a lead acetate strip and "Classic Coke" to test for free sulfides. Coke specs this so fittings don't affect the taste of the product. Basically, put some passivated parts in a sealable container, add enought coke to cover them, tape the test strip to the lid and seal for 4 hours. If strip turns dark, no good. I bet Lee jumps in and states that citric passivate works better than the old Type II here. I will concur 100%.
Jon Quirt
- Fridley, Minnesota
---
2002
A. THANK YOU! A simple accelerated test! But it is not so accelerated, Sounds like the test does allow some leaching.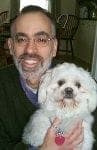 Tom Pullizzi
Falls Township, Pennsylvania
---
---
Multiple threads were merged: please forgive repetition, chronology errors, or disrespect towards other postings [they weren't on the same page] :-)
---
---
2002
Q. We utilize a lot of machined 304 SS parts which are passivated for appearance reasons only. We Are switching to the machining friendly 303 SS and I have been told this grade can't be passivated. Chemistry is so close between these two specs it seems untrue to me. Any help out there would be appreciated.
Lawrence Moore
- Menomonee Falls, Wis, USA
---
2002
A. You are correct! 303 can and is passivated quite often. Certain precautions need to be taken to prevent "outgassing" or "burning" in the process. Most finishing shops are setup to handle this material.
Bill Grayson
- Santa Cruz, California, USA
---
2002
A. Far too many machine shops "forget" to tell the metal finisher "the rest of the story". My experience was you would be told that it was 303 but they would leave out the suffix such as Se which is not the same as 303 to a metal finisher. They would also swear that it was plain brass and when you had problems that caused them delays, it magically became "free cutting". You can not get excellent adhesion on leaded metals without special processing. Therefore, it does make a huge difference if it is 303 or 303Xx.
James Watts
- Navarre, Florida
---
2002
A. There are a lot of misunderstandings about 303 stainless steel. 303 ss has high sulfur or selenium to provide good machinability, etc. It is the sulfur or selenium that gives the apparent problem in passivation. In order to passivate 303 stainless steel you must first remove the sulfides and sulfates from the surface (or selenium in the case of 303Se).
I have not worked much with 303Se, so I can only speak for the bulk of the material which is 303 or 303S. What happens is that after passivation (or even DURING the passivation process in rinsing) the surface of the 303 turns yellow, brown or gets spots on the surface that look like rust. But, they are NOT rust, they are sulfides and sulfates. It is easy to test for this. Soak the parts overnight in some 5% NaOH. If the yellow, brown or "rust" spots disappear-- it was sulfur problems, not rust.
So, the answer to the problem is to remove the sulfur problem from the surface before passivation by a bath of hot alkaline solution (adv.: contact us if you need details) and then passivating it. This works for both citric acid formulations and nitric acid formulations. This treatment is a MUST for all 303 stainless steel, or you can get yellowing or "rusty" appearance in the field.


Lee Kremer
Stellar Solutions, Inc.

McHenry, Illinois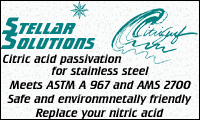 ---
---
January 18, 2016
Q. You have answered my first question about the rust-looking spots on 303. But my second question is that after passivate I am getting white spots. I believe this to be some grease or oil that I have not removed. But I am now having a very difficult time trying to remove it aside from hand washing the parts. What could you recommend? Any help is appreciated. Thank you.
Rick Flynn
- PHILADELPHIA Pennsylvania USA
---
January 19, 2016
A. Rick,
So the spots do come off when you hand wash the parts?

A high pH alkaline cleaner is probably the best bet. If not, maybe a solvent will do it. If you have an ultrasonic tank available, that will be helpful too.

Ray Kremer
Stellar Solutions, Inc.

McHenry, Illinois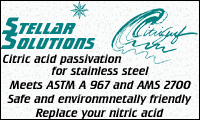 ---
---
December 7, 2018
Q. Hi All,

My Company now trying to do passivation for stainless steel (316/316L) injection molding part. The part will undergo sand blasting (glass bead) before passivation process. We are using alkaline degreaser (Ph:10-11) at 60 °C. Then using citric acid (Ph: 4-5) at 70 °C. The problem that we face right now is there is white dot on the parts that cannot be wiped off after passivation. Can anyone help regarding this matter? Any opinion is highly appreciated.
Ahmad Amri
Kako Suntax - Johor, Malaysia
---
---
303 parts burned during passivation
April 9, 2020
Q. Hello All,
We had some 303 machined parts that were completely fried during passivation by our vendor. We had 5 lots of different parts and only 2 of the 3 came out ok. Our vendor does not have an explanation and this is the first issue we've had with them. They state all parts were put on the same rack and processed at the same time. They assumed the material may have been different, but everything is 303.
The 3 that burned went through processing on a different machine than the 2 that came out good.
I'm curious if it's possible that the machine coolant could had something to do with this? It's past due for a cleaning. The operator has been adding a cleaning solution made by our coolant mfg at times to help with the smell. The solution is supposed to be used before cleaning out the coolant tank. It kills bacteria within the machine coolant lines.
This is the only difference between the parts I can come up with. Any advice is appreciated.
James Hagood
Shop Supervisor - Fort Worth, Texas, United States
---
April 2020
A. Hi James. I do think that's very possible. Years ago we had a very intriguing contribution on exactly this from Mitchell Lee.
Regards,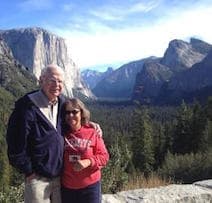 Ted Mooney
, P.E. RET
Striving to live Aloha
finishing.com - Pine Beach, New Jersey
---
May 8, 2020
A. Hi James,

I know I'm late to the Passivation Party, but...

Successful passivation of annoying alloys is a team effort between the machine shop and the passivation contractor. So this is info for you, for your coatings provider, and anyone else who happens to stumble across it while tearing their hair out over this issue.

Take a look at the SDS for the coolant additive for clues as to what could be dragging into the passivation tanks and causing scorch. Look for Sulfur in particular, as part of the chemical formula in the active ingredient. I'd be curious about the presence of Chlorine and Bromine as well. Anything that could potentially dissociate and give even low levels of a strong mineral acid when dragged into the passivation bath is suspect. But the Sulfur is a real killer.

You might want to consider vapor degreasing the parts prior to sending them for passivation. In fact I STRONGLY recommend this.

The problem can be further exacerbated by use of dull tooling which smears the metal surface and makes cleaning more difficult/less effective. We (coatings shop connected to a machine shop, making it easy for me to go poke around and ask nosy questions) saw a few loads of identical parts burn vs not burn last year, from the same heat lot of stock, cut on the same lathe, where the only difference was that the parts that burned had been run on second shift. I can't even make this up.

Things that are going to help, and have helped us immensely:

-Use of best machining practices- sharp tools, clean coolant, feed rates that will give the best cut without dragging, and rinsing excess coolant off the freshly-cut parts before it has a chance to dry
-Vapor degreasing prior to starting the passivation process
-Using an ultrasonic in the soap tank; or, if not possible, making sure your agitation is adequate to get flow across all surfaces
-Setting the temperature of the soap tank towards the upper limit of what's recommended by the soap manufacturer
-Maintaining the pH of the soap also close to manufacturer max
-Running a caustic clean tank after soaping. 35-40 g/L NaOH in DI water at 170 °F with agitation.

Additionally, always run a test batch prior to processing the whole lot.

One last thing I will note and this is from experience:
There is a recipe for a 'cleaning' process buried in ASTM A380 [affil link] . It is 10g/L each Citric acid and Sodium nitrate, run at room temperature. It grows bioslime like crazy but don't be alarmed- just run a filter. And guess what. I have seen it passivate troublesome batches of 416, which is the most headache-inducing, scorch-prone, hair-tearing-out alloy we deal with. Some loads are fine with the Carpenter Steel recipe; some are like, NOPE. I know you're talking about 303 here but this approach is potentially portable, with a reasonable amount of process development. Again- run your test batch, and always do post-process testing (preferably water immersion; copper sulfate if that's all you've got) to confirm you nailed it.

Good luck!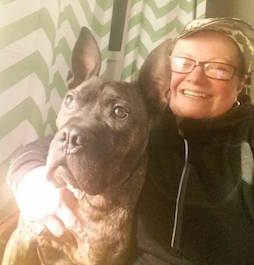 Rachel Mackintosh
Lab Rat and some other things - Greenfield, Vermont
---
May 9, 2020

Thank you for the responses. We ran a sample batch of each part and had them re-passivated without any issues. Then ran the original production quantities again and those went through passivation without issue as well. Nothing in our process was changed, most likely all the same cutting tools were used.
James Hagood
- Fort Worth

www.finishing.com is made possible by supporting advertisers like ...
this text gets replaced with bannerText

Disclaimer: It's not possible to fully diagnose a finishing problem or the hazards of an operation via these pages. All information presented is for general reference and does not represent a professional opinion nor the policy of an author's employer. The internet is largely anonymous & unvetted; some names may be fictitious and some recommendations might be harmful.
If you are seeking a product or service related to metal finishing, please check these Directories:

Jobshops Capital
Equipment Chemicals &
Consumables Consult'g, Train'g
& Software
---
About/Contact - Privacy Policy - ©1995-2023 finishing.com, Pine Beach, New Jersey, USA