Where the world gathers for
plating, anodizing, & finishing Q&As since 1989
-----
Seeking advice on passivating aluminium, maintaining conductivity, and with marine environment resistance! Tough combo?
May 30, 2012
Q. Hi there,
I am an electronics technician working in Auckland, New Zealand. I have posted here to source some professional advice on aluminum conductive coating. I've even changed my spelling of aluminIum to fit in!

The product I work with is a high end sonar transducer system, so is in a marine environment. The transceiver unit is the part I am seeking advice on.
Presently, the body is all aluminum, with a rectangular extrusion ~400 mm long, and two end plates ~ 200 mm x 250 mm. The end plates are bent into an L at the bottom to provide a flat platform to secure the body. The end plates are anodized black all over, to 25 microns and this does a great job of giving the end plates great scratch resistance and a matte look.
Unfortunately, we require the front panel to be permanently electrically conductive on the inside, as we plan to use it as a coupling plane to reduce RF behaviour (a tinned steel shroud will make finger contact along the length). Thus we need a method of passivating the aluminum while retaining its conductivity.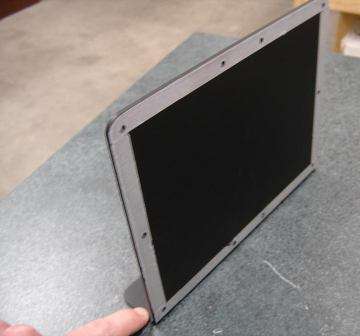 Having trawled through the posts on this website (what a fantastic resource!), I have found some comments about chromate conversion (Alodining) that suggest that it is a good method to passivate the aluminum and provide a surface thin enough to allow conduction (Class 3??). As it is the internal face, the way it looks is of no importance.

Letter 38755
Letter 15733
Letter 16800

Additionally, it is apparently a standard pre-treatment for powder-coating (which we would consider as an option to restore the black finish). I would like to think that the internal surface could be masked between the chromate conversion and a powder coat, to retain its conductivity.

However, I have some concerns:
1) I have read that the chromate conversion coating would be damaged in a powder-coat scenario, as it is put through an oven to dry. Could the chromate conversion layer be protected on the internal face while the rest is powder coated?
2) Will the chromate conversion coating be tough enough to survive being banged around in a complicated assembly process?
3) The coupling spring fingers making contact with the front plate won't be applying a lot of pressure, only what the spring supplies - I'm concerned this won't allow proper conduction.
4) Cost - Ideally, any added cost in changing from purely anodizing the plates would be kept to a minimum.
5) I'm not sure what alternatives there are and I'd like some thoughts on what other paths we could go down to passivate the aluminum and retain its conductivity on the internal face. Perhaps an entirely different metal would work better?

Ideal outcomes:
- Conductive internal face
- Black matte external finish with great marine environment resistance (much like anodizing).
- Small cost difference

Thanks in advance for any advice you give.
- Josh
Joshua Williams
Electronics Technician - Auckland, New Zealand