Where the world gathers for
plating, anodizing, & finishing Q&As since 1989
-----
Did Oxi-Clean damage anodized coating on pot?
February 9, 2012
Q. Hi. I stumbled onto you and an answer you had provided regarding the safety of cooking in aluminum while I was doing a google search on cast aluminum cookware. In the article you wrote, ' "Anodized" means electrochemically treated to form a thick and stable oxidation layer.' This leads me to believe I may have finally found someone who is capable of giving me a good answer about what my husband did to my dutch oven.

Regarding the quote, my husband decided one day it would be a good idea to clean my aluminum (blend) dutch oven with Oxi-Clean. I have attached two pictures for reference.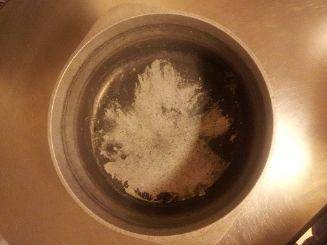 It appears to me, possibly the bottom of the pan is the "same" original bottom, although when I re-quizzed my husband, he said "he soaked it and scrubbed it in Oxi-Clean". There is a cut-off that appears to correspond with the soaking level. I know that he does not like to use an SOS pad ever, so he probably used a "green scrubbie" or a "blue scrubbie (made for nonstick, etc).

Do you think it destroyed the anodized layer, and if it has, do you think the pan is still safe to use? I grew up with this pan. It was a real coup to me when my mother decided she no longer wanted it because she uses strictly nonstick now. I was in the right place at the right time, and it was finally mine! This one means a lot to me. Once in a while my mother admits to being wrong in giving it up, but I can't even think about offering it back to her until I find out more about what the Oxi-Clean might have done to it.

I realize I may have to find out information from more than one source to get the complete picture to answer this question in its entirety, but so far in what I have seen you seem to be the best place to start with, and possibly be able to prove a complete answer.

Thank you for your time and your help.

Mrs. Lyndsay Hodges
Lyndsay Hodges
Homemaker with a damaged dutch oven - Warrior, Alabama, U.S.A.
---
February 13, 2012
Oxyclean contains sodium carbonate, an alkaline substance would could dissolve an anodized coating.

However if your dutch oven is an old one, it may have been plain uncoated aluminum in the first place.

Bare aluminum cooking utensils aren't non-stick, so aren't very popular these days, but were common in the past. They're perfectly safe, although acidic foods such as tomatoes may discolor the aluminum. Just clean it up with a scrubby and keep on cookin' ;-)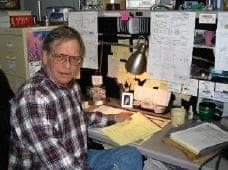 Jeffrey Holmes, CEF
Spartanburg, South Carolina
---
June 20, 2012
Hi Lyndsay.
My current personal opinion on aluminum is that it is safe (see letter 22551) as Jeffrey says. A pan that you grew up with has probably seen stronger stuff than Oxi-Clean at one time or another -- and certainly pots are meant to be scrubbed with something :-)
The line you see probably does represent the level of something at some time, but not necessarily the level of Oxy-Clean. It's a bit hard to tell from photos, but I don't see a difference in the aluminum above and below that demarcation line. Nothing to worry about at all in my personal estimation.
Regards,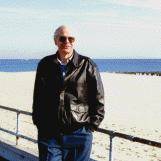 Ted Mooney
, P.E.
Striving to live Aloha
finishing.com - Pine Beach, New Jersey