The world's most popular metal finishing site, and striving to be the internet's friendliest corner
topic 57561
CED coating has pinholes
adv.
A discussion started in 2011 but continuing through 2019
June 21, 2011
Q. I am a job CED coater. Recently a Zinc plated job has come to me for coating. After coating, all jobs were rejected due to PIN HOLE problem.
Can you help me?
Avinash vidhate
Plating shop employee - Nasik, Maharashtra, INDIA
---
June 26, 2011
A. CED Can be done on hexavalent yellow passivated part. If it is as plated or trivalent passivated, carry out tricationic phosphating then go for CED Coating.
Nithin reddy
- Bangalore, India
---
July 10, 2011
Q. By phosphating Zn plated part in my bath will lead to increase in Zn content in it. Won't that matter?
Avinash Vidhate
- Nasik, Maharashtra, INDIA
---
---
Pin holes on e-coat bottom surface
August 16, 2011
Q. Hi Sir,
I'm an employee of a plating house. Recently my company newly fabricated a 2.5 tonne e-coat tank to relieve some production capacity. Unfortunately, every model go through e-coat surely will have plenty of pin holes at bottom surface. Please be kind enough to give me some idea what setting gone wrong in my tank. Thanks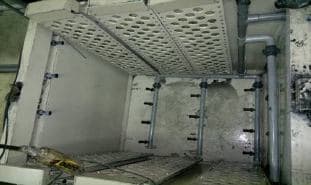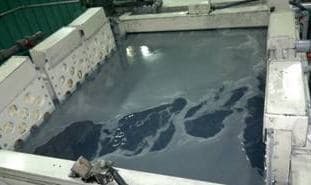 KC Tan
plating shop employee - Ulu Tiram, Johor, Malaysia
---
August 17, 2011
A. Maybe it's the angle from which the photo was taken... but I can't see a weir to remove the surface foam being produced by the coating process?
Terry Hickling
Birmingham, United Kingdom
---
August 19, 2011
A. Bubble on top of coat bath. You need a weir box to roll the top of the tank to. You also need to determine where the air bubbles are coming from.
Adam Adkisson
- Mission Texas
---
adv.
"Handbook of Electropainting Technology"
by W. Machu
from Abe Books
or
Amazon




adv.
"Electrocoating: a Guidebook for Finishers"
by Electrocoat Association
from Abe Books
or
Amazon
August 22, 2011

A. Bubbles can be produced by cavitation in the main tanks pumping system.

Where a side tank is used for both collection of the e-coat tanks surface bubbles and the addition and mixing of new tank material, a bubble producing problem is possible if the weir shoot tank is:
a)Too small.
b)The rpm of the internal mixing system (normally a stirrer) is too fast.
c)Blades of stirrer are too low.


Terry Hickling




Birmingham, United Kingdom





---

August 23, 2011

Q. The foam issue is already resolved, mainly due to circulation pump choked by some cleaning cloth. However, the problem I'm facing is some pinholes due to gassing at bottom surface of raw parts.
Parameter of ED in spec; just pH slightly acidic (pH 4.5 - 5.0). What I'm curious is just whether tank either circulation is not enough or maybe in tank setting something has been neglected...Maybe I'm wrong, kindly advise any eval'n that I can find out more.
Thanks

KC Tan

[returning]




- plating shop employee - Ulu Tiram, Johor, Malaysia




---
October 30, 2011
A. Most important to avoid pitting at the bottom - clearance of work piece to bottom sparge pipes should be minimum 200 mm!
Sara Michaeli
chemical process supplier
Tel-Aviv, Israel
---
November 1, 2011
A. Hi KC.
I once had the opportunity to look at an ED film ( 40 X I think) before the curing process and 'lo and behold ', they were full of pin holes! It is only through the curing process, the higher temperature makes the film more 'fluid', those pin holes were closed up, so to speak.
It may be possible, your pin holes problem are curing oven related rather than ED tank related??
SK Cheah
- Penang, Malaysia
---
November 27, 2011
A. First ensure that all the bath parameters are within specification and pH meter, Current-voltage meters are working properly.
Pinholes at the bottom of tank may be due to excessive gassing, i.e., due to high current density which further may be due to high solids content or suspended particles or too low pH.
Also, get solvent content tested by your paint supplier.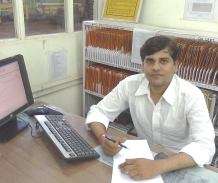 Manoj Kushwaha
plating & painting - Rampur, India
---
January 25, 2012
A. Check your solvent (BC) content. If it is on higher side it will definitely create pin holes. Check also ramp up time for rectifier voltage.
Manish Dhyani
- Noida, India
---
February 1, 2012
A. Kindly provide details of the pre-treatment process that is done prior to E-coat.

Have you checked the component after pre treatment and before E-coat for presence of oil on its surface?
Gurvin Singh
Coatec India

Mohali, Punjab, India
---
March 21, 2012

Hi Folks,
Thanks for your advice. I already went through all recommendations but it was not root cause. Thereafter, I changed existing circulation pump from Vertical to horizontal centrifugal type. Surprisingly, it resolved all those pin hole defects.
Anyway, thanks for ideas from all.

Regards
KC Tan
[returning]
- Ulu Tiram, Johor, Malaysia
---
---
June 18, 2012

-- this entry appended to this thread by editor in lieu of spawning a duplicative thread
Q. We have pinholes after applying the electrodeposition coat.
We think we have a problem in the activation process in pretreatment line. Please guide me.
Thanks
M. Ashena
- Tehran, Iran
---
July 14, 2012

-- this entry appended to this thread by editor in lieu of spawning a duplicative thread
Q. How to Solve Pin holes in CED paint plant. Please give detailed answer.
Senthil Kumar
- Chennai, India
---
July 16, 2012
A. Hi Ashena, hi Senthil.
As you see, we appended your inquiries to a thread which already addresses this issue and may solve your problem. If not, please give the details of your situation. Thanks!
Regards,
Ted Mooney, P.E.
finishing.com - Pine Beach, New Jersey
Striving to live Aloha
---
November 16, 2012
Q. Dear sir,
I am working as an Automotive CED Paint plant. In our plant daily pinhole, crater and white dot issues observed after oven; every day more rejections -- all parameters are within spec. So please give some ideas to resolve this issue.
Senthil kumar
[returning]
- Chennai, India
---
---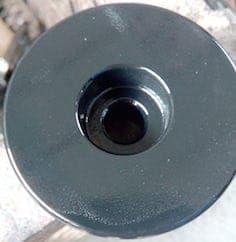 (Click thumbnail for high-rez photo)
December 29, 2015
Q. I am working as line chemist of PT [pretreatment] and CED line. I got some problems after maintaining PT line.
Sir please see and tell what is the problem and resolution. In this company we do coating of PT and CED on tractor spare parts.
Virender Singh
paint shop - panchkula haryana india
---
December 2015
? Hi Virender. Is that a hemicircular rust spot at about 8:00 o'clock where the recessed diameter meets the ID of the flange? What is the substrate and the pretreatment? While you may well have electrocoating problems, the pretreatment has to offer a properly prepared surface first :-)
Luck & Regards,
Ted Mooney, P.E.
finishing.com - Pine Beach, New Jersey
Striving to live Aloha
---
December 30, 2015
Q. Sir, I am working in paint shop which is doing PT and CED line of tractor spare parts. I am line chemist. Images of rejected components: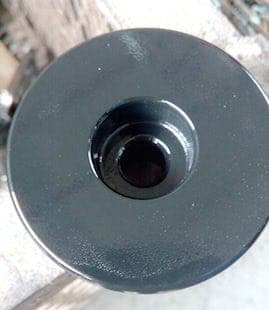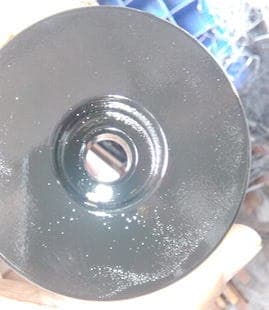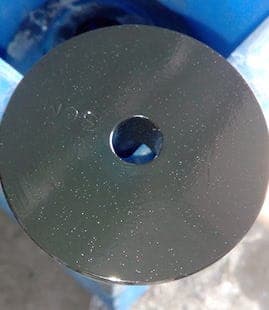 But my question is not clear. Tell me what is name of problems, cause and action plan. There is no hemicircular rust on components before PT line. Cleaning and Phosphate coating is okay. And my PT line is okay with standardized parameters. I have problems coming from CED line. Our CED line is not okay. Thanks
Virender Singh
[returning]
paint shop - Panchkula,Haryana,India
---
March 1, 2016
? Hi Mr. Virender,
My questions:
1. Tried on other substrates or materials? same defect appeared?
2. Any solvent/oil floating on bath surface during ED process?
3. Ensure no stubborn oil & grease on part surface?
4. After rework process part proceed to ED happened same defect?
Above questions might lead you to certain idea to proceed.
Thanks.
KC Tan
- Ulu Tiram, Malaysia
---
March 20, 2016
A. The problem is in the bath composition; you have to add hydrogen scavenger to the bath like nitroethane or hydrogen peroxide in the ratio 4% -- this is because hydrogen evolves during the process making film defects and the surface of the work piece not fully painted which causes free zones that makes rust and pits in the film so you have to eliminate defects by hydrogen scavenger.

Thanks
ahmad abo awf
- cairo, egypt
---
---
July 4, 2016
-- this entry appended to this thread by editor in lieu of spawning a duplicative thread
Q. Please tell me how eliminate the problem of pinhole on bars please tell me.
ganesh dede
- pune, maharashtra,and india
---
A. Hi Ganesh. We appended your inquiry to a thread with lots of great info on the subject. Please review it, then expand upon your question with details if this thread doesn't solve it for you. Good luck.
Regards,
Ted Mooney, P.E. RET
finishing.com - Pine Beach, New Jersey
Striving to live Aloha
---
---
November 11, 2016
Q. Hi There,
I am working in a HDD manufacturing company in Cambodia; I am the e-coating manager.
Here we are facing very high fallout of hard blisters, soft blisters and pin hole voids (fish eye).
The pre treatment is a very mild etching process.
Please advise me how can I solve this problem.

Thank you
Param ramasamy
- JOHOR BAHRU
---
---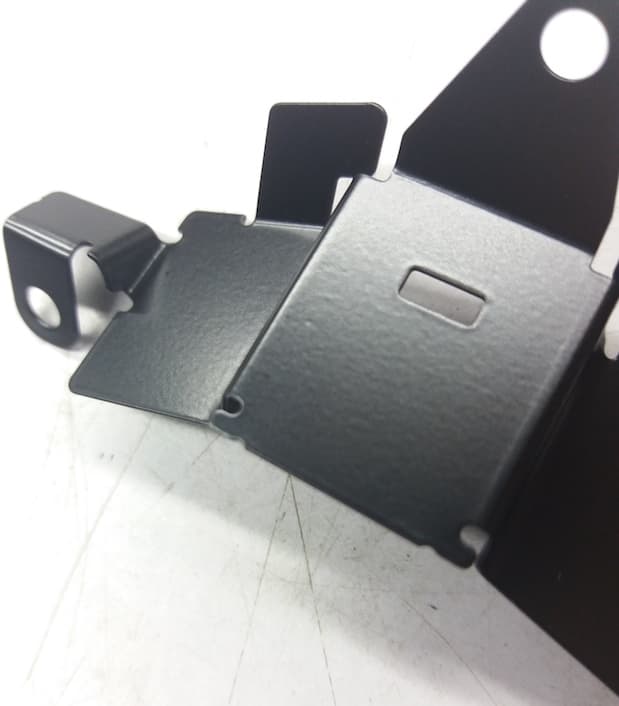 March 16, 2017
Q. Dear advisor,
I am employee of CED coating system in johor malaysia. Now I have some problem on my ED coating part surface. My ED bath pH - 5.7, NV%-10.00, PB ratio - 0.095, bath temp. 25.0 °C. BC % - 1.25, HC % - 0.890. The part before Ed I have been 100% confirm free from oil. but there is still pin hole defect ... but just one dot only. So how I can solve it? Please give me the some idea or advice. you cooperation will be high appreciated.

best regards,
Jiwan Rai
ED coating jobshop employee in johor baharu malaysia - johor baharu, malaysia
---
---
July 13, 2018
Q. How significant is it to drain permeate? Here where I'm working, no one drains it even a bit. And we frequently face the problem of pin holes on Cathodic electro deposited automobile bodies. My senior says it's due to high MEQ. Please shed some light on this for me.

Kasi Viswanath Boddeti
- Andhra Pradesh, India
---
---
Pin hole on CED components on the bottom of the substrate
August 26, 2018
Q. Dear sir
I am employee of the CED Coating system in chennai india. I have some problems on my CED coating pin hole issue getting on only bottom and curve of the components for all components where ever jigging. All the parameters are with in speck and having sufficient agitation. Kindly guide me to resolve this issue and explain the root causes and action plan sir we tried all trials as far as we know in all aspects.
Please find attached photos for your reference.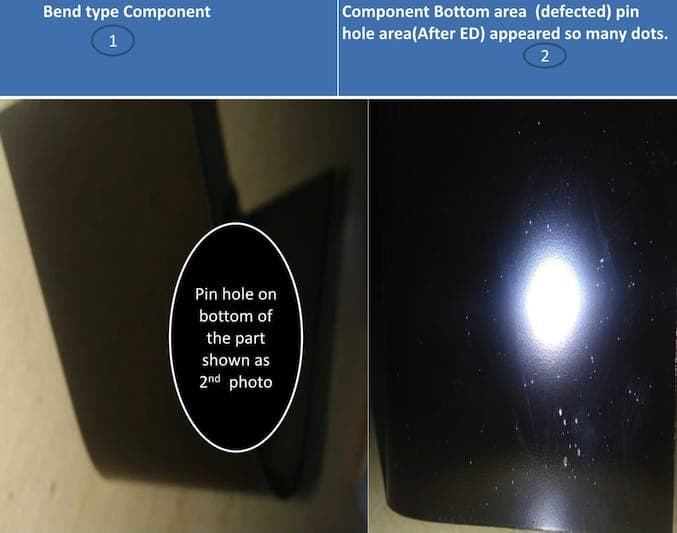 Regards,
Ganesan Nallusamy
Shop employees - Chennai, Tamil nadu, India
---
---
September 7, 2018
-- this entry appended to this thread by editor in lieu of spawning a duplicative thread
Q. I am working in a e-coating plant Bangalore. Our pretreatment line is OK, but pinhole is coming in component. What shall we do? Please guide me?
Tekchand Patel
- Bangalore, India
---
March 2, 2019
A. For the Pin hole problem:

1. check that all parameters are in range (PT line, voltage, ED temperature, pH, N/v content, conductivity, dipping time & cleaning frequency)
2. check the circulation in ED bath
3. check the hanging positions of part
4. check the proper insulation removed before part loading

To avoid this problem ... then install filtration method in ED bath.
Amir Jamadar
- India, Maharashtra, pune
---
---
July 26, 2019
Q. Sir, I also encountered a pin holes issue. Our parameters are within the standard. In the end of the roof, it has many pin holes but in the front of it has nothing, it's good. And when we change the DI rinse water after phosphate, the pin holes decrease (we change when the conductivity of this tank approximate 1000, and when the conductivity of this tank is higher than 300 it has more pin holes).
So my question is why is this? can you explain this and how to solve it?
Thank you!
Ryan Nguyen
paint shop - Hanoi, Vietnam
---
July 2019
A. Hi Ryan. We may be having a little bit of language difficulty because I don't understand what you mean by "roof". Are you coating discrete parts or reel-to-reel? Maybe you are saying the coating is good at the beginning of a reel, but full of pinholes by the end?
Also, we may not be agreeing on how a DI rinse water tank is supposed to function. Conventionally, you don't fill the tank with DI water and dump it when it gets too contaminated. Rather, you constantly recirculate the water from the tank through a de-ionizing unit, and back to the tank so it remains de-ionized to the same degree all the time. What you change is the DI cylinder when it becomes exhausted, not the water in the tank.
Please clarify these thing for us. Thanks.
Regards,
Ted Mooney, P.E. RET
finishing.com - Pine Beach, New Jersey
Striving to live Aloha
---
July 27, 2019
Q. Thanks sir. Sorry about my english, it's quite bad.
About the problem, we dip a car in the tank, so "roof" that i mention is the top of car. But when dip in ED tank it's in the bottom of tank.
The second question, yes it's a lot of pinholes by the end of this roof. It just stay in it.
And about the DI water tank after phosphate tank, it has been designed. When it bad, it will be replaced, not as your mention. And the company does not allow modification, it will be charge.

Ryan Nguyen
Paint shop - Hanoi, Vietnam
---
July 2019
A. Hi again, Ryan. Thanks for the explanation about the roof, it is very clear now!
A whole pretreatment and electrocoating line is a complex arrangement of equipment and chemistry, and I cannot pretend to understand everything that is going on ...
... but if you already know that the problem gets much worse as the DI rinse gets contaminated but you cannot take the necessary measures to keep the DI tank from getting contaminated even knowing that, what can be suggested? Trying to change the electrocoating formulation or application parameters so it is more dirt-tolerant doesn't sound promising to me. Maybe another reader has an idea though.
Regards,
Ted Mooney, P.E. RET
finishing.com - Pine Beach, New Jersey
Striving to live Aloha
---
July 28, 2019
Q. But I can't explain why. What is mechanism of it? So I can more understand about it. And when I change the DI water, the pin holes just decrease, not disappear. And the flow of ED tank on top is left to right and in bottom is opposite, it make a circle, and I think it not strong like swirls to put the hydrogen on in the roof of car, is this right? Because I just graduated from university so don't have much experience. Thank you!
Ryan Nguyen
[returning]
Paint shop - HaNoi, Vietnam
---
July 2019
A. Hi again Ryan. Hopefully another reader will jump in because I don't pretend to know exactly what is causing those pinholes. But the fact is that contamination can cause them or at least aggravate them and you already realize it and have demonstrated it.
Why exactly a dirty DI rinse accentuates the problem may not be known now or ever; a certain amount of knowledge is simply empirical and we can't necessarily trace it all the way back to first principals: it might be dirt interfering, it might be that the higher conductivity allows galvanic currents, it might be some very specific contaminant.
If you have another theory of what is causing it, and feel that a dirty rinse merely accentuates rather than causes it, that's fine. But wet metal finishing processes are very complex and as Larry Durney writes in "Trouble in Your Tank", an important starting point in any troubleshooting exercise is "Obey the Letter of the Law". If you know contamination in the rinse tank is substantially aggravating the problem, I think you need to fix it. Good luck.
Regards,
Ted Mooney, P.E. RET
finishing.com - Pine Beach, New Jersey
Striving to live Aloha
---
August 1, 2019
A. Hello Ryan. Change the dip D.I. water rinse to SPRAY rinse or Add fresh D.I.water SPRAY while taking out car body from the dip rinse tank. The sludge from phosphate tank remains at flat portion and that's the reason for pin holes (What I think is those are not pin holes but are CRATERS that formed due to impurities in water.)
Avinash Vidhate
- NASHIK, Maharashtra,INDIA