Live! From beautiful Pine Beach New Jersey: Welcome to the world's most popular metal finishing website
topic 56629
Failure of polyurethane coating on aluminum substrate
January 31, 2011
Q. A client recently contacted me that is experiencing issues with coating failures of polyurethane paint applied to an aluminum substrate (outdoor ornamental light standard). Corrosion of the underlying aluminum seems to be minimal, if present at all, but the coating is experiencing significant flaking off, which seems to originate most frequently at the base of the standard, where it meets the concrete pad it rests on. As of yet, I am unclear on what type of polyurethane coating it originally received beyond a 'polyurethane primer followed by a polyurethane top coat' (as defined by the client). Does this sound like an issue related to poor coating selection? Improper pre-treatment of the substrate? Something else?
Sean Quigley
Engineer - Concord, California, USA
---
February 3, 2011
A. It could be several things. And more likely it will be a combination.
Aircraft are painted with polyurethane topcoats so I don't really think that it was a ridiculous choice of coating (unless leachates from concrete attack polyurethanes which is outside my area of knowledge). So my first port of call would be the pre-treatment. If the pre-treatment was not of the highest standard then you may be getting cracks through the paint allowing moisture through which would cause the paint to flake off. I would have expected this to be initiated where there was the longest contact with moisture (around the base).

Could damage have been done to the paint during installation? This may have been an initiation point for the moisture to get in. I am assuming there are fixings holding the lamp to the base.
Ciaron Murphy
Aerospace - South Wales, United Kingdom
---
---
July 7, 2012
Q. Dear Sir,

We use PU coating To coat anodized aluminium labels. In that application PU coating is not proving usable. That coating is removed if the label is in water.

Please give me a solution for that. Tell me if you have any solution for that.
Bhavin Solanki
- Ahmedabad, Gujarat, India
---
July 12, 2012
A. Hi Bhavin,

You will need to give us a lot more detail before anyone can give you a sensible solution to your problem.

Firstly, what anodising is it (chromic, sulphuric, hard, sulphuric-tartaric, sulphuric-boric...)?
Secondly, are you anodising yourself or receiving the parts anodised and then painting?
Third, are you using a primer prior to the top-coat?
Fourth, what is the length of time between anodising and painting?
Fifth, are you doing anything to the surface prior to painting (solvent clean, abrasive, surface activation...)?

If you let us have these details I am sure someone will be able to give you a solution to your problem.
Brian Terry
aerospace - Yeovil, Somerset, United Kingdom
---
---
July 18, 2015
Q. Hi!

We are getting into manufacturing of led light reflectors made from aluminium. I wish to get a mirror-like shine onto my reflector, but at the same time, want to apply a protective clear coat on it.
I have managed to get a very good shine by buffing. Now I am left with pretreatment (non etching) and clear coating.

Anodizing is probably not an option as it reduces the reflectivity significantly due to aluminium oxide deposition.

Our reflector is spun from 2.5 mm thick aluminium alloy of 1100 grade. We are going to solvent de-grease it as a pretreatment as etching pre-treatment (like in powder coating ) will ruin the reflectivity.

I assume that it is fairly difficult to apply a clear coat on a polished surface. I am about to try [brand name deleted by editor] ... after having failed with some local PU brands.

Kindly suggest a clearcoat that can adhere to bare polished aluminium and withstand temperatures upto 80 °C for at least a period of 10 years.

Thanks
Manu Mohatta
LED LIGHTS Fixtures - Ahmedabad Gujarat India
---
July 2015
A. Hi Manu. Although anodizing may not be an option for you for one reason or another, I question the premise that it reduces the reflectivity too much. Millions upon millions of reflectors have been built from anodized aluminum for outdoor lighting, streetlights, doctors' & dentists' lights, indirect lighting in homes, infrared reflectors, and many other applications.
People are very welcome to suggest generic types of clearcoats that may work, but not brand names

Regards,
Ted Mooney, P.E. RET
finishing.com
Pine Beach, New Jersey
Striving to live "Aloha"
---
---
December 11, 2015
Q. Hi Sir,

We are into manufacturing of aluminum sand casting outdoor decorative lights and other accessories.

We wish to start using PU paints in our fittings.

Wish to get some knowledge from you regarding treatment, process and ways of PU Paint for better results on the product.

AWAITING YOUR RESPONSE.
Mayank Bhardwaj
- ALIGARH, INDIA
---
December 2015

Hi cousin Mayank. A general "steering" clue that we can offer is that 90% of a successful coating process is the pretreatment. Do you already do the required mechanical finishing, and a good chromate (or chromate substitute) pretreatment process? Please explain what you do in terms of mechanical finishing, chemical pretreatment, and inspection before you will apply the PU paint. Will there be a basecoat/primer of epoxy under the PU? Are you intending to spray two-component PU coatings? We assume that you want a thermoset rather than a thermoplastic coating? Best of luck!
It may be that a supplier of the PU coatings can visit you and get you started; if not, you'll probably have to hire an experienced consultant as there are obviously scores of things to consider and early decisions to make. Myself and other readers stand ready to try to help; but while we can try to answer a particular question in a highly specific situation, it isn't possible to do general training and planning via forum responses. If you are looking for answers that contain more words than the question, you probably need a book, training course, or consultant rather than a forum response :-)
Regards,
Ted Mooney, P.E. RET
finishing.com
Pine Beach, New Jersey
Striving to live "Aloha"
---
---
White patches on PU coated Aluminium
August 7, 2018
Q. I face white patches on PU coated Aluminum sheet after 15 days. Please advise me what is the basic problem in this situation i.e., PU (Air dried) or Aluminum?
Ajit Rai
- India
---
August 2018
A. Hi Ajit. Photos would probably help, but in general a polyurethane coating turns white when there is too much water vapor in it, and it becomes sort of an oil-&-water emulsion. The water vapor is probably coming from the aluminum. Do you bake it to drive off any water vapor before coating?
I know that white water rings on polyurethane coated wood furniture can be removed with a hot air gun. Although I don't know whether that would actually work on your aluminum parts, you might try it just to convince yourself that water vapor from the aluminum is in fact the cause of the discoloration.
Regards,
Ted Mooney, P.E. RET
finishing.com
Pine Beach, New Jersey
Striving to live "Aloha"
---
August 7, 2018
Q. Dear Sir,
Thanks for response, we are using air dried PU lacquer with added hardener.
We are not baking this top coating because we are using aluminium sheet cladded over wood/ MDF, Heating may cause delamination / developing air pocket in it.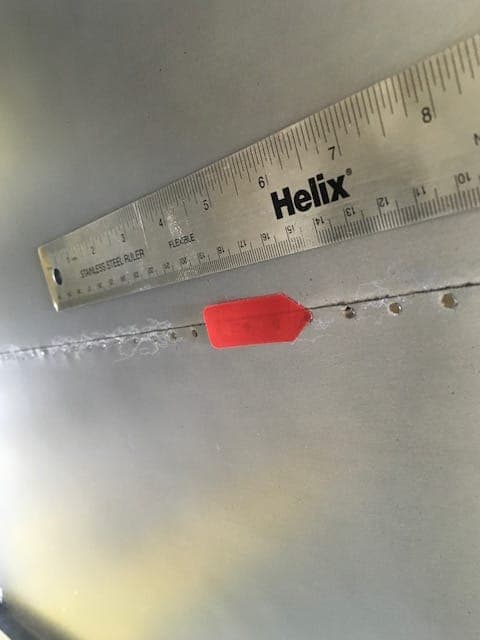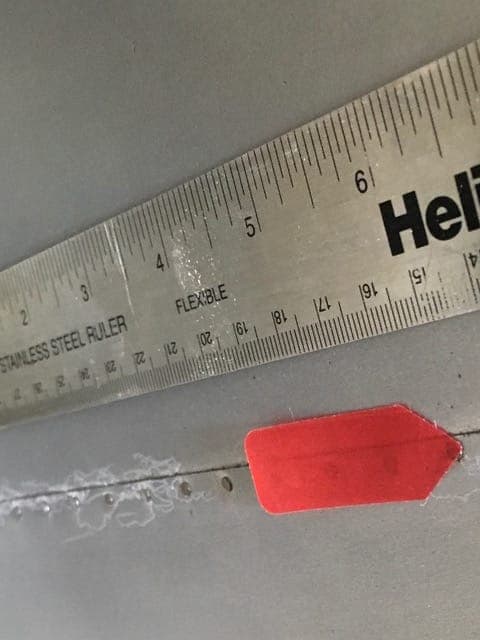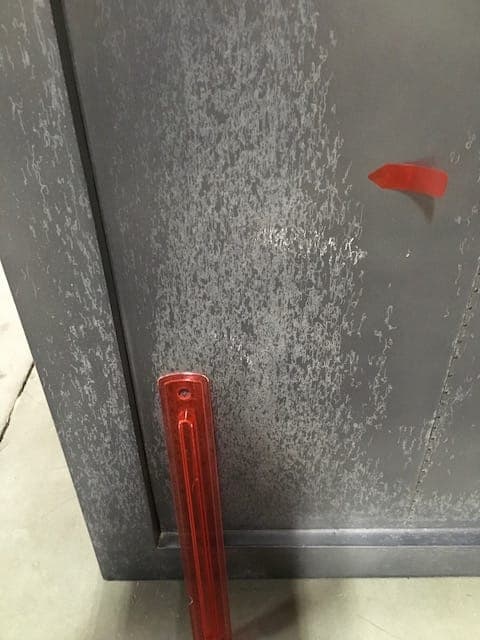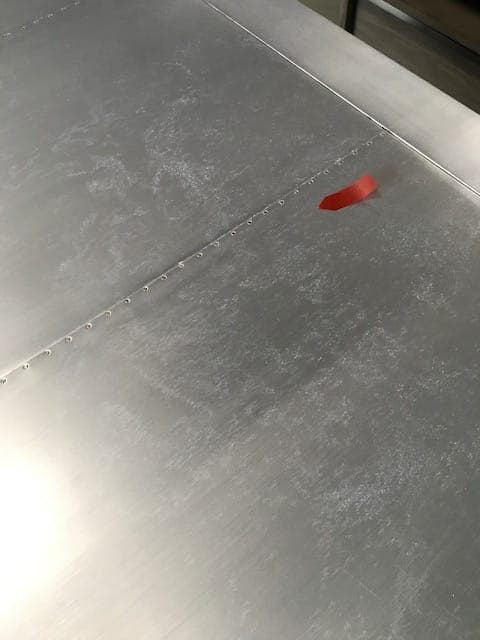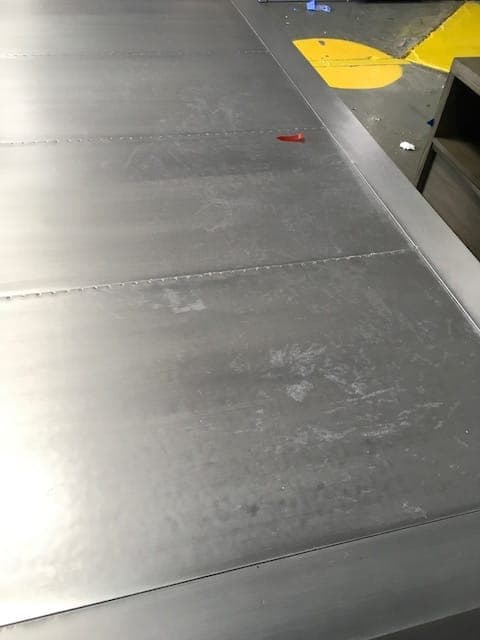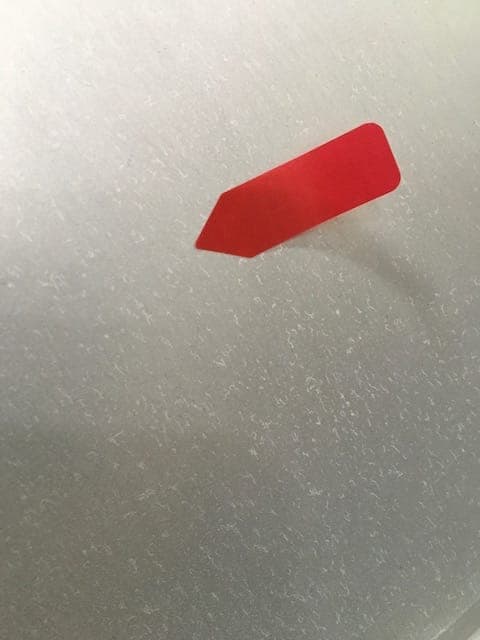 Thanks & Regards,
Ajit Rai
[returning]
- India
---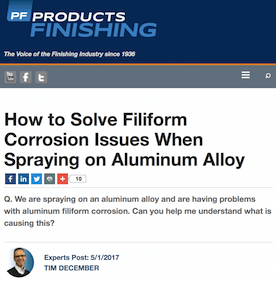 August 2018
A. Hi Ajit. Thanks for the pictures; this doesn't seem to be an emulsion problem like the white water rings seen on wood furniture.
To my eyes, there looks to be filiform corrosion along the nailed seam in the pictures with the stainless ruler in them. I suggest that you look up some images under that topic to confirm whether you agree or disagree with me. That may give you some hints about possible causes.
But that's probably only one of the problems. Per my response to Mayank, an old truism is that 90% of finishing problems are the result of insufficient pretreatment. What do you do to this aluminum before applying your air-dried lacquer? And is it chromate conversion coated? It might also be helpful to know what alloy this is.
Regards,
Ted Mooney, P.E. RET
finishing.com
Pine Beach, New Jersey
Striving to live "Aloha"


If you have a question in mind which seems off topic, please Search the Site